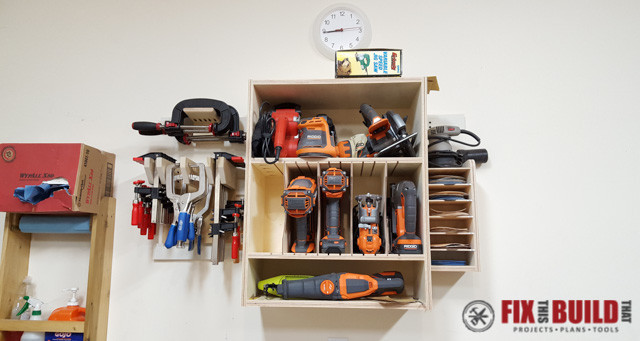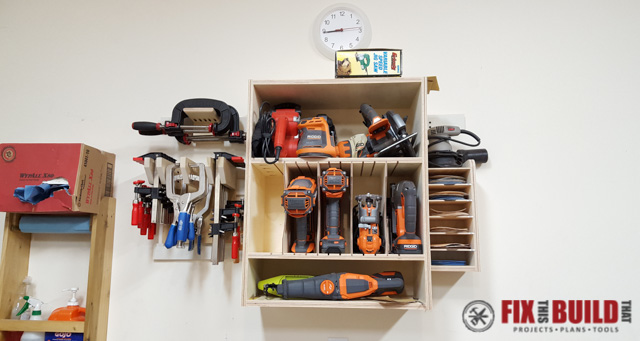 I recently reconfigured my shop and have a French Cleat Tool Storage System made it so easy to move all my shop cabinets and racks around.  If you want some flexibility in your shop then you need to give the french cleat system a try!
Today I'm going to give you a quick primer on french cleats and show you how I setup a couple sections in my shop.  I'll also show you some of the projects I've built that use the french cleat hanging system and give you links to build those too.  And I'll also show you how easy it is to make a small tool holder.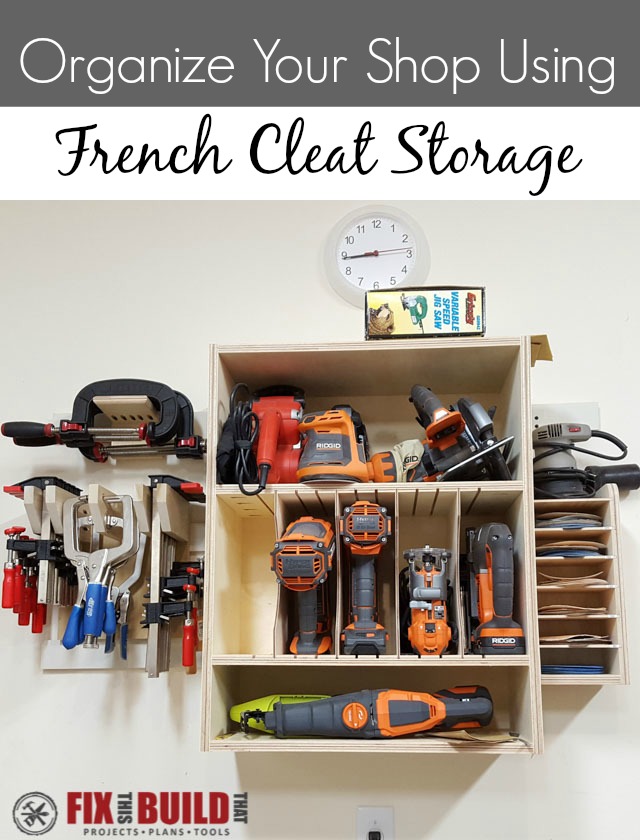 Before we get started, make sure to follow me on Instagram, Facebook, YouTube and Pinterest to keep up with all my latest builds and free projects!
Here is what you'll need for the project:
Materials/Supplies
3/4″ Material (plywood, 1×3's, etc)
3″ Wood screws
Affiliate links are provided in this post for your convenience.  Purchasing through these links helps support the site AT NO COST TO YOU and lets me build and share more projects and plans!
Here is a quick video which shows you how flexible this system is and how easily you can reorganize your shop!
Cutting the French Cleats
The heart of the french cleat system is a series of wooden strips with a 45 degree angle cut on one side.  The easiest way to get a lot of strips is to use a sheet of 4×8 plywood and rip it down into several strips.  Start by cutting a sheet into a more manageable size to handle on the tablesaw.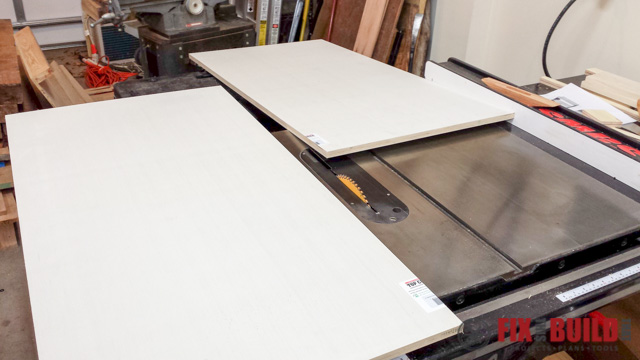 Then cut a series of 3″ wide 4′ long strips.  The number you'll need will depend upon how much wall you are trying to cover and how far apart you want your cleats.  Do some planning here to see what fits your needs.  And remember, you'll need strips to mount to the back of your racks and cabinets so you need to factor in for that as well.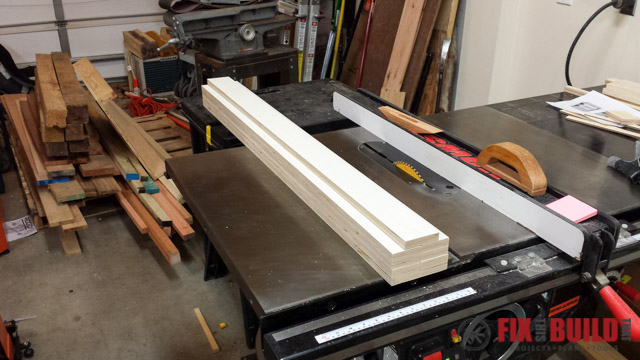 Bevel your tablesaw blade to 45 degrees and cut a bevel along one of the sides of each strip.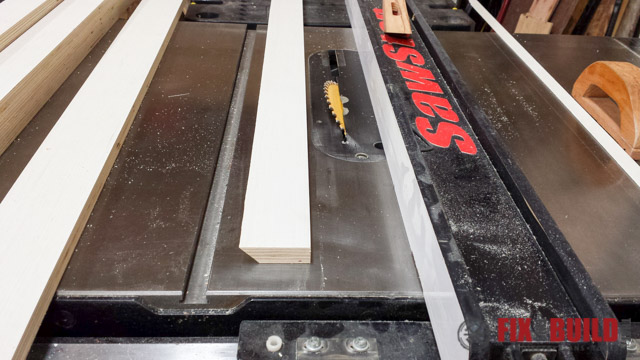 You've quickly got a big stack of french cleats now!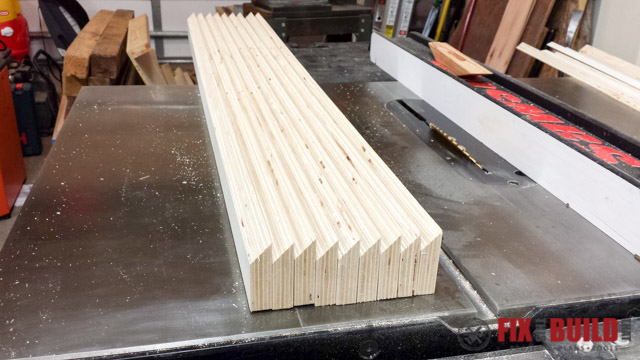 Mounting the French Cleats
I decided to go with a 10″ gap between each cleat.  This would allow me to span 30″ with 3 cleats and support a 30″ cabinet that was the biggest piece I was hanging.
Again do some planning and figure out the height you want the cleats to be so the cabinets and tools will be at the right height for you.  Then use a 4′ level and some 3″ wood screws and attach the cleats into at least 3 studs.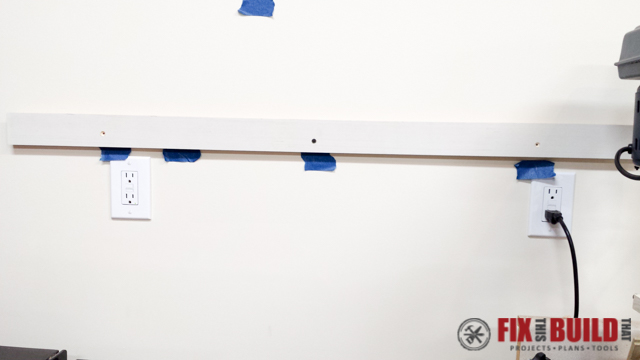 I used the blue tape to mark where the studs were as well as mark the level line I struck with the 4′ level.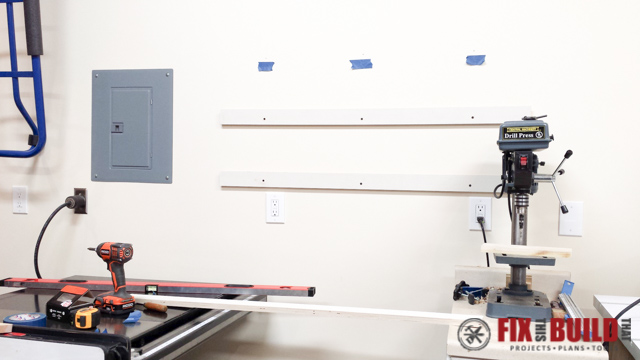 The bevel of the cleats should be facing up and sloping down towards the wall.  It wouldn't work very well mounted the other way 🙂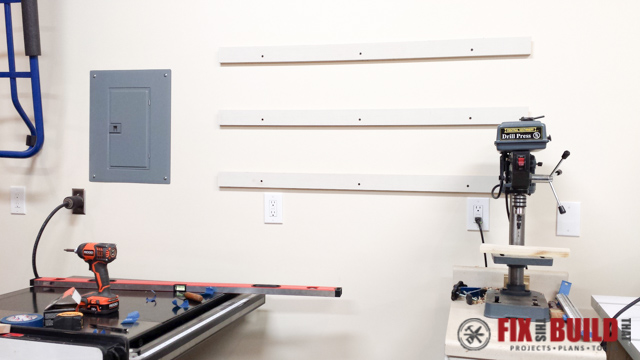 Tool Storage Options for French Cleats
Alright, at this point the sky is the limit!  Now you can make any number of storage options for any type of tool, cabinet or rack.  Here are a few of the projects that I made that incorporate french cleats.
In this picture you can see my Tool Storage Wall Cabinet, Wall Clamp Storage Rack, and Sandpaper Disc Storage Rack.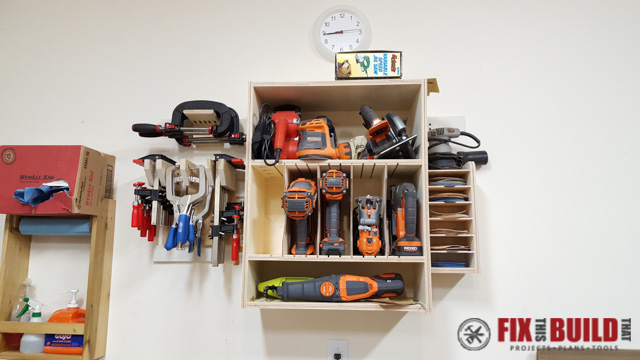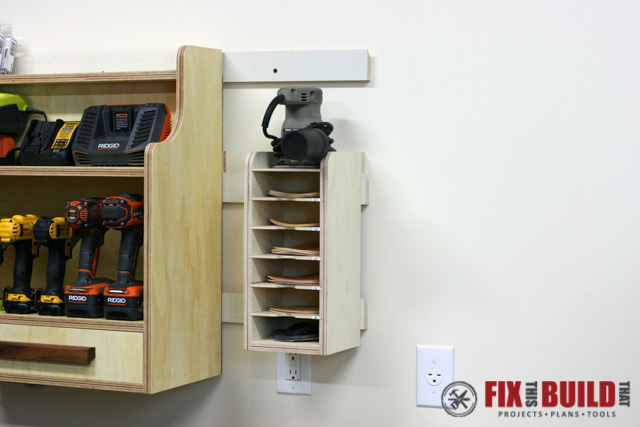 I also have made a Cordless Drill Charging Center that utilizes the french cleat system as well.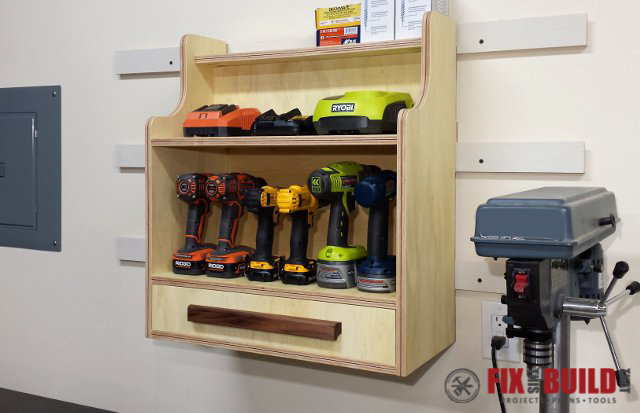 You can see from the pictures that I move these around quite a bit and with the french cleats it makes it super easy!  Every project has a mating french cleat on the back of it.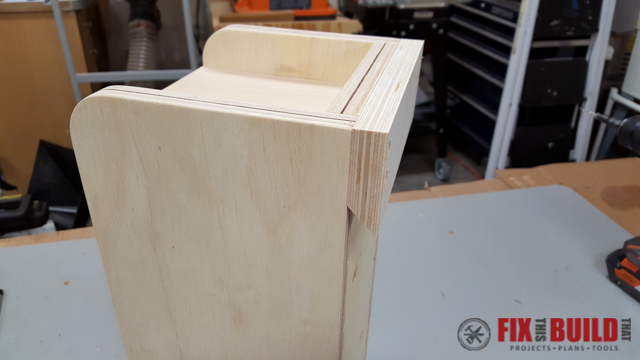 If you have a smaller project that won't contact 2 cleats then you can put a 3/4″ spacer on the bottom like this one on the Wall Clamp Storage Rack.  This will support it and hold it off the wall.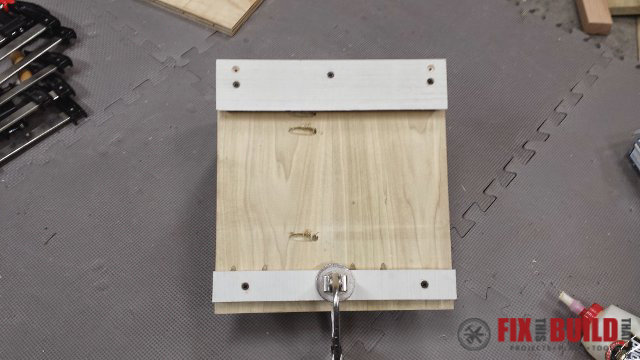 For bigger projects I use 2 screws on each side and attach them into the sides.  I use 1-5/8″ or 2″ screws to make sure it holds well.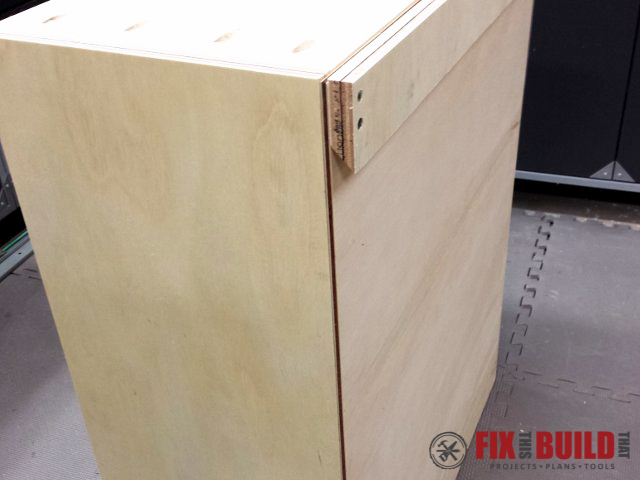 Small Clamp Holder Example
I'll show you how easy it is to make a holder with an example to hold some c-clamps.
All you need is a 3/4″ backer, a piece to stick out and hold the tool and a french cleat.  I went a little crazy with the pocket hole jig on this one, but these c-clamps are heavy and I wanted it to stay put 🙂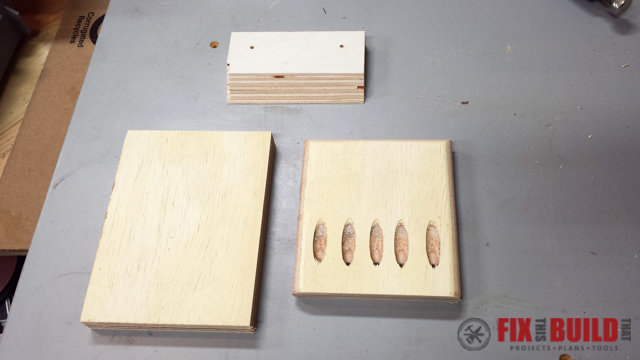 Cut a 5 degree angle on the projecting piece that will hold the clamps so gravity would want to pull them back to the wall.  Secure the pieces together with 1-1/4″ pocket hole screws.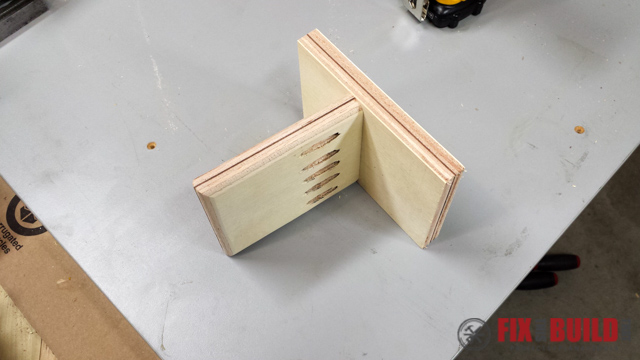 Then attach the french cleat to the top of the clamp holder with 1-1/4″ wood screws.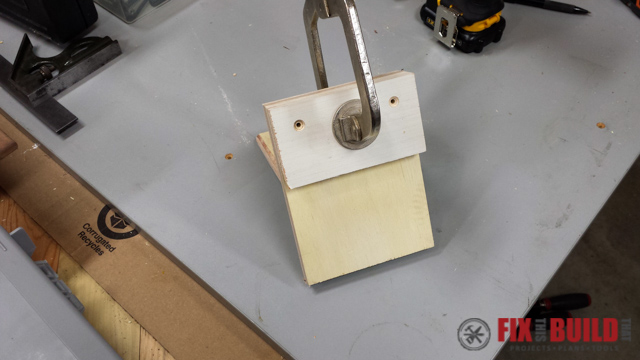 That's it!  Seriously, that's all it takes.  Now just slap that bad boy on the cleat wherever you want it.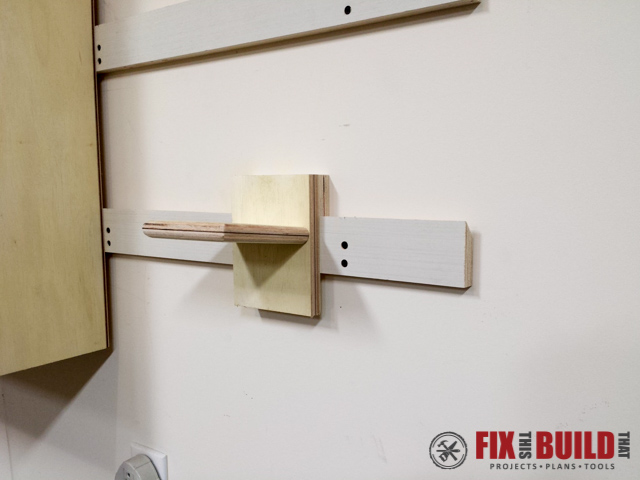 Then load it up with clamps.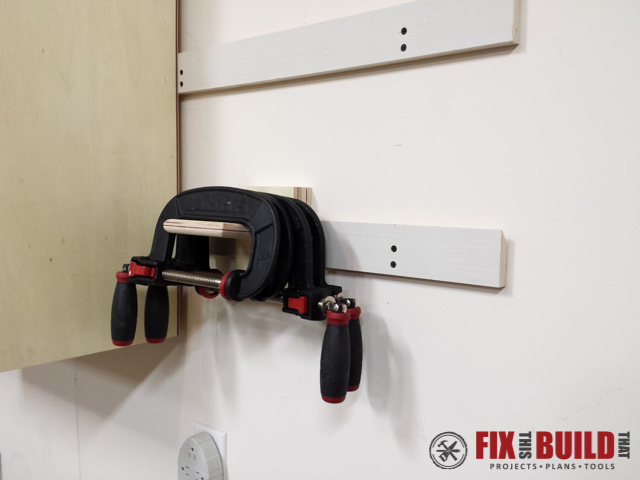 I'm sure you can see the possibilities really are endless here.  Use your imagination and come up with a completely flexible system.
If you want to see some other great shop projects head over to my Shop Projects page and browse around.  Have fun and get your shop in tip top shape!