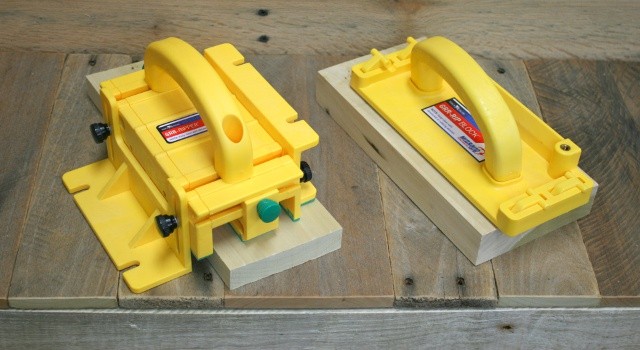 Win a MicroJig Grr-Ripper & Grr-Rip Block!
Do you like your fingers?  Yeah, I like mine too!  And anything I can do to keep them safe on the tablesaw and other power tools is a plus in my book.  For the June 2015 Giveaway I've teamed up with MicroJig and I'm giving away a Grr-Ripper GR-200 and a Grr-Rip Block to one lucky winner!  And since MicroJig is so awesome, they threw in another Grr-Rip Block to giveaway to a runner up.  So there are 2 chances to win this month!
If you are unfamiliar with the Grr-Ripper, it's a a push block for power tools to help keep your fingers away from things they shouldn't be touching.  It has a super tacky green surface on the bottom that hugs the wood like a set of sports tires on a Porsche.  The cool thing about the Grr-Ripper is it lets you control the downward, sideways and forward force on the wood all at the same time.
The Grr-Ripper GR-200 is the advanced version in the Grr-Ripper series.  It comes with the optional adjustable spacer and a stabilizing plate.  I've been using the GR-200 for about 2 months now and I have to say I love it!  It is really awesome for ripping small parts on the tablesaw.  I've been cutting a lot of pen blanks lately, and doing it with the GR-200 feels more safe than any other method I've tried.  I've also used it on my router table to control some small pieces and it worked great there as well.  Go check out the full features of the GR-200 at MicroJig's site HERE.
The Grr-Rip Block is the baby brother of the Grr-Ripper.  It doesn't have all the fancy pieces to move around, but what it lacks in bells and whistles it makes up for in sheer gripability (no that isn't a word but it should be).  The whole underside of the Grr-Rip Block is covered with the green tacky material and it grabs onto a workpiece and doesn't let go.  The gravity heel feature is pretty clever too.  I love using the Grr-Rip Block on my jointer (face jointing) or when I'm ripping wide pieces on the tablesaw.  Go check out the full features of the Grr-Rip Block at MicroJig's site HERE.
Use the widget below to get up to 9 entries into the giveaway.  Mobile users will click on the widget link to go to a mobile optimized page.  Giveaway ends June 30 at 8pm CST.  Open to US Residents within the 48 contiguous states only.
If you want to check out the reviews or just want to buy your own you can find them on Amazon here Grr-Ripper GR-200 and here Grr-Rip Block.
MicroJig provided me with tools and/or monetary compensation to support this giveaway.  All opinions are my own and are unfiltered by the vendor.
Affiliate links are provided in this post for your convenience.  Purchasing through these links helps support the site and lets me build and share more projects and plans!