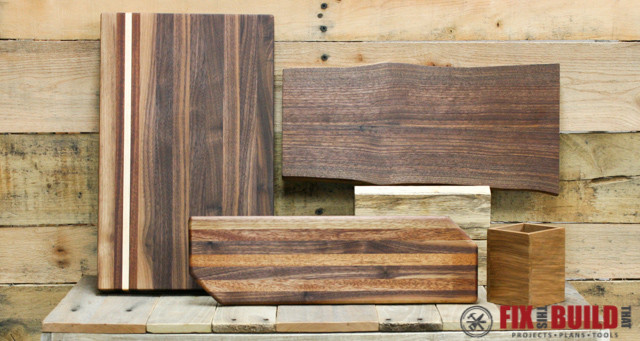 Win a piece of Custom Woodwork and more!
For the October giveaway I want to change things up a little bit and make this a more personal giveaway.  Instead of giving away tools this month (which are awesome and will return in the future) I want to giveaway something more heartfelt.
The winner of the giveaway will get some custom woodwork made by yours truly, similar to the pieces in the picture above.  You will have the option of a $100 gift card to my Etsy Store or the choice to work with me to design a custom cutting board that I will make for you!
And to top it off, I'm also going to offer a 1 hour Skype session to the winner.  You can watch my process as I make the cutting board, bounce project ideas off me, discuss woodworking techniques, or just hang out and shoot the breeze.
This giveaway is to giveback to those of you who support what I do and are interested in the craft of woodworking.  I hope you enjoy this personalized giveaway and I can't wait to talk with you!
Use the widget below to get all your entries into the giveaway.  Mobile users will click on the "Enter Competition" widget link to go to a mobile optimized page.  Due to Halloween festivities, Giveaway ends November 1 at 5pm CST.  Open to all US and Candian Residents!  Good luck!
Scroll down for the Newsletter Signup form for +2 entries!