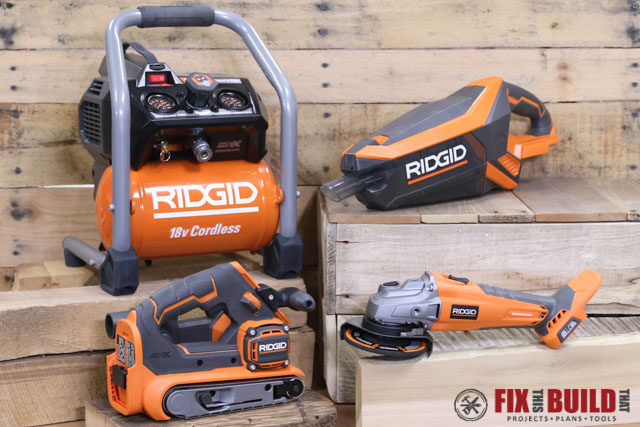 Win the new RIDGID GEN5X Tools!
If you guys haven't seen it, RIDGID has been coming out with some awesome new cordless 18V power tools.  You know I love the LED lights and the cordless router, but they've come out with four new tools in the GEN5X lineup that address some areas that haven typically not been cordless in the past.  And the best part, RIDGID is sponsoring this giveaway to let some of you experience these new GEN5X tools.
I'll go through each of the tools in a little more detail below, but let's just say cutting the cord and going cordless is awesome.  I'm so glad to see the advancement in battery technology and all the new tools that are coming out.  So on to the giveaway, one lucky winner gets all four of these tools!  And 3 other winners will get their choice of any one tool.  I'll give you a run down of the tools up for grabs and to enter just scroll down to the bottom and use the widget on desktop/tablet or hit the "Enter Competition" button on mobile.
1 Gal. 18V Cordless Air Compressor
A cordless air compressor, are you kidding me!?!  RIDGID came out with the first cordless air compressor on the market and I think the innovation is amazing.  I can see lots of uses for this around the house, like doing quick trim jobs when you don't want to haul out the big compressor and worry about power cords.  And this thing will be a lifesaver for anyone working on jobsites without inadequate power but still need to run a trim nailer.  Read more details about it on the Home Depot product page.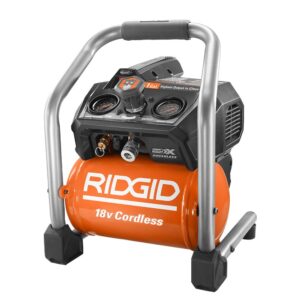 GEN5X 18V Cordless Belt Sander
The belt sander is a tool that doesn't get a ton of use in my shop, but when I do use it I'm typically doing something big like a table top.  And inevitably the cord gets hooked on a corner and I either unplug it from the extension cord or almost flip my workpiece.  This 3″ x 18″ belt sander will be a welcome addition when I need it and the dust collection looks to be top notch which is always a plus for me.  Read more details about it on the Home Depot product page.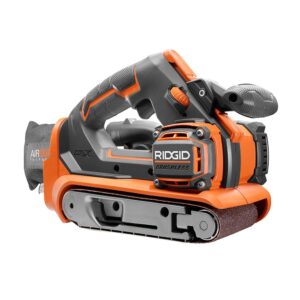 GEN5X 18V Brushless Angle Grinder
The angle grinder is another tool that I'm going to put in the less frequently used category, but again, having a cordless one is going to be nice.  I've been wanting to get into welding recently and when you are grinding down welds or even cutting metal, you really don't want to do it in the shop around sawdust for the obvious fire hazard.  So being able to take this 4.5″ grinder outside in the driveway or backyard is going to be a huge benefit!  Read more details about it on the Home Depot product page.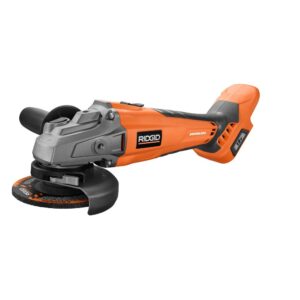 GEN5X 18V Brushless Vacuum
Do any of you remember the Dust Buster?  Okay, maybe I'm showing my age, but this new GEN5X cordless vacuum is like a Dust Buster on steroids!  It's got extensions that will turn it into a full upright vacuum and you can use it in the shop or the house.  And if you are doing onsite work or a quick repair inside this is a great tool to clean up that drywall dust and debris and leave the area as clean as you found it.  Read more details about it on the Home Depot product page.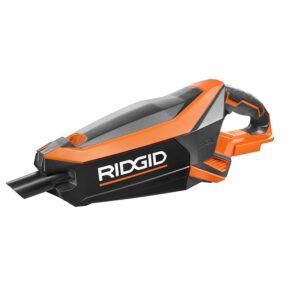 One Grand Prize winner will get one of each of the items above!  Three lucky runner ups will get their choice of one of these amazing tools.  Just follow the rules below and get in your entries for your chance to win.  And be sure to share it with your friends!
Use the widget below to get all your entries into the giveaway.  Giveaway ends March 26 at 9:30pm CST.  Open to US and Canada residents.  See giveaway widget for rules and conditions.  Good luck!
Affiliate links are provided in this post for your convenience.  Purchasing through these links helps support the site AT NO COST TO YOU and lets me build and share more projects and plans!
RIDGID provided me with product and/or monetary compensation as a sponsor of this giveaway.  All opinions are my own and are not filtered by the sponsor.