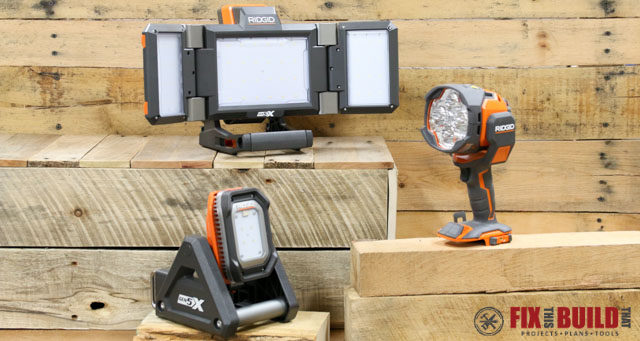 Light up your New Year!
Have you seen the new RIDGID LED light line up yet?   They really came up with some bright ideas…too cheesy?  Seriously, these lights are awesome.  To let some of you experience these lights yourself, RIDGID is sponsoring this LED light giveaway.
We're giving away the full kit and kaboodle to one lucky winner and 3 other winners will get their choice of any of these lights.  I'll give you a run down of the lights up for grabs and to enter just scroll down to the bottom and use the widget on desktop/tablet or hit the "Enter Competition" button on mobile.
18V Hybrid LED Folding Panel Light
This is definitely my favorite of the 3 lights.  It's crazy bright at 2,500 lumen dimmable output.  And you can direct the light in a ton of different directions with the folding and tilting features.  And if you don't want to worry about changing your batteries out, you can plug this straight into an extension cord for unlimited light.  I use this guy all the time when doing anything at night and it's a game changer.  Read more details about it on the Home Depot product page.

18V Dual-Power LED Light Cannon
There is a reason they call this thing a light cannon.  Actually there are 2,500 reasons, and they are all lumens.  That's right, 2,500 lumens in the palm of your hand!  So unlike the Panel Light, this is a very focused beam of light.  When you point this thing up in the sky it's like throwing up the Bat Signal.  Seriously, this thing is bright.  And it's also dimmable.  Read more details about it on the Home Depot product page.

18V LED Flood Light
Okay, so you don't always need to blind astronauts or light up an entire room.  The Flood Light is the little brother to those two beasts up top.  It's a smaller footprint and the feature I love the most is it can be detached from it's swivel base to fit in tight spots.  Perfect for when you are under your house, in a cabinet working on a sink, or just in your tent.  But don't worry, the 1,200 lumens is still plenty to light up your area.  Read more details about it on the Home Depot product page.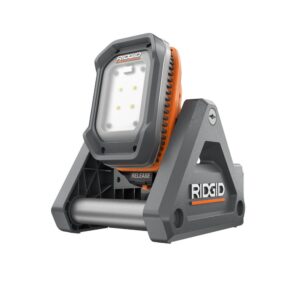 GEN5X Universal Collapsible Tripod Stand
Need a way to hang these lights at the jobsite or in a room where you are replacing some lights?  This tripod stand is a super beef unit that will hold up to 3 lights at once.  It has a leveling foot and collapses down for easy storage.  Read more details about it on the Home Depot product page.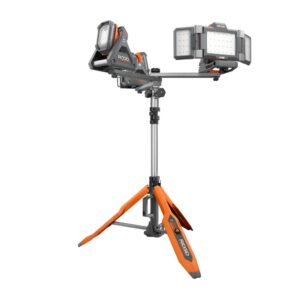 One Grand Prize winner will get one of each of the items above!  Three lucky runner ups will get their choice of one of these amazing tools.  Just follow the rules below and get in your entries for your chance to win.  And be sure to share it with your friends!
Use the widget below to get all your entries into the giveaway.  Giveaway ends December 30 at 8pm CST.  Open to all US and Canada residents.  Good luck!
Affiliate links are provided in this post for your convenience.  Purchasing through these links helps support the site AT NO COST TO YOU and lets me build and share more projects and plans!
RIDGID provided me with product and/or monetary compensation as a sponsor of this giveaway.  All opinions are my own and are not filtered by the sponsor.