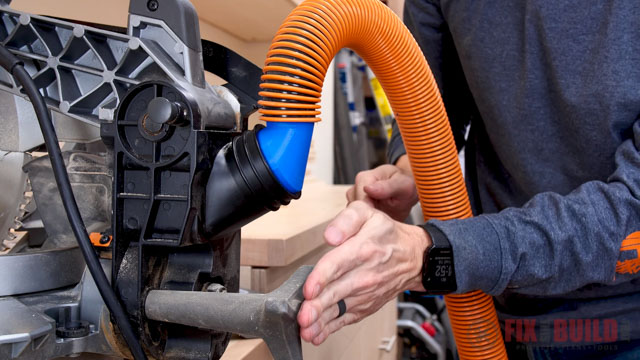 My miter saw is one of the most used tools in my shop, but it puts off a lot of dust.  Today I'm going to show you my 10 Tips for Better Miter Saw Dust Collection so you can control the dust in your shop too.
With each tip I'll show you the improvements I've made to my miter saw setup over the years.  I bought every tool I talk about in this blogpost with the exception of the Ridgid NXT 14 Gallon Wet/Dry Vacuum which Home Depot recently sent to me. I was happy to check it out and share my opinion with you here. 
This post is sponsored by The Home Depot. 
Affiliate links are used on this page.  See my disclosure page for info on affiliate programs.
[vc_separator]
1. Ditch the Dust Collection Bag 
The first improvement everyone should make is: get rid of the dust bag it comes with. Those dust collection bags have big holes and they don't catch that fine dust you want to contain.  
Throw the bag away and hook your miter saw up to a shop vacuum instead.  
Which shop vacuum should you use?  
I'll go into that more in Tip #6, but at this point ANY shop vacuum is better than the dust bag.  I used a 12 Gallon Ridgid Shop Vacuum with a 2" hose for years and it worked great. 
2. Use a good air filter
Keeping my lungs healthy is important to me, which means cutting down on the fine dust particles floating in the air.  A good air filter can contain those particles but which one is right for you?
My shop vacuum has three filter options:
General Purpose Air Filter
1 layer filter, captures 10 microns and up

Good for catching larger particulates (dirt, sawdust, debris, etc)
Not the best choice for containing finer dust
3 layer filter, captures 1 micron and up

Will catch some fine dust (drywall dust, sawdust, etc)

This is the

minimum

filter I would use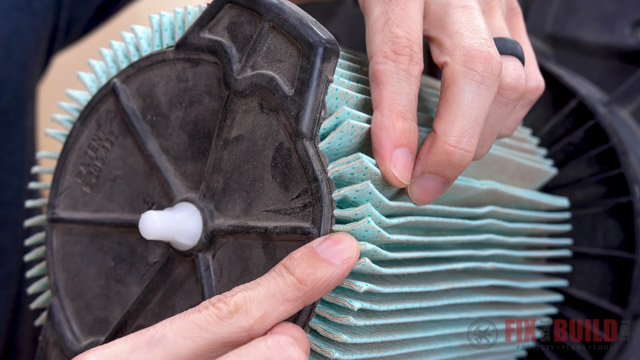 5 layer filter, captures 0.3 microns and up

Catches more of the fine dust particles along with pollen, pet dander, etc

This is what I use and highly recommend
3. Protect the Filter with a Dust Bag
In addition to an air filter, you also need to use a dust bag in your shop vacuum.  Why? The dust bag will contain larger dust chips and debris so they don't land on the air filter.  
Without a dust bag, your air filter will clog up which means it won't be able to filter anything.  And a clogged air filter will choke down your motor and reduce the life of your vacuum.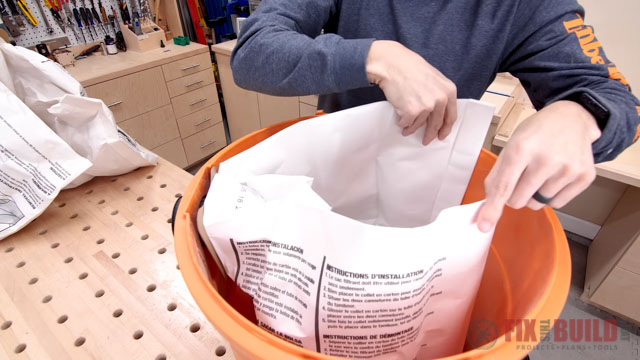 I use high efficiency dust bags with my 12 gallon shop vacuum.  These bags come in a 2 pack and will fit any RIDGID 12-16 gallon shop vacuum.  The dust bags are easy to install and remove.  I change mine about every 6 months.  
4. Make the Setup Easy
For years my miter saw sat right on top of a plastic sawhorse with my shop vacuum off to the side. My old setup wasn't easy to use, so I designed and built the Mobile Miter Stand instead.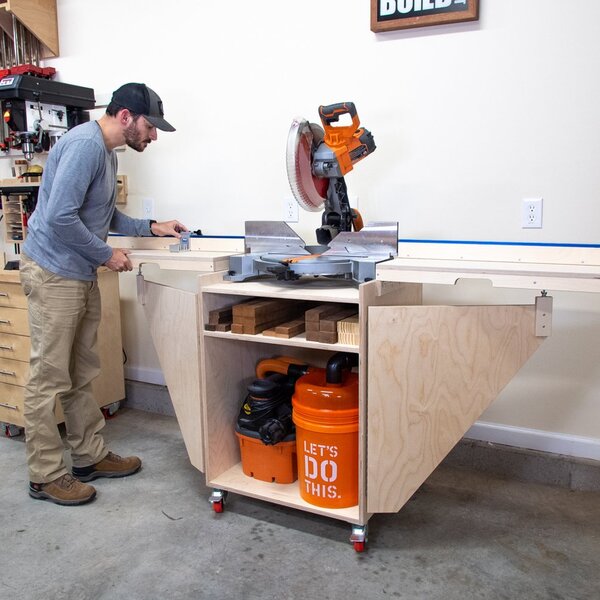 The Mobile Miter Saw Stand includes:
A designated spot for my miter saw to live

Foldable wings with stop blocks for my outfeed

Castors to make it mobile (which is HUGE in a small shop)

A spot to contain my shop vacuum 
With the miter saw stand my shop vacuum was contained right in the base of the stand.  No more tripping over my vacuum!  And I got a dedicated shop vacuum for my miter saw, which meant no more double duty.  
5. Use a Dust Separator 
A dust separator is a quick and easy way to level up your dust collection game.  I use the Dustopper and it works well for me. 
What does a dust separator do? 
A dust separator allows larger debris to fall into a bucket, before the remaining dust goes into a shop vacuum.  Removing the larger debris first thing makes it easier for the shop vacuum to do its job.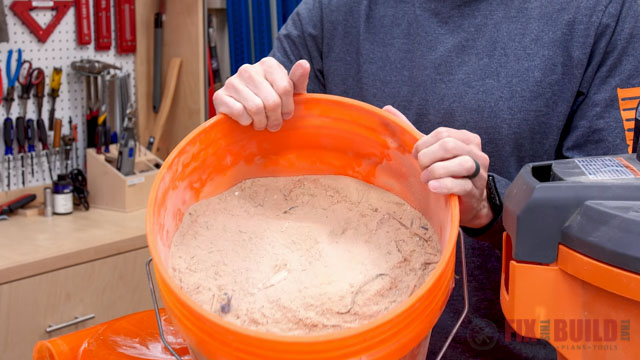 I really wanted to use a dust separator but I had a problem.  My dust separator didn't fit in the miter saw stand alongside my 12 gallon shop vacuum. 
So I switched out my 12 gallon shop vacuum for a 4 gallon vacuum I already had on hand.  That worked, but there was a noticeable reduction in the suction.   That leads me to the next tip…
6. CFM Matters
CFM stands for cubic feet per minute, which is a measurement of air flow.   The more suction from your shop vacuum, the better able you'll be to control the dust from your miter saw.  
Let's break down the amount of CFM in three of my shop vacuums.
110 CFM

Obviously this vacuum is smaller and has a smaller engine.

Very portable and good for smaller jobs.
144 CFM

This is the shop vacuum I used in my Mobile Miter Saw Stand for years

It's a big improvement over the 4 Gallon Shop Vacuum in terms of suction.
165 CFM

Almost 15% more suction than the 12 Gallon Shop Vacuum

Highest CFM vacuum I've used that can fit into the

Mobile Miter Saw Stand.  

Comes with a 2 ½" hose and is also great for around the shop clean up.

Home Depot sent me this vacuum to check out, and I really like it.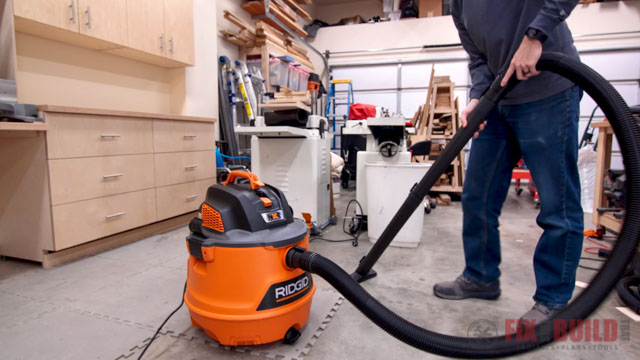 7. Use the Right Hose 
Using the right hose is another important step in miter saw dust collection, and bigger isn't always better.  While a bigger hose will have more suction power, it may not be very flexible.  This can be an issue if you're short on space behind your miter saw.
Plenty of room behind miter saw:
If you have lots of room behind your miter saw, you should be able to use a larger diameter hose without an issue. 
For years I used my Miter Saw Stand and because I had room behind the saw, the hose size didn't matter.  But that changed when I switched to my Miter Saw Station built from my modular garage cabinets.  As a result, I didn't have a lot of room behind my miter saw and having the right hose was key.
Limited space behind miter saw:
 If space behind your miter saw is at a premium, you need consider getting a more flexible hose.  If your hose isn't flexible enough it may kink up or bind as you make adjustments to your miter saw. 
I tested different hoses to find Goldilocks of hoses; big enough for good suction and still flexible enough for my space.  Let's find out which one was just right.   
I started off with the 2-½" hose my 12 Gallon Ridgid Shop Vacuum came with.  This hose worked great with my Miter Saw Stand and the suction is great.  Unfortunately it's not flexible enough to fit behind my Miter Saw Station.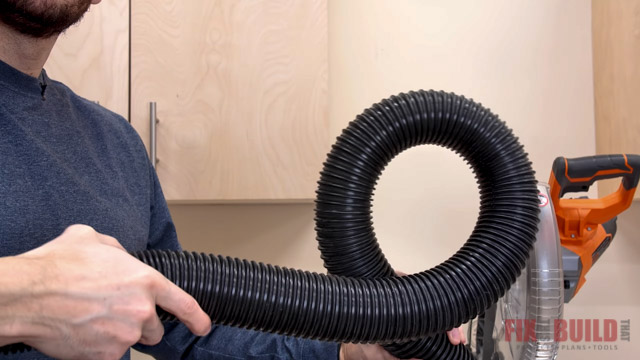 The next hose I tried was the 1-¼" hose that came with Ridgid's Auto Detailing Kit.  It was more flexible than the 2-½" hose, but the diameter of the hose was a little too small.  However the kit is perfect for vacuuming out my truck, which is what it's meant for.  It comes with 7 different vacuum attachments which helps me keep my truck looking good.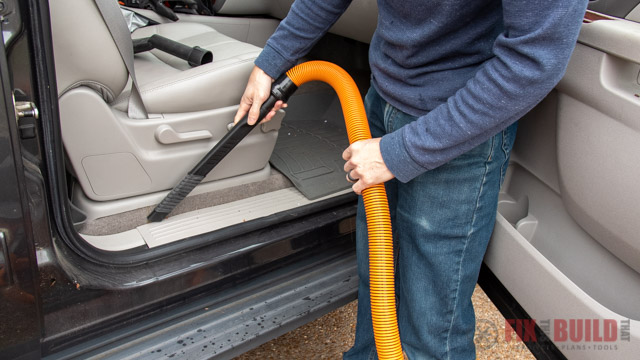 Finally I found the perfect hose for my needs, the Ridgid Pro-Grade 1-⅞" Hose Kit. This hose is a bit bigger than the 1-¼" hose I just tried, but it's still super flexible.  The flexibility allows it to freely move around behind my miter station so it doesn't kink up or bind when I'm using it. It's worth every penny in my opinion.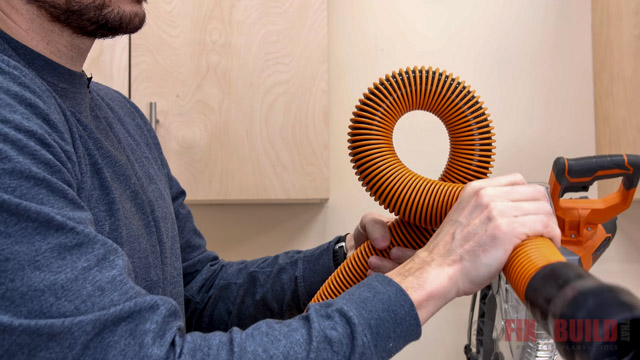 Another thing I really like about the Ridgid Pro-Grade 1-⅞" Hose is that it has a flexible boot on the end of the hose.  I can make it fit on my miter saw, it's not perfect but it works.  Dust collection done, right?  Wrong.
8. Find the right fittings… or make them
Even though my hose is flexible, when it's connected to my miter saw it takes up about four more inches of space.  I need to use a 90 degree elbow fitting to make the hose go vertical.  But despite the fact that I have tons of fittings, none of them fit my miter saw.   
Every miter saw and hose is different, so you may be able to buy the fittings you need.  But if you can't, you can make your own instead.  
I made my own custom fitting using my 3D printer and the Fusion 360 design software.  To do this I used calipers to measure the inner diameter of my miter saw output and the inner diameter of my hose.  Then I connected those two measurements on Fusion 360.  My buddy Bob at I Like To Make Stuff has a whole tutorial explaining how to do this.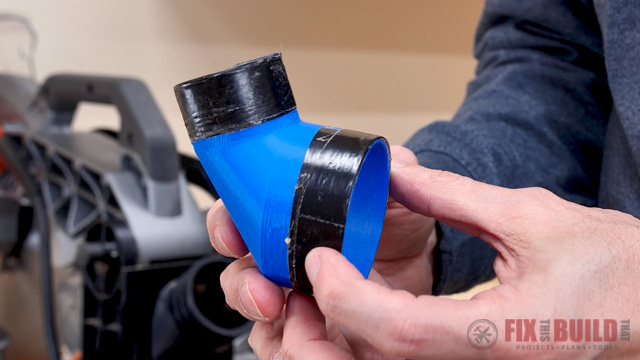 With the fitting done, my hose was connected and ready to go.
9. Use an Automated Vacuum Switch
Using an automated vacuum switch is the easiest step you can take to make your dust collection efficient and effortless.  With an automated vacuum switch your vacuum will automatically fire up every time you make a cut.  Anything I can do to make dust collection easier is a win in my book.
It's really easy to connect your shop vacuum to an automatic vacuum switch.  
Plug the power cord into an outlet

Make sure the other cord coming out of the vacuum switch is plugged into "Auxiliary" 

Plug your vac in where it says "Vacuum Power"   

Flip the power switch below to "Auto."  

Plug your miter saw into "Tool Power"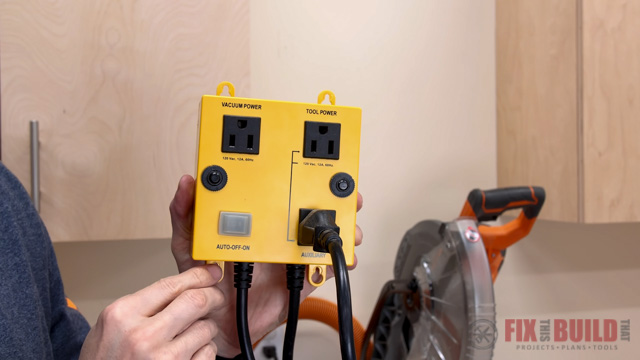 I also really like that my automated vacuum switch allows my vacuum to stay on for about 5 seconds after I make a cut.  That extra bit of time with the vac helps to keep collecting dust and debris.
10. Add a Dust Hood
Adding a dust hood is the holy grail of dust collection, especially if it's hooked up to a dust collector.  But you may not have a dust collector, or like me, yours may be on the other side of your shop.  
I wanted to see how well a dust hood would work with my setup so I made a quick version.  The good news is, a dust hood still works wonders when you're using a shop vacuum.  
This type of dust hood is passive dust collection, it's mainly preventing dust and larger debris from flying out of the side of the miter saw.  I get a lot of dust and debris landing on my counter, so it's working great to prevent that.  
My plan is to use this dust hood for a bit so I can figure out what I like about it and what I would change. Then I'll use that information to make a more involved dust hood.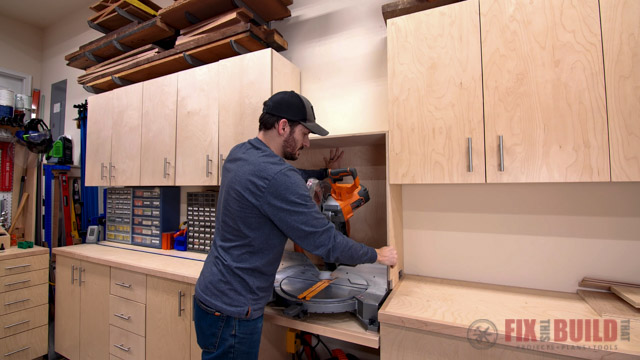 Figuring out the dust collection in my shop has been a journey.  I hope all 10 tips for better miter saw dust collection help you get your dust collection under control too.  For more ideas on how to get your shop organized check out my Shop Projects.
The Home Depot provided me with product and/or monetary compensation as a sponsor of this build.  All opinions are my own and are not filtered by the sponsor.