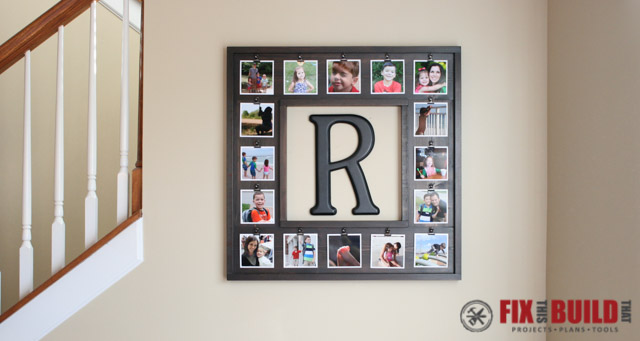 One of the things my wife and I are good at is snapping pics.  If you don't know, I love Instagram, and even though they don't require square pictures anymore, we love the square Instagram picture look.  So we decided we wanted to have a picture frame made for square photos that would let us easily change out pics and hold a good amount of photos.  We also wanted it to have a place in the middle to hold some wall décor we could change out with the season or if we just got tired of a certain look.
This 16 panel DIY Instagram Picture Display hits all the wants we had!  The picture frame has room for 16 4″x4″ pictures around the outside and an opening on the inside to frame out your favorite wall decoration.  The pictures are held in place by small bulldog clips that let you quickly change out the pictures.  And if you already have some basic supplies, you can make the whole thing out of 3 boards and some hardware for under $20!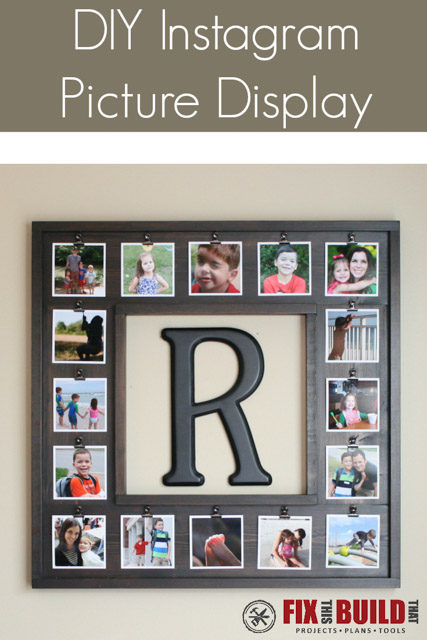 Here is what you need for the project:
Materials/Supplies
(1) 8′ Pine 1×6
(2) 8′ Pine 1×2
Affiliate links are used on this page.  See my disclosure page for info on affiliate programs.
The picture gallery is made from 1×6's trimmed out with 1×2's on the side.  Start with an 8′ 1×6 and cut it into (2) 26″ pieces and (2) 15″ pieces.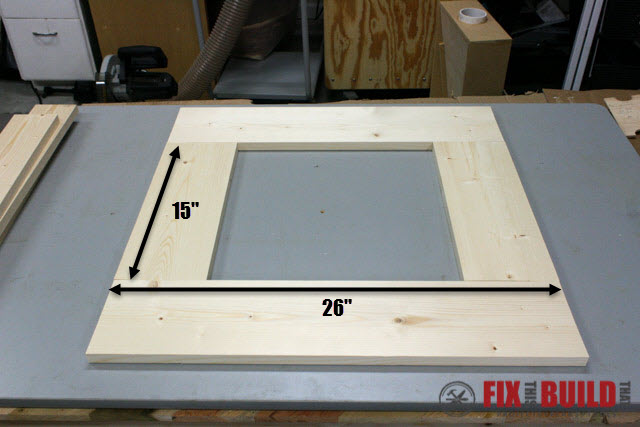 Drill pocket holes into the end of each 15″ piece.  I typically use my K4 for drilling these holes, but the less expensive R3 and Mini would be perfect for this application as well.
Connect the 4 pieces with 1-1/4″ pocket holes screws to make a 26″ x 26″ frame with a 15″ x 15″ opening in the middle.
Now is a good time to sand the main frame.  Going back and doing this after attaching the trim will make it much more difficult.  Sand to 220 grit to prepare for the stain.
Next cut the outer and inner trim from 1×2 material.  If your store doesn't sell 1×2's then you can buy a 1×4 and get two 1×2's out of it by ripping it on the tablesaw.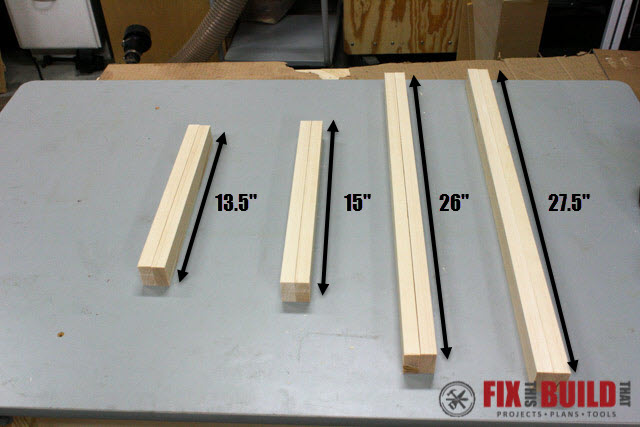 You will need (2) each of 13-1/2″, 15″, 26″, 27-1/2″ and  pieces.  Before attaching these go ahead and sand them to 220 grit as well.
Attach the trim to the display frame using a little wood glue and 18 gauge brad nails.  If you have any glue squeeze out of the joint make sure to clean it up with a damp cloth.  Glue left on the surface won't take stain properly.  Here is the easiest order of assembly.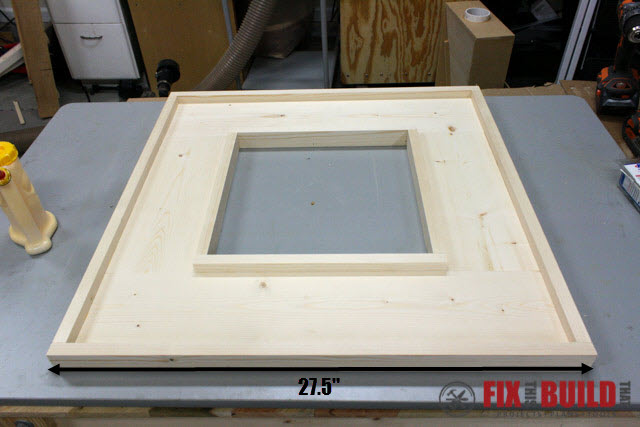 Apply your choice of stain to the piece.  I went with my old standby, a dark Kona stain.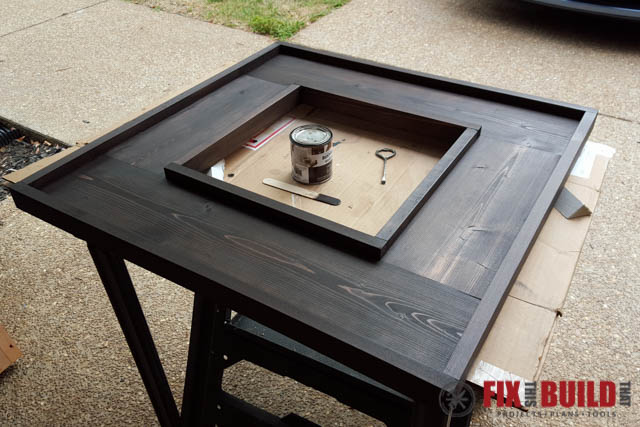 If you want a distressed look then sand back some of the areas to reveal bare wood underneath.  Finish with a few coats of a wipe on polyurethane.
The DIY Instagram Picture Frame is almost done, now you just need to measure for and attach the bulldog clips.  Here are the clips I picked up from Hobby Lobby, they are also available on Amazon but they are cheaper in the store.  They are packs of 15 so you'll need 2 packs, but they are great for other projects too.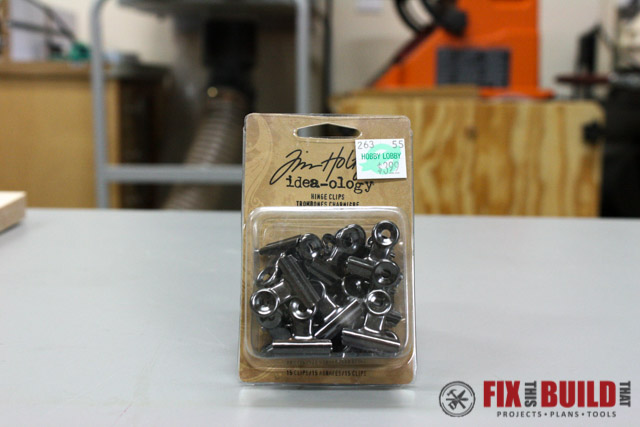 I used small 3/4″ finish nails to attach the clips, but you could also hot glue or super glue them as well if you don't have the right nails on hand.
To get even spacing between all the pictures I spaced all the 4″x4″ pictures 1-1/8″ from each other and 3/4″ from the edges.  Depending on your clips you can adjust how you mount them to achieve this spacing.  Here is a diagram of how the pictures are spaced.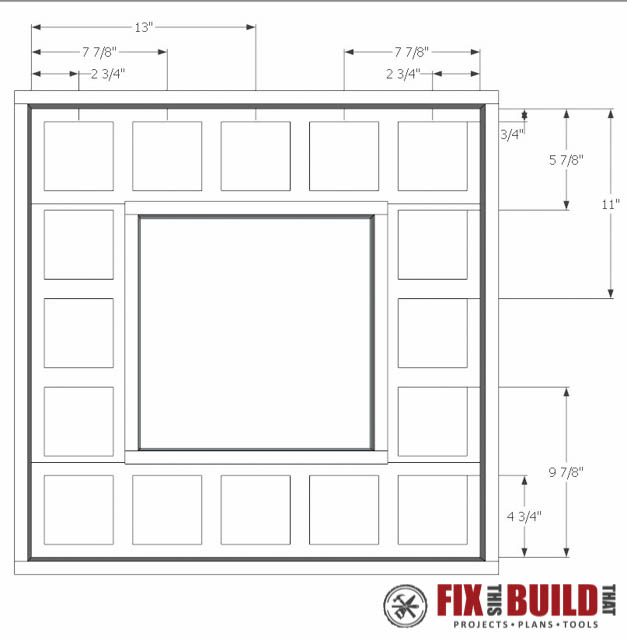 Attach mounting hardware on the back of the picture gallery and you are ready to hang it.
Now print out your best pics and find that perfect centerpiece for your gallery.  The possibilities are endless here.  We went with a classic monogram letter, but we might switch it up and have season appropriate décor here in the future.
Have fun building your own DIY Instagram Picture Display and send me pictures of how you customize it!