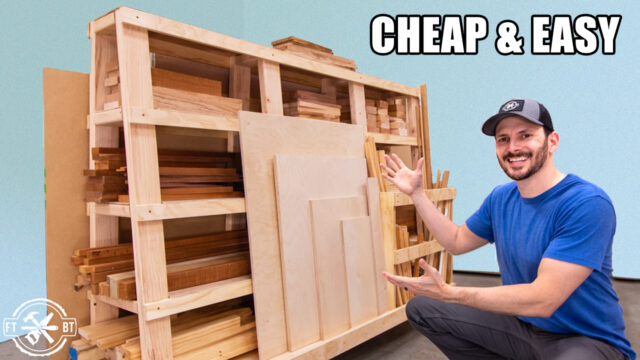 Tired of plywood, offcuts, and random wood all over your shop?  Build this DIY Lumber Cart and get a place for all your lumber! It's 6′ long and 28″ wide with storage on both sides and four interior shelves (plus an open top shelf).  Add vertical wood storage on a small section or an entire side to fit your needs.
It's made from one sheet of 3/4″ plywood and 8 2×4's and can be made with just a circular saw, miter saw, and set of drills.  Add an optional sheet of lauan to cover the interior and hold small parts.
Tools Used
Kreg pocket hole jig
Table saw
Track saw (or circular saw)
Miter Saw
Cordless Drill
Brad Nailer
Materials/Supplies
(1) 4′ x 8′ 3/4″ plywood
(8) 8' 2×4 pine
(1) 4' x 8′ 1/4″ lauan (optional)
(6) casters
2-1/2" pocket Screws
1-1/4" pocket Screws
2-1/2" wood screws
1-1/4" wood screws
1" brad nails (optional)
Affiliate links are used on this page.  See my disclosure page for info on affiliate programs.
Full Blog Post Coming Soon!
For now watch the video and pick up the plans.