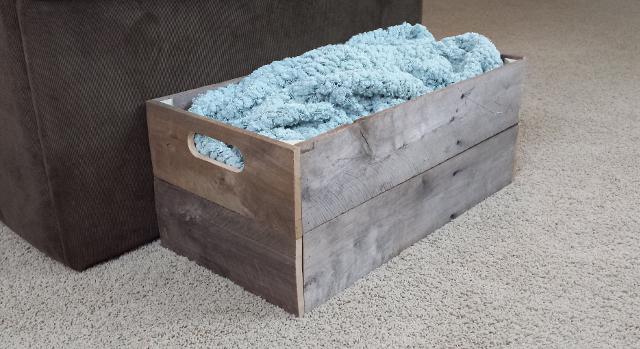 Today I'll teach you how to make a wooden pallet crate with just one pallet and minimal tools.  This DIY project is a cheap and easy build and makes use of reclaimed lumber from pallets to keep them out of the landfill.  You can stain the crate to your liking or leave it rough for a rustic look.
This winter my parents decided they needed a place to store firewood next to their fireplace.  Of course they asked me what I could build for them and I was happy to do it.  They said they wanted something rustic and earthy…bingo…pallet wood!  So I set out to make one that would meet their needs and in the process realized these could be used for many other things than holding firewood.  Next thing you know, our couch blankets were posing for a photo shoot in it.  By the way…the NAP blanket from Brookstone is softer than a newborn koala…and probably nicer from what I hear.  Love that thing!
Materials/Supplies
5 pallet boards 5″ wide 42″ long
4′ of 1-1/4″ or 1-1/4″ thick stock
74″ of 3/4″ thick stock
Affiliate links are used on this page.  See my disclosure page for info on affiliate programs.
[vc_separator border_width="3″]
I was able to get all the boards to build the wooden crate from one pallet and a few pieces of scrap. The pallet boards were just over 5″ wide, so stacked two high it gives a 10-1/2″ high crate.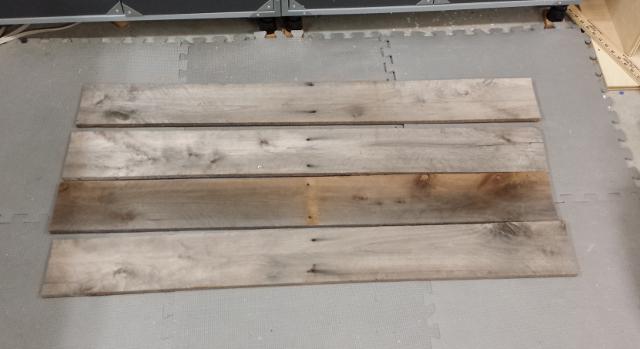 Each pallet board will be used for a long side and a short side and you can modify these dimensions to fit your needs. I cut my boards at 25″ and 13″ to give a total crate size of 26″ x 13″.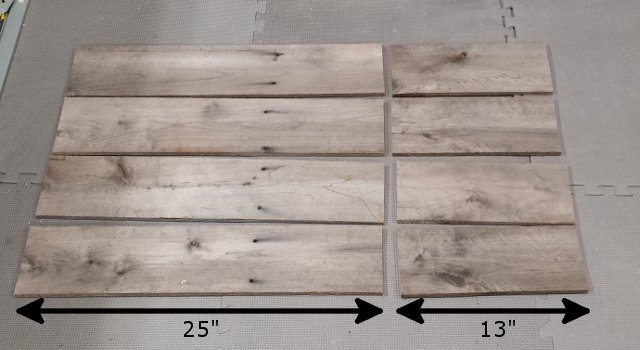 The main structure of the crate is a bottom frame and then 4 triangular gluing blocks in the corners. I used some scrap pieces of 3/4″ material to make the base fame. You can use whatever width material you have on hand (mine were 1-1/8″ wide). The important thing is that outer measurements of the frame match up with the side pieces. The long sides of the frame should match the long side pieces. The short sides of the frame should be smaller than the short side pieces by twice the thickness of the pallet boards. My boards were 1/2″ thick, making my short frame side 12″ (13″ – 2*(1/2″) = 12″).  If I lost you with the math just look at the picture, it's pretty intuitive!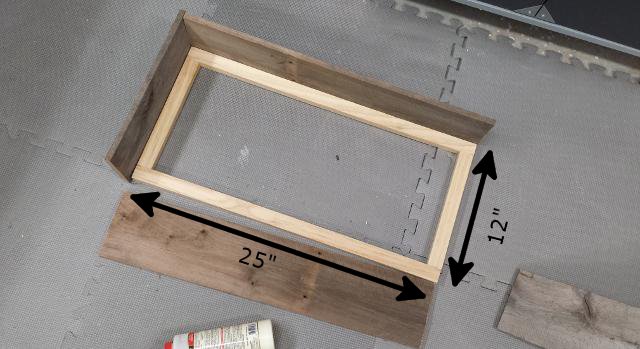 I used my Kreg K4 to drill pocket holes for connecting the base frame. This is a perfect application for the Kreg Jig and it's just like making a face frame.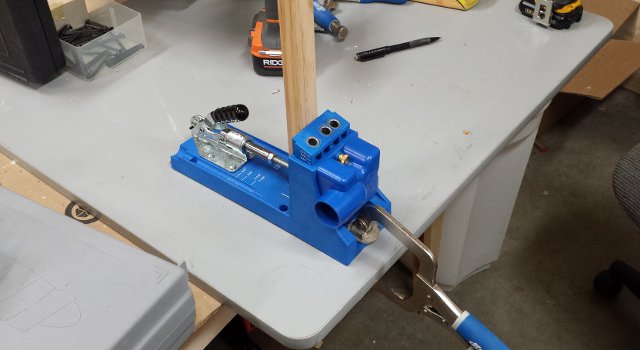 If I had wider base frame boards I would have used 2 screws, but 1 was fine.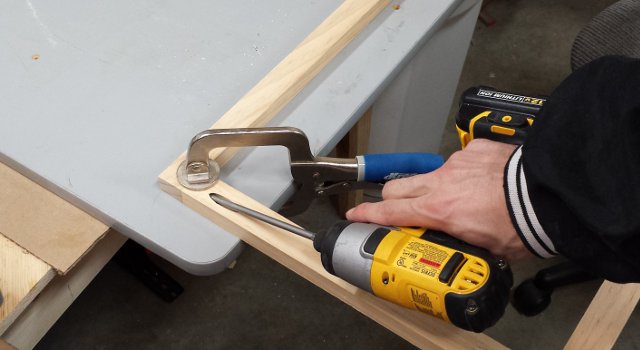 Next I laid the base frame on the ground and started attaching the first layer of the sides. I used glue and 1″ brad nails to attach the sides to the base frame. At this point the short and long sides won't be connected, I'll come back later and attach them with the glue blocks.
One thing to mention here, this process is a WHOLE lot easier if you are using fairly straight boards. My boards were a bit gnarly and cupped as you can see in some of the pictures. This made for imperfect joints and I had to match the pieces up to minimize gaps between boards. But hey, this is rustic pallet wood, what did you expect!?!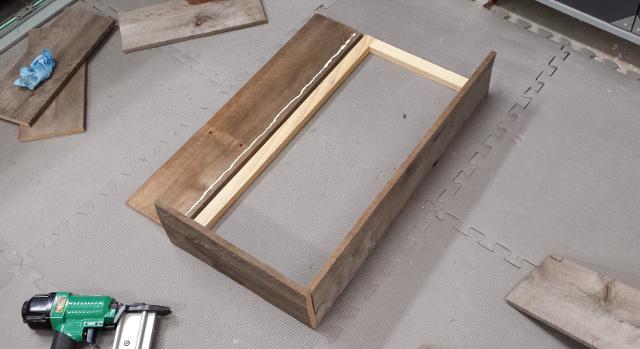 Next I attached the rest of the first layer of the side pieces. I also went ahead and cut some pieces for the bottom of the crate and installed those. I went lengthwise with the bottom pieces which required a rip cut for the small middle piece (I thought the racing stripe was kind of fun), but you could also go the other way and have 5 smaller pieces going widthwise. If you don't have a tablesaw to rip boards down then go widthwise and size the bottom so 5 pieces (or more if your boards are skinnier) will fit in the bottom perfectly.  Attach the bottom with glue and brad nails as well.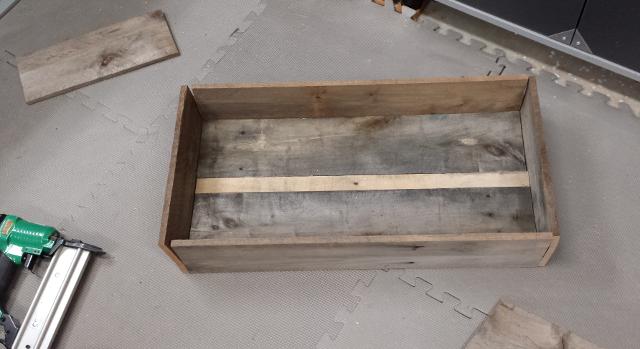 To connect the sides to each other I used some scraps cut to 45 degrees.  This piece was 1-1/4″ thick, so if you use the runners of a pallet (after removing the nails obviously) or a 2×4 you will get around 1-1/2″ which is fine also.  You could also use rectangular or square stock, but the triangular shape makes it look so clean!  If you are using a circular saw  cut a long piece off a wide board and then cut the pieces you need to length.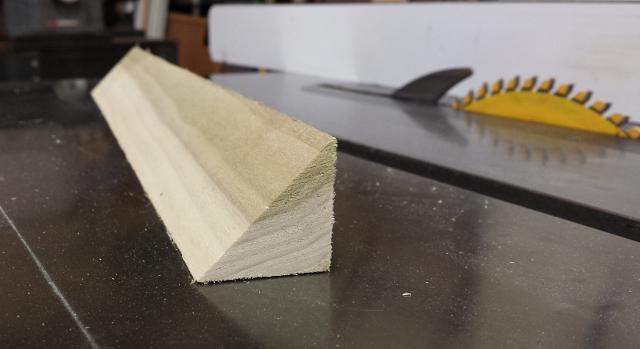 Speaking of cutting to length…I made my glue blocks oversized and then stacked the second side piece on top of the bottom piece and marked where I needed to cut the glue blocks.  I marked each corner separate and then cut them.  When working with pallets you really want to have each measurement specific because they can vary a lot due to the cupping, bowing, etc.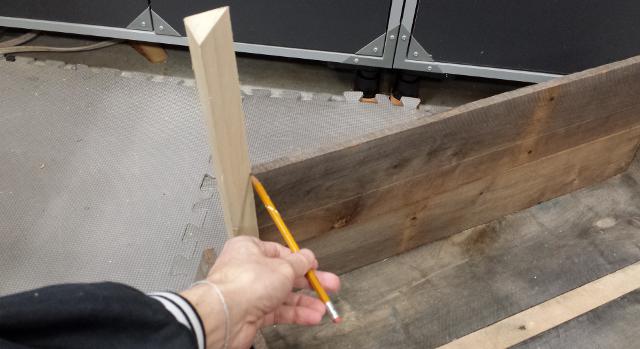 After cutting to length I installed a long side and a short side, gluing and nailing the glue block into place in each of the 4 boards it touches.
Be careful here!  Mind where you are shooting the nails.  If you get too close to the edge of the glue blocks the nails will blow out and show through…don't ask me how I know this 🙂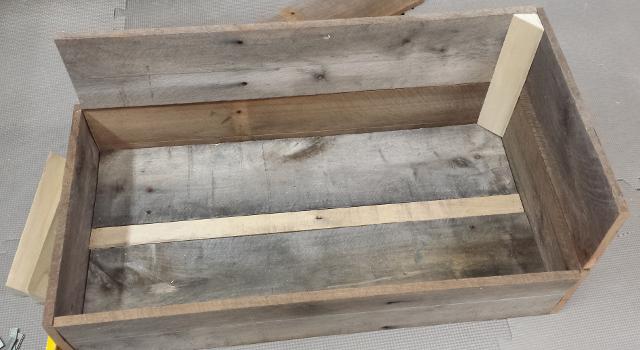 Before I attached the other short side I wanted to put a hand hold in it.  This way I could show you guys how to put hand holds in the crate before assembly and after assembly.  Or I forgot to do it on the first one and remembered this time.  But the first reason sounds way better and you get the benefit of seeing both methods!
I made the hand holds 5″ wide from the outside edges of each circle, 1-1/2″ tall and 1″ down from the top of the short side.  I used a forstner bit and backed it up with some scrap wood to prevent blow out.  You could also use a spade bit, just make sure to back up the wood (better shot of that in the other method).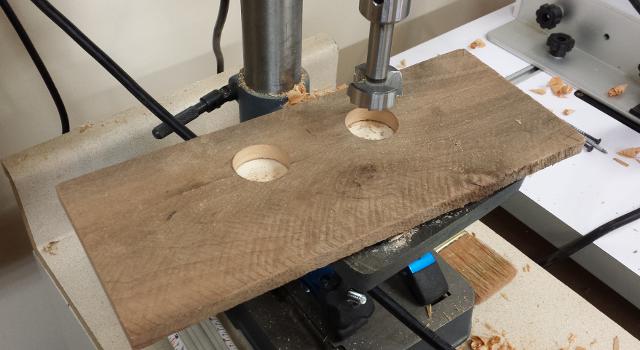 After you have the two holes cut just connect them using a jigsaw to form the hand hold.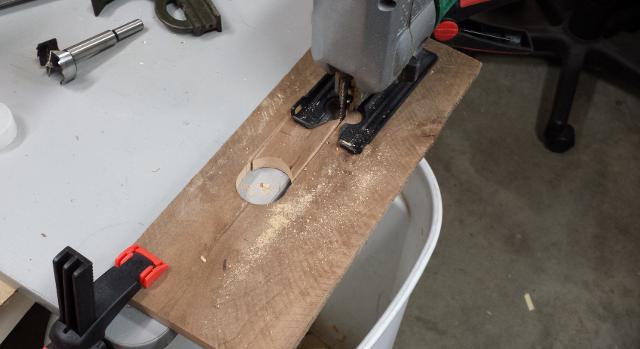 Viola!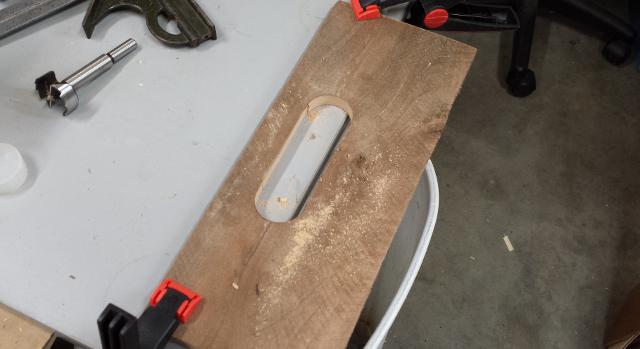 I used a rounded file to smooth the edges.  It worked great and was easier than mashing some sandpaper in there and also left some file marks that added to the rusticiness of it all…rusticiness is a word, right? Right!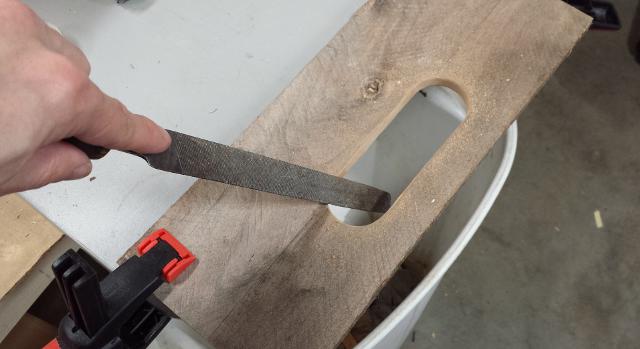 After that I attached the rest of the second layer of boards with brad nails and glue.  Then I moved on to cutting the other hand hold on the box after it was assembled.
I laid out the outline of the hand hold using the same measurements as before but instead of using the drill press I chucked the forstner bit in my drill.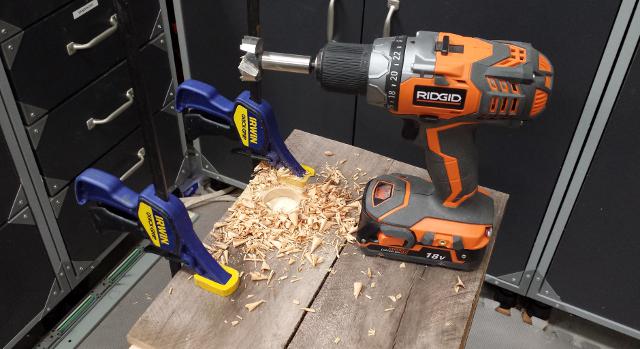 Here is a good shot of what I mean by backing up the board.  You clamp a scrap piece of wood to the backside of the board you are drilling through.  This supports the wood fibers and instead of the wood splintering and blowing out when the bit goes through, you are left with a nice crisp hole.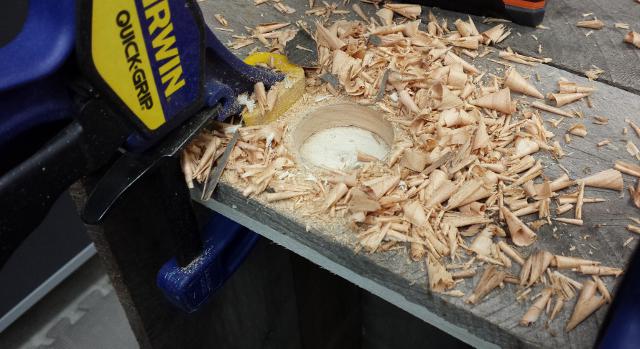 Same deal here.  Just drill the holes and then connect them with the jigsaw.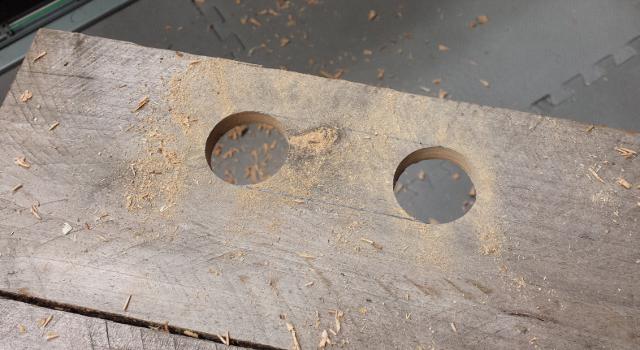 You can see it's easy doing it either way.  So if you forget to cut them before you attach it.  Or you want to provide a teaching experience…cough cough…then don't worry, they are easy to cut once assembled.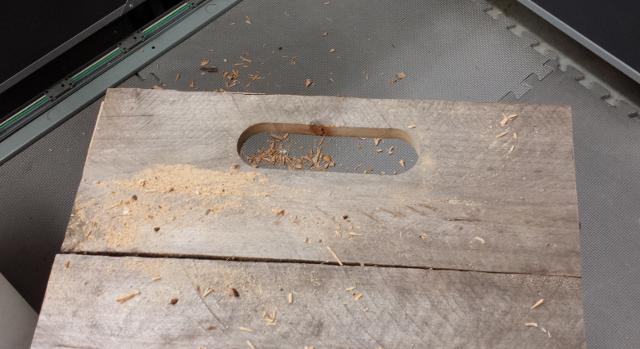 And that's pretty much it!  My parents didn't want a finish on it so I left the crate unfinished and just sanded down all the corners and edges with a 150 grit sandpaper.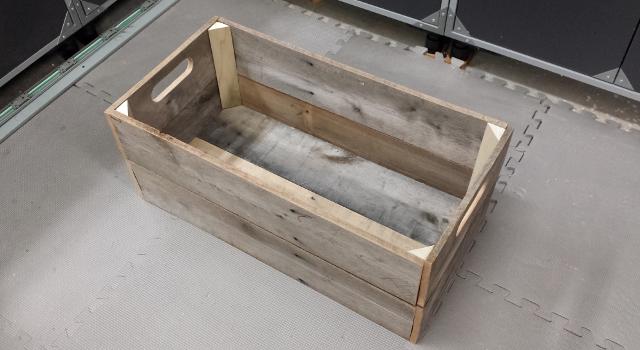 A few options to note.  If you are going to put this on a hardwood floor you can put some rubber feet on the bottom so it won't scratch the hardwood.  And if you ever wanted to flip this over for a photo shoot or something then you could also sheath the bottom with pallet wood.  You wouldn't have as clean of a side view though as the bottom pieces would be seen.
Making this Wooden Pallet Crate is super easy DIY project and you can do it pretty easily in a weekend and likely in an afternoon if you already have the pallet broken down.  Make your own version and share it with me on social media!  Instagram, Facebook, Pinterest, Twitter…whatever your fancy be.