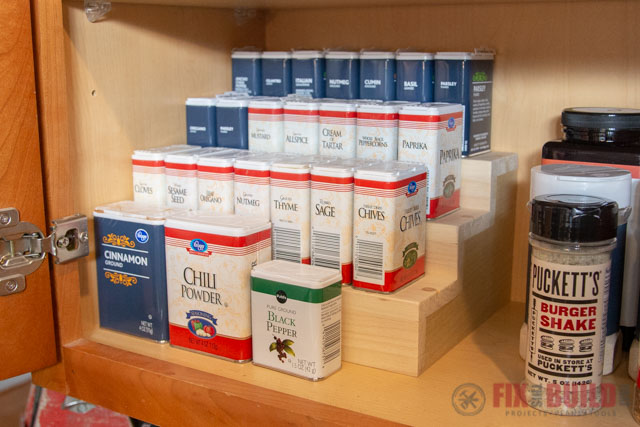 Today I'm going to show you how I made this DIY Spice Rack.  This is the last project from my 3 Easy DIY Kitchen Organization Projects series and it might be my favorite just because of how efficient it is.  
If you're like us you have a bunch of spices in a jumbled mess and it's hard to find what you actually need.  We needed a solution to keep them neat and easy to find, and the DIY Spice Rack was the perfect fit. With a clean design our spice organization has never looked so good!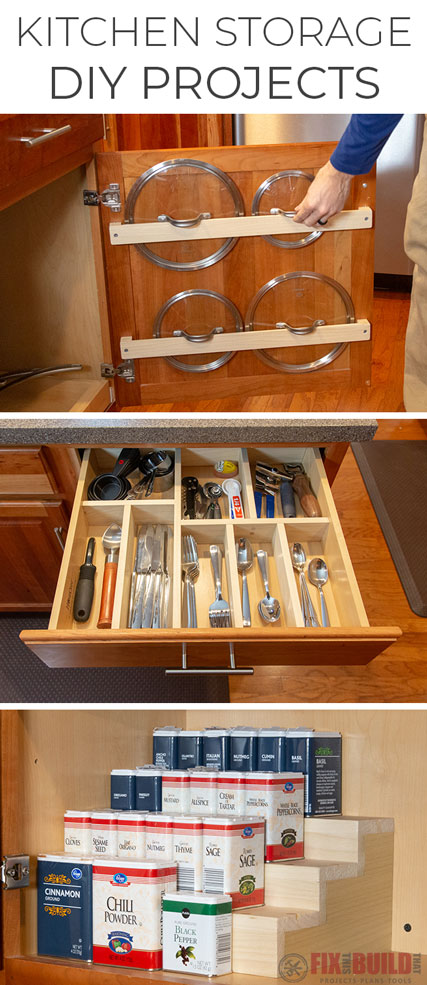 Materials/Supplies
(1) 1/2″ poplar board
(1) 2.5″ poplar board
(2) 1.5″ poplar boards
Affiliate links are used on this page.  See my disclosure page for info on affiliate programs.
[vc_separator]
How to Build a Spice Rack
Cut the Wood
Assemble the Boards
Make and Attach Side
Sand and Finish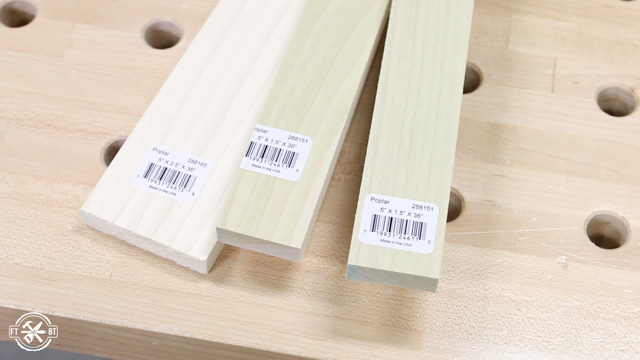 1. Cut the Wood for the DIY Spice Rack
When storing spices I like a design that lets you see everything you have at once.  The DIY Spice Rack is a simple design with three stair step tiers which does just that.  
To start, I cut three 10" long pieces from the 1.5" and 2.5" boards, but you can scale this as big or small as you want depending on your cabinet space.  Be sure to check out my free plans for information about this project!
Use the first board you cut to size, to mark the cuts for the next two.  This will help you to make sure they are all the same length.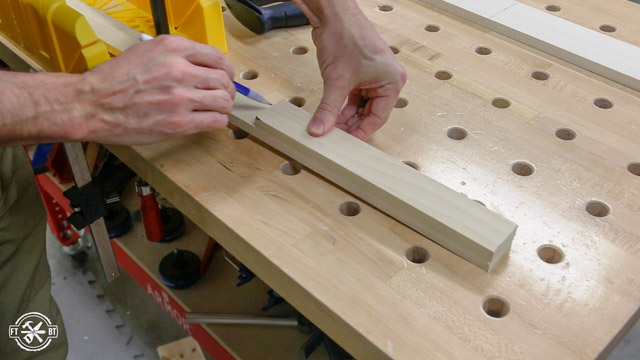 I switched from sawing vertically to sawing horizontally on my miter box.  I like cutting vertically because it's easier to start on your line, but it's also easy to drift during the cut and get an uneven end.  Laying the board flat and cutting the face vs the edge of the board helps control this better.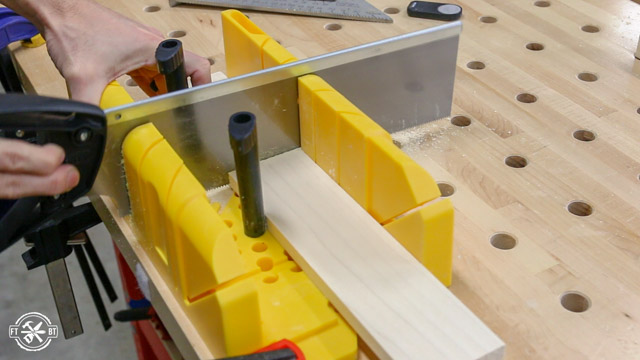 2. Assemble the boards
As we've seen, the key to easy assembly is the right clamping setup.  To make each tier I stood the 1.5" piece on edge with the 2.5" board on top of it and used one of the other 1.5" boards on the back for support.  Then I could drill a couple pilot holes on each end and attach them with 1-¼" screws.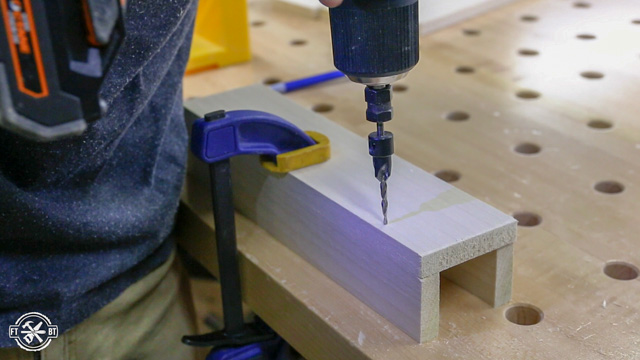 I plugged the holes just like I did for the DIY Drawer Organizer and repeated the same steps for the other two step assemblies.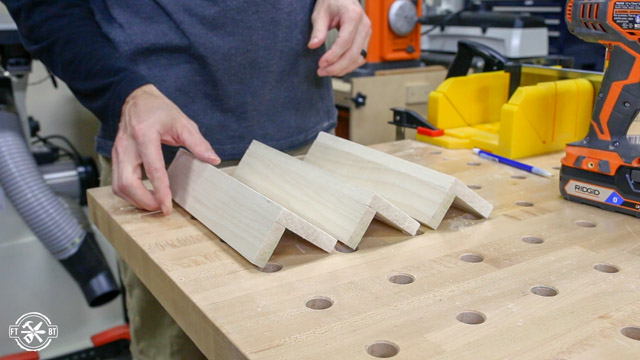 To join the steps together I used the edge of my work surface again as a clamping spot.  I lined up the parts flush with each other then used my F-Clamps to clamp them in place and attached them with two screws.  I didn't use any glue on these joints since it's just a spice rack, but if you're a belt and suspenders type of guy or gal then you can glue all these joints too.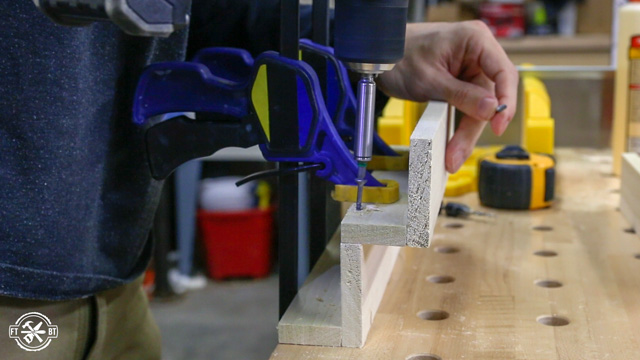 3. Make and Attach Side of the DIY Spice Rack
To fill in the sides and make the rack stable I cut parts from the second 1.5" board.  I glued the 3 pieces together and used my F-Clamps to clamp them for about 15 minutes before taking them out and attaching to the spice rack.  For more information about the size of the wood pieces make sure to check out the free plans for this build!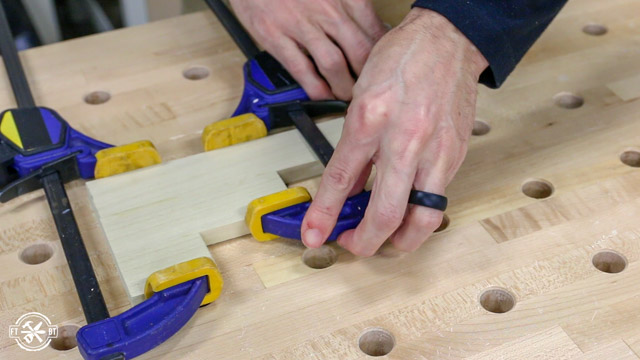 Again, nothing fancy here in the joinery, I just squeezed the end panel in as tight as I could then attached it with screws from above.  I did get a bit of tearout in the countersunk holes at the edge. I filled that in with some sawdust and glue when I was filling the holes with plugs.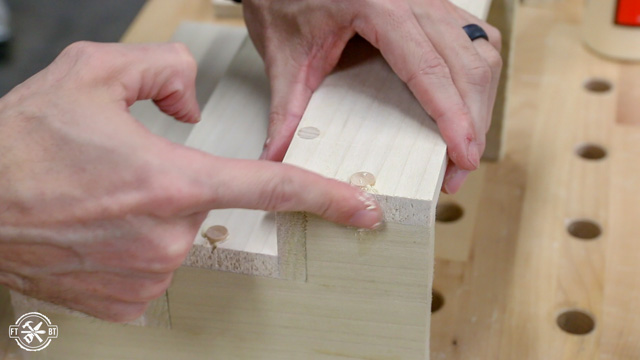 4. Sand and Finish the DIY Spice Rack
The ends of the spice rack were left pretty ragged from the hand saw cuts so I smoothed everything with a 100 grit sanding block.  And this is a perfect example of where having a random orbital sander would come up in spades. They are a cheap investment for the time they will same you and the better finish you'll get.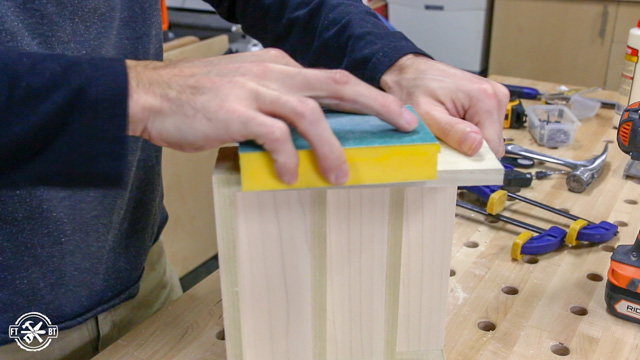 I finished off the spice rack with the water-based poly and put it in place.  In standard cabinets it will fit four of the smaller rectangular spice cans perfectly.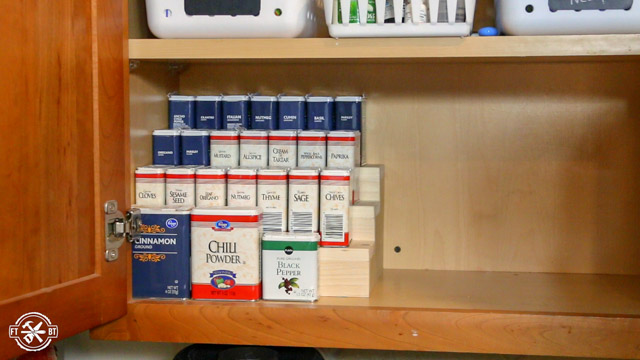 And that's it, you're done!  Now your spice jars have a home and should be easy to find with this upgraded spice storage.  This is a quick and easy project that anyone can take on, no matter your skill level. If you liked this project make sure you check out the rest of the project in my 3 Easy DIY Kitchen Organization Projects series.