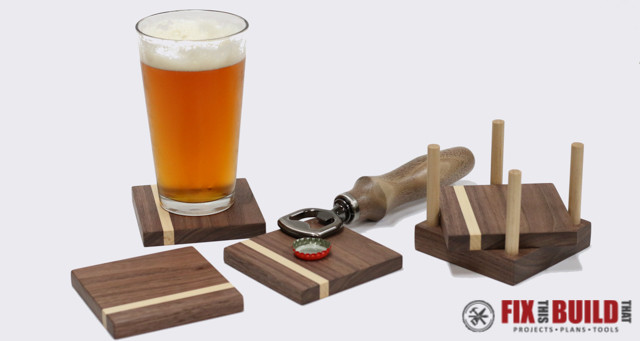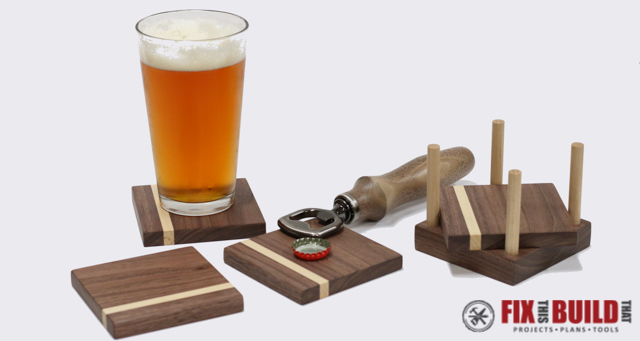 DIY Wooden Drink Coasters make the perfect homemade gift.  Whether it's for a house warming, Christmas or any event, a complete set with 4 wood coasters and a coaster holder can be made in just a couple hours of total work.  This walnut and maple wooden coaster set is just one design example and you can use any wood you want.  They're also good for protecting the side table, nightstand, or desk you spent so long making.  With just a miter saw and a drill you can make a basic version.  Add a tablesaw and planer into the mix and you can have a designer coaster set like this one.  So don't look any further for the perfect handmade gift.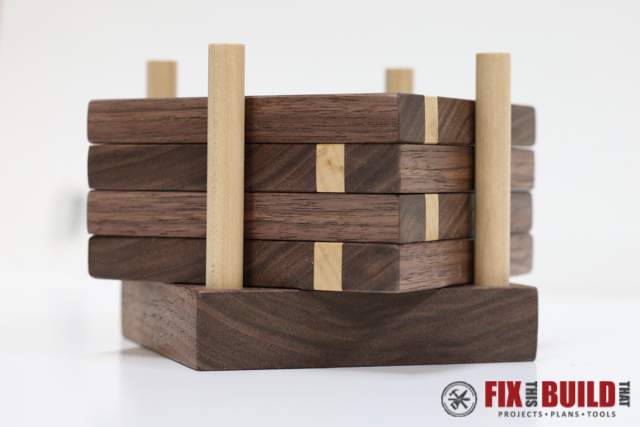 Materials/Supplies
(1) 16″ x 4″ x 1/2″ walnut board
(1) 6″ x 4″ x 3/4″ walnut board
(1) 16″ x 1/4″ x 1/2″ piece of maple
(1) 18″ long 3/8″ maple dowel rod
Affiliate links are used on this page.  See my disclosure page for info on affiliate programs.
How to Make Wooden Coasters
We'll start with the wooden coasters and the base.  You'll need 4″ of material for each coaster, so since I wanted 4 coasters I needed 16″ of material.  I grabbed a 16″ piece of walnut and found a little longer piece of maple to use as an accent.  The smaller piece on top will be for the base and just needs to be bigger than 4″x4″.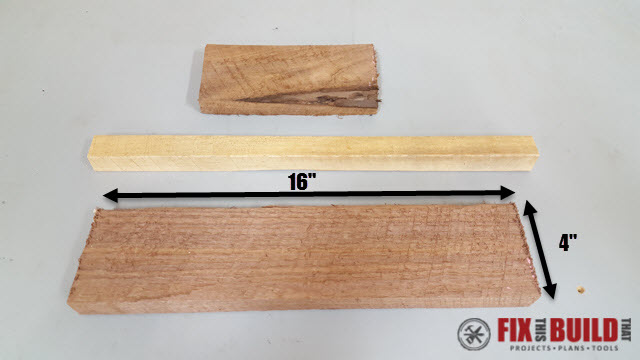 The accent strip of maple will be 1/4″ wide.  Cut the maple to size on the bandsaw like I did or use a table saw.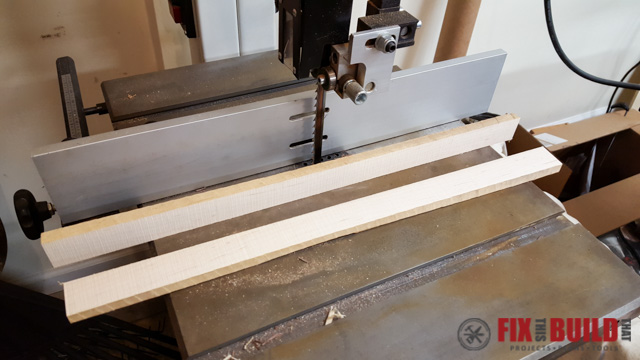 Run all the pieces through the planer to get the walnut coaster blanks down to 1/2″ thick, the maple down to 1/4″ thick and at least 1/2″ wide and the base to 3/4″ thick.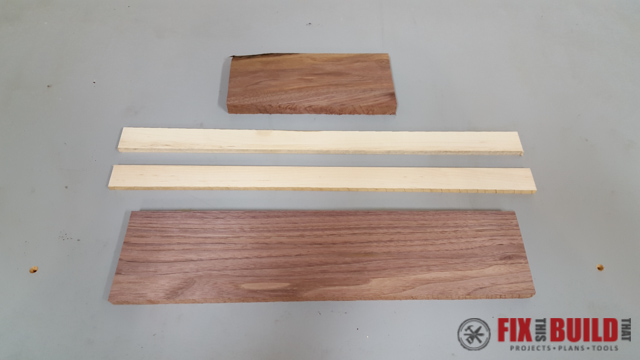 Rip a 1/2″ strip off the edge of the walnut coaster blank and rip the maple strip down to 1/2″ for a 1/2″ x 1/4″ piece of maple.  I use a 50 tooth combination blade on my tablesaw and it works great for both ripping and crosscutting duties.
Now put the maple between the walnut and glue and clamp the pieces together. I used a combo of f-clamps and aluminum bar clamps, but even quick clamps would work.  You don't need much pressure here, just enough to get some good glue squeeze out.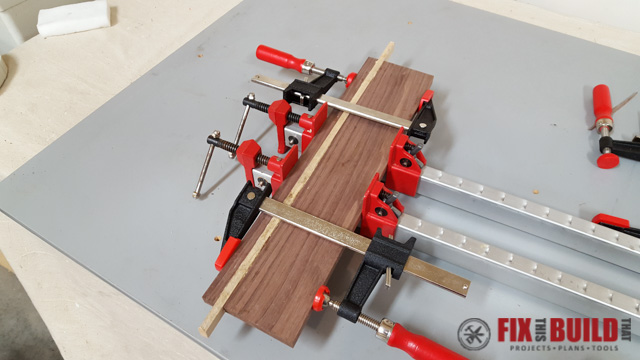 Let the glue dry overnight then remove from the clamps and run the blank through the planer.  A few light passes will get everything even and you've got your blank for your DIY wood coasters!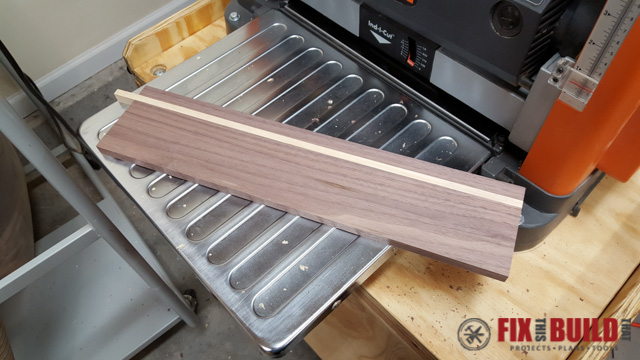 The final dimensions for the coasters and base are 3-3/4″ square.  Rip the blank to 3-3/4″ wide, taking the material off the larger walnut side.  Then use a crosscut sled or miter saw to cut the 4 coasters and base to final size.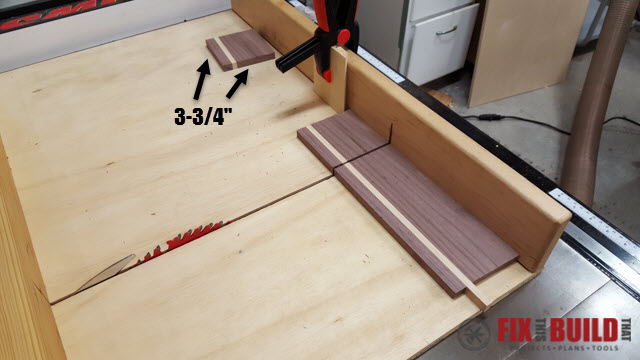 Next you'll need to drill the holes in the base.  Measure in 3/8″ from each side of the 4 corners and drill 3/8″ holes 3/8″ deep in each corner.  That's a lot of 3/8, so if you get confused just go for 3/8″ 🙂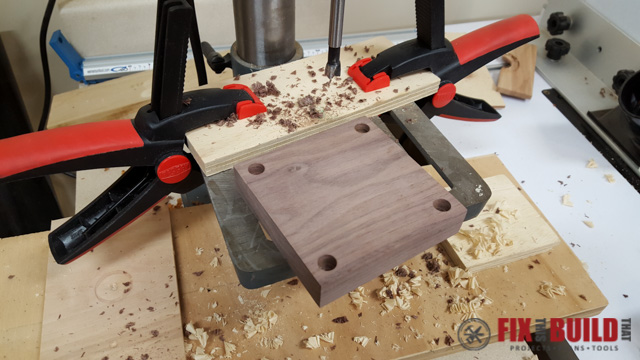 Cut 4 pieces of 3/8″ maple dowel rod to 3″.  These pieces will go in the holes you just drilled.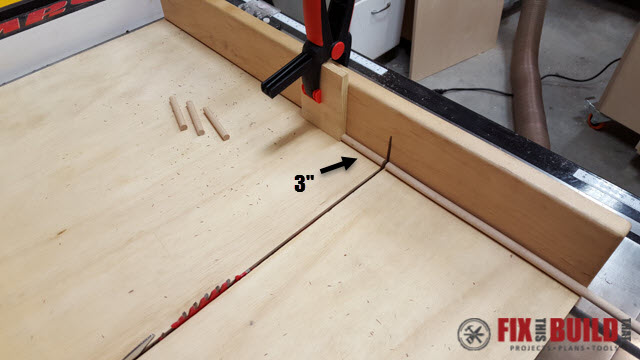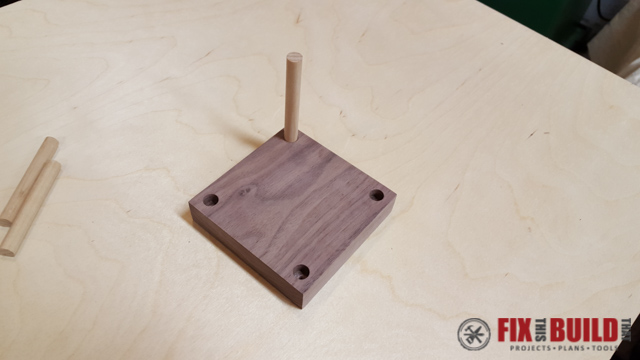 Sand all the pieces to 220grit and soften the edges with the final grit.  Use 2-3 coats of polyurethane to seal the DIY wooden drink coasters and keep them protected against liquids (party fouls).
I used small pieces of dowels sanded down to just under 3/8″ diameter to plug the holes of the base while applying the poly.  This keeps the finish from going into the holes and interfering with the fit of the dowels later.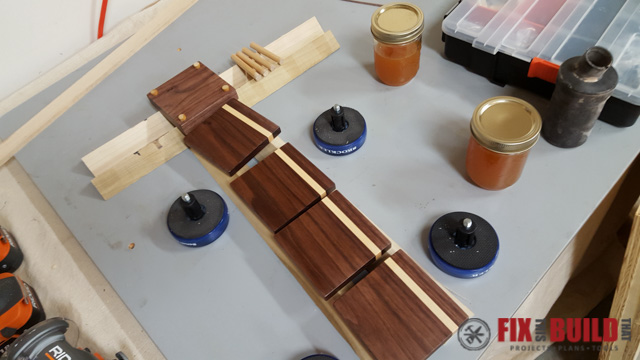 Install the dowels into the holes of the base and secure them with a drop of CA glue.  Now go enjoy a cold one with your DIY Wooden Coasters protecting your table from water stains!  If you'd like to make the bottle opener from the feature photo you can go to my How to Make a Pizza Cutter and Bottle Opener post.