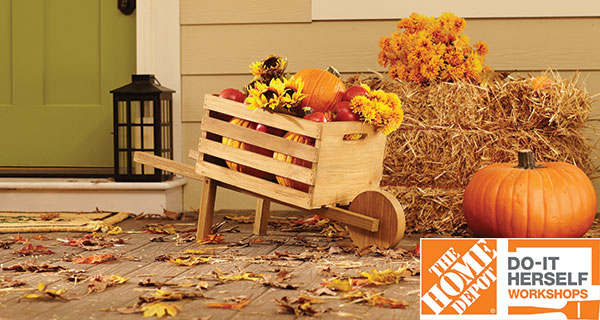 *This post is sponsored by The Home Depot
Hey, guys!  It's time for another DIY Workshop from The Home Depot.  We've already done the DIY Wooden Doormat and the DIY Football Toss Game and for this quarter we are doing something a little different.  This quarter I'm getting my amazing wife, Susan, involved to build a DIY Rustic Wheelbarrow for fall decor.
The DIY Workshop team is partnering up with the DIH (Do It Herself) team to promote the DIH Workshops.  And what do you know, I have a wife who was itching to "Do It Herself"!  Win win!
The DIH Workshops are held in Home Depot stores all around the country and are designed to introduce women to building with hands on learning and fun projects.  At the workshop you'll be able to buy the materials and build the whole thing right there.  Susan is making her own customized version of the wheelbarrow, and here is what the great folks at The Home Depot will help you make when you go to the workshop.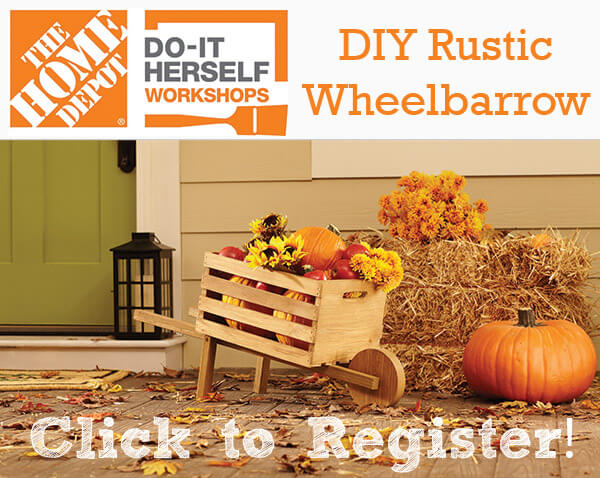 The DIH Workshop will be held at your local Home Depot on September 15, 2016.  You can follow this link for more details and to register for the class ahead of time:
And just like the other workshops, I'm inviting 4 of my blogging buds to build along with me.  Since this is a Do It Herself project I decided to bring along 4 awesome building ladies.  These talented women are the real deal and are a great inspiration for any gal who is intimidated by power tools and scared to get started.  Here's who's joining me:
---
And in case you are wondering about these workshops or have never heard of them before here are some details.
The Home Depot offers Workshops at all of their locations for do-it-yourselfers of all ages and experience levels
There are three types of Workshops offered – Do-ItYourself (DIY), Do-It-Herself (DIH) and Kids
Customers can learn how to build decor projects, how to make easy home repsirs and how to operate tools through demonstrations and step-by-step instructions
Visit workshops.homedepot.com to learn more
Go get registered for the Rustic Wheelbarrow Project so you can be ready for fall with some awesome decor!  Just click the link below:
I acknowledge that The Home Depot is partnering with me to participate in this Workshops Program (the "Program").  As a part of the Program, I am receiving compensation in the form of products and services, for the purpose of promoting The Home Depot.  All expressed opinions and experiences are my own words.  My post complies with the Word Of Mouth Marketing Association (WOMMA) Ethics Codes and applicable Federal Trade Commission guidelines.