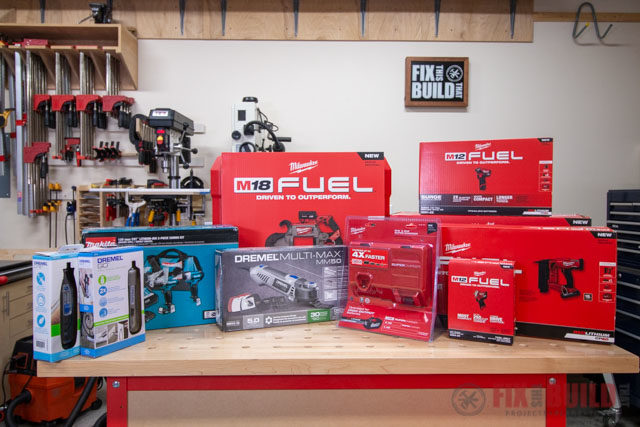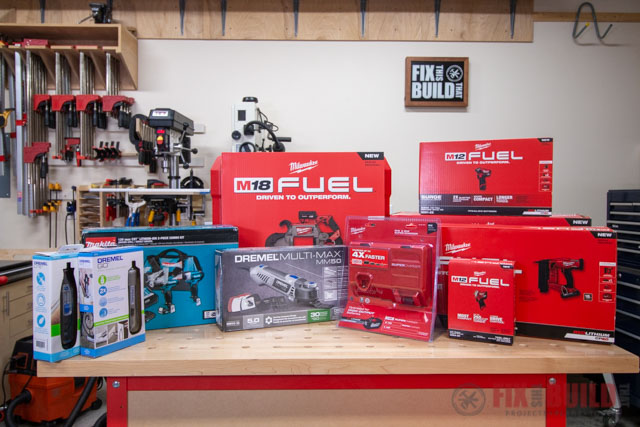 Today I'm going to show you the latest tools I received from The Home Depot through their ProSpective program. Through this program Home Depot sends me tools to check out and share with you once a quarter.  I'm not doing full tool reviews, instead I'm just sharing my first impressions of the tools with you.  Most of these are brand new tools, so you may not have seen them before.  If you love tools as much as I do, I hope you enjoy checking these out!
This post is sponsored by The Home Depot.  Affiliate links are used on this page.  See my disclosure page for info on affiliate programs.
I recorded myself unboxing all these tools so if you want to see exactly what comes in the boxes and get my first reactions watch my IGTV video below.
For the 2019 Q3 First Look I'll be featuring new tools from the following brands.  Click on each of them if you want to jump straight to that brands new tools:
First Look at the MILWAUKEE tools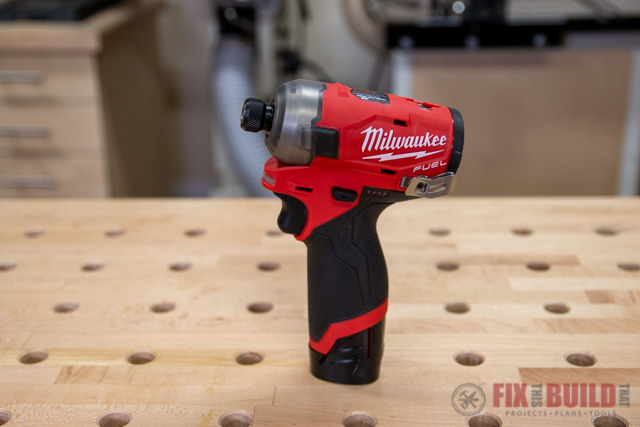 The Milwaukee M12 Fuel Surge Compact Impact Driver has surge technology, which means it's hydraulic.  With this technology it should be quieter than a regular impact driver.  I've used a hydraulic driver from Ridgid in the past, and it was amazing so I have high hopes for this one.
The first thing I noticed when I opened the carry bag, was that all the pieces of this tool are secured inside the bag.  Genius.  I've never seen that in a kit before and it's a great idea.  This kit comes with the impact driver, (2) 2.0 apm batteries and a charger.
The actual impact driver really is compact, it's about the size of my hand.  The shorter head length should make it easier to fit in tight spaces which is always a plus.  I really like the way this impact driver felt when I held it.
The impact driver has three speeds and a drill setting.  I tested it out by driving some basic 3″ drywall screws into a few 2/4s.  The first setting was pretty slow, that would be good if you needed to use a little finesse.  The second speed was faster, but I was really digging the third speed.  It was powerful, and still pretty quiet.
But the noise level of this compact driver is really the star of the show.  After driving screws with this impact driver I used my Dewalt 20v Impact Driver to compare the noise level.  I found the Milwaukee Compact Impact Driver to be substantially quieter.  This driver has a lot going for it with its size, power and most of all the noise level.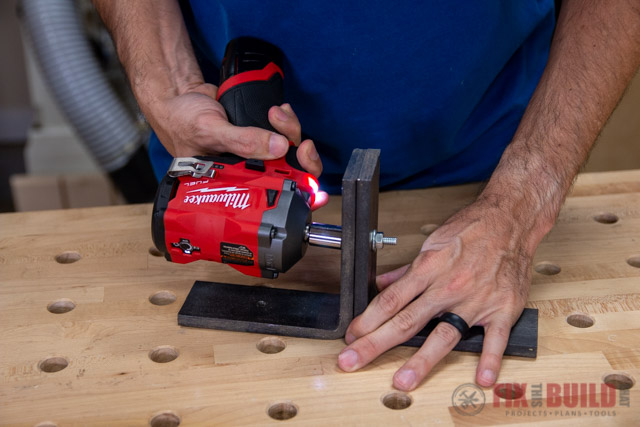 My first impression of the Milwaukee Stubby 3/8 in. Impact Wrench, is it's SMALL!  They call this thing stubby for a reason.  The head on this impact wrench is only 4.8 inches in length.  At that length this should be easier to use in tight spaces.  You should also know that this is a tool-only product, which I'm sure is reflected in the price.
This impact wrench has four settings; Mode 1 (0 to 1,200 rpm), Mode 2 (0 to 1,800 rpm) and Mode 3 (0 to 2,700 rpm) and Auto Shut Off.  Auto Shut Off allows you to drive at a reduced rpm until the torque is achieved and then it slows down.  The impact wrench can get up to 2,700 rpm in this setting before shutting off.  This ensures that you won't overdrive anything.
The Milwaukee impact wrench also has a friction ring to ensure quick and easy socket changes.  I tested this out and it was easy to switch out and attach the sockets.  I would recommend using impact rated sockets with this tool.
I'm pumped about this compact impact wrench because I have a full sized 18v impact wrench that's a beast to carry around.  This Milwaukee compact impact wrench is so much smaller and it's almost as powerful as the full sized version.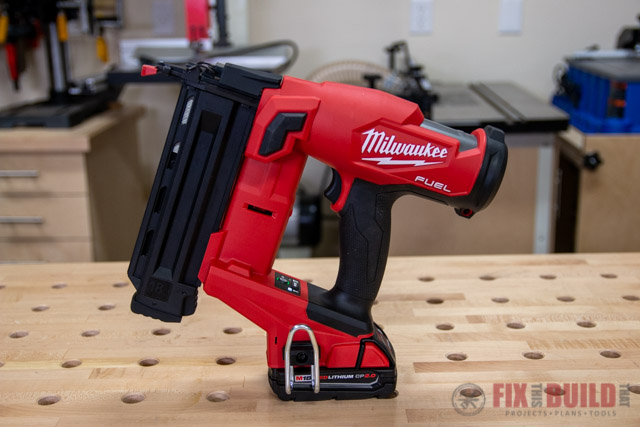 I'm pretty excited to check out the Milwaukee 18 Gauge Brad Nailer because it's more compact then traditional brad nailers.  It's always good if you can find a tool that packs a great punch while being easier to lug around and use.  The first thing I noticed about the brad nailer was actually the large wide-mouth carry bag.  It's seriously big, Milwaukee knows how to package their tools right!
As for the actual brad nailer, it's pretty sleek.  My last brad nailer has a much bigger head and is bulky in comparison.  This brad nailer comes with three different tips and they're stored on the brad nailer when not in use.  Love that you can easily switch out the tips depending on your job, and you won't be hunting around for the ones you need.  Of course there's also a depth selector as you would find on a traditional brad nailer.  And you can set it for single or bump fire.
This tool does come with one battery (2.0Ah) and a M12/M18 combo charger.  That's a nice touch.  I haven't seen a combo charger included in just an 18v kit before.  Good job Milwaukee!
After checking out all the features, I was ready to give it a try.  So I loaded it up with some 1-1/2″ nails, grabbed a few 2x4s and got to work.  I tried single fire mode first, and let me tell you it was quiet and powerful.  This thing will definitely get the job done!  Next I switched to bump fire… and it was awesome.  I was able to drive a ton of nails in rapid succession, and the recovery time between was crazy fast.
Milwaukee says the brad nailer delivers consistent, clean nail holes in hard and soft woods.  I noticed that the driver started getting in there more and more as I was driving nails.  The holes started looking a little sloppy, but after adjusting the depth (I had them going way too deep) the holes came out clean.  So I'd make sure you have the right depth selected, and you should be in business.  
Next I checked out the Milwaukee M12 and M18 Super Battery Charger.  This charger is way bigger than the regular combo charger that came with the Milwaukee brad nailer.  And with size comes power, the super charger charges M18 batteries 4x faster than the regular charger.
To put that in perspective, the Milwaukee Super Charger can charge the M18 High Output HD 12.0Ah battery in 60 minutes.  If you were charging the same battery on the regular charger it would take 241 minutes.  That's quite a difference.
The super charger is optimized to charge high output batteries, but it will charge all M12 and M18 batteries.  Also, since this is a combo charger, you can have two different batteries on the charger at the same time.  However the charger will switch back and forth charging them one at a time.
Overall this looks like a sweet charger, and you can beat being able to charge a 12.0 AH battery in 60 minutes.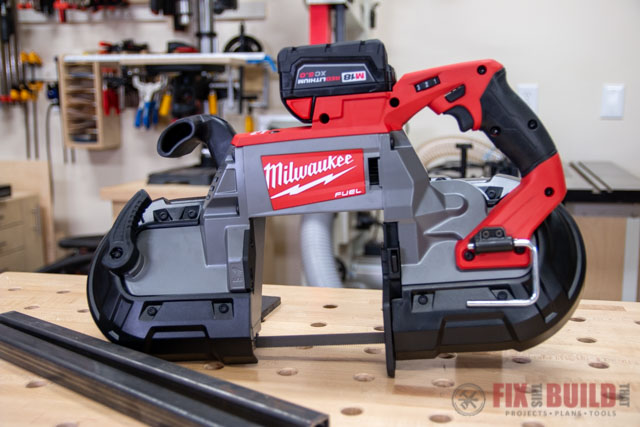 Next I unboxed the M18 Cordless Deep Cut Band Saw.  The hard-sided carry case is huge, and of course you'll see that everything has a designated place on the inside.  
Since I've recently gotten into metal working I was excited to check this portable band saw.  Being able to easily cut metal up to 5″ thick would be convenient.  And I have a few buddies that have made holders and bases for their own cordless band saws.  This effectively makes their cordless band saw work like a wood band saw. I plan to do that for mine in the future.  But I also really love that this is a portable tool so I can put it away when I'm not using it.  Anything to save space in my shop!
The band saw has two wheels that the blade runs between.  One rotates when powered and the other one stays idle.  I moved a lever by the idle wheel which loosened it, and was able to ease the blade on.  After that the bandsaw was ready to go. The Milwaukee cordless band saw has five power levels.  I cranked it up to a five and it was smooth.  I can't wait to try this out in my next metal working project.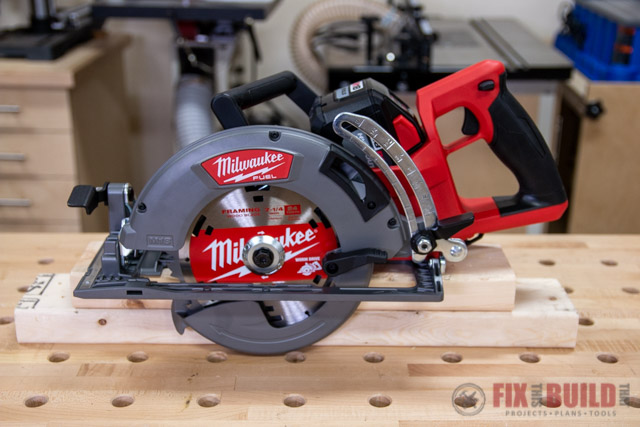 Next I checked out the M18 Rear Handle Circular Saw.  It comes with a large carry bag, a M18 High Output HD 12.0Ah battery, a dust chute, 24 tooth framing blade and a charger.  As soon as I took the circular saw out of the bag I was struck by two observations.  First, this looks and feels like it was built to last.  It's made of metal and it isn't lightweight, but it's not too heavy to be practical.  And second, it has a left side rear handle blade which just feels strange to me.  I've always had right side blades, so my hand are reversed holding this tool. 
So, what were my positive initial impressions about this circular saw?  Well, there were a lot.  I really like that the battery is inserted right on top of the saw.  It seems to help balance the weight of the circular saw in general.  I also like the all metal construction of this tool.  It comes with a blade guard, a tilt angle, a rip guide and huge raft hook on the side and a spot on the back for blade storage.  And if you know me at all, you know I'm loving the dust chute.  Anything I can do to cut down on dust in my work area is a good thing.
I also really like the power behind this saw.  The M18 Rear Handle Circular Saw actually cuts faster than a 15 amp corded saw and you can get up to 570 cross cuts.  That's pretty impressive.  The electric brake is also a great idea, it stops the blade as soon as you're done so you don't tear into you wood.
As for my negative first impressions, it really comes down to the blade design.  This circular saw just feels off when I hold it.  If you're left handed this could be the perfect circular saw for you. But if you're right handed like I am, and you've always used right side circular saws, you may want to handle this tool before making a final decision.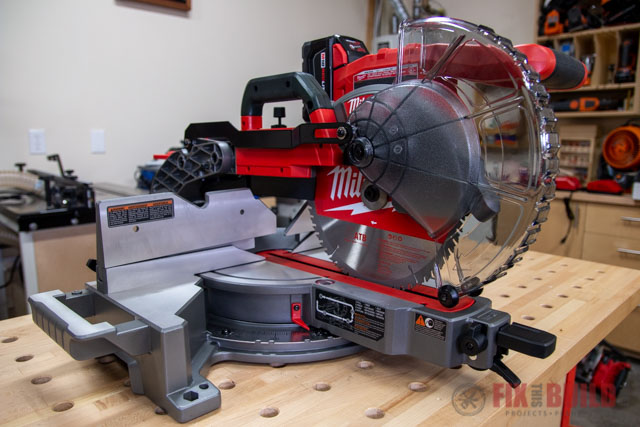 The last Milwaukee tool I'm looking at today is the M18 Cordless 10 Inch Dual Bevel Sliding Compound Miter Saw.  A cordless miter saw is nice to have in general, but especially when you want to take a miter saw the job site.  The M18 Miter Saw is fairly compact and it's not crazy heavy, so it's a good mobile option.
If you're wondering about the power of a cordless miter saw vs a corded miter saw, they say you can get up to 400 cuts per charge with a 9Ah battery.  That's a lot of cuts before you need to switch out your battery.
I also like that it's dual bevel, so you can make cuts in either direction.  With 9 detents you can easily find and lock in the bevel angle that you need for crown molding or other jobs.
If you watch the video you might have seen I didn't realize this is a sliding miter saw for a minute.  That's because the rails for the sliding mechanism are actually under the saw which I've never seen before.  There's a lock on the back of the saw that I had to release to engage the rails, and then it all made sense and that's a cool design change.
You can cross cut up to a 2×12 and cut miters from 48 degrees to the left and all the way up to 60 degrees on the right.  That's great for when you need to get those extra wide angles that are hard to get on a standard miter saw.
First Look at the MAKITA tools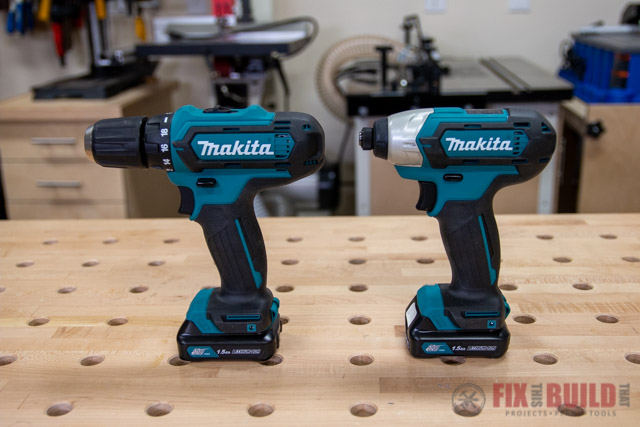 The first Makita tools I'm checking out are the 12 Volt Cordless 3/8 in. Drill and Impact Driver Combo Kit.  These drills are very compact and lightweight.  If you're looking for a drill and impact driver to use around the house these may fit the bill.  I do like how they feel when I hold them and they would be easy to carry around.
The impact driver has 970 in.lbs. of torque and when I put it to the test it was able to drive a screw into pine 2x4s.  But it was a little slow and just not overly powerful.  The drill has two speeds and it gets 250 in. lbs. of torque.  Once again, if you're using these drills around the house and you don't need a ton of power, they are a good option.  If you have a bigger job I would go with an 18 volt drill and driver for the additional power.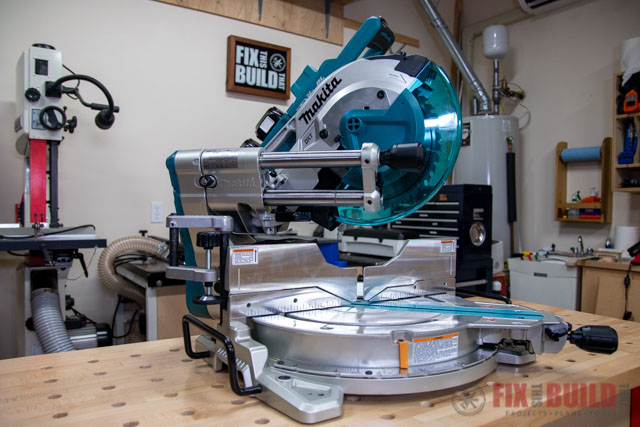 The first thing I noticed when I opened the box for the Makita 18v Miter Saw, was the lack of styrofoam packaging.  I really love that Makita just uses cardboard which is easier for me to break down and get rid of, and that it's more environmentally-friendly.  Good job Makita!
Then I got to the miter saw, and man is this thing is solid!  This is a heavy cordless miter saw, I'm estimating it's around 40 pounds.  It's also bigger and has a wider base than other cordless miter saws I've seen.  You would need to keep that in mind if you're looking for a miter saw to take to job sites, it's not a lightweight saw.  But because of the weight and how it's built, you should have additional stability when using this miter saw.
Since it's cordless this miter saw is powered by two 5.0Ah batteries, and of course is comes with a charger.  The batteries did not ship with a charge, which isn't a huge deal but is good to know.
This miter saw comes with a dust bag and a dust port system.  You attach the dust port system to a vac when using the saw to contain the saw dust.  I love anything that helps me fight the war against sawdust when I'm working so this is a win.
With this tool you can cut miters from 60 degrees to the left and 60 degrees on the right, which is pretty sweet.  When you want to cut a bevel, it's easy to unlock the bevel setting by twisting a knob right on the front of the machine.
This miter saw has a stationary static rail, the saw itself slides on the rail instead of the actual rail sliding. This means that there is no rail shooting out the back of the machine every time you make a cut.  I like that the back of the saw is the true back of the saw, you aren't going to hit anything back there when cutting.  However since those rails are right above the cutting area and they're lubricated I wonder what kind of care will be needed to maintain them.  
First Look at the DREMEL tools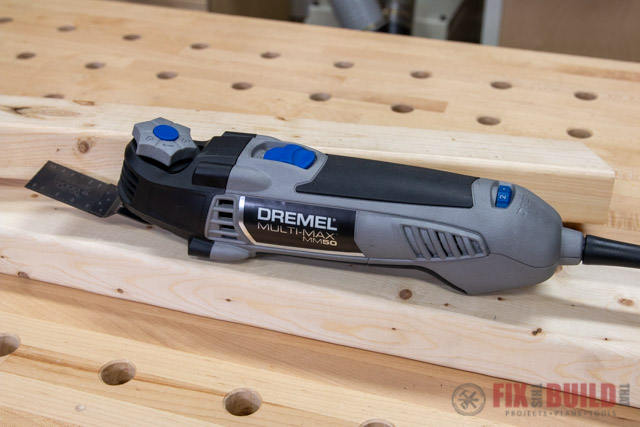 The first Dremel tool I'm checking out today is the Multi-Max 50.  This corded multi-tool is unique because of it's angled head which allows you to get a flush trim without your hand being in the way.  The compact head allows you to get into tight spaces and it's metal which helps with vibrations.  This is a variable speed multi-tool is and it's powerful with 10,000-21,000 rpm and 5.0Ah.
Dremel makes it easy to switch out the attachments on this tool.  There's a simple three step tool-free process to attach and release the attachments which is convenient.  This tool also comes with quite a few attachments.  You get (2) wood/metal blades, (1) drywall jab saw blade, (1) wood/drywall round blade, (1) wood blade and a head attachment for sanding.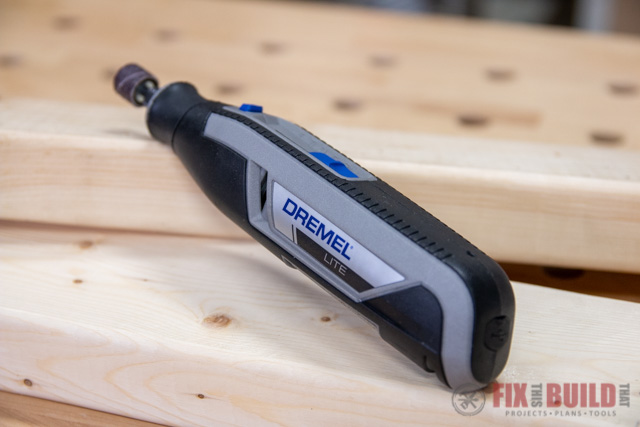 The Dremel Lite is designed for beginner crafters and DIYers.  This tool would be great for people who want to get into rotary tools, but may be intimidated by the more powerful corded Dremel tools.  It's cord-free and charges was a mico USB cord. 
This tool comes with attachments for buffing, light engraving, grinding and sanding.  It could be used for buffing silver or brass hardware.  This seems to be an easy to use lightweight tool to use around the house on small projects.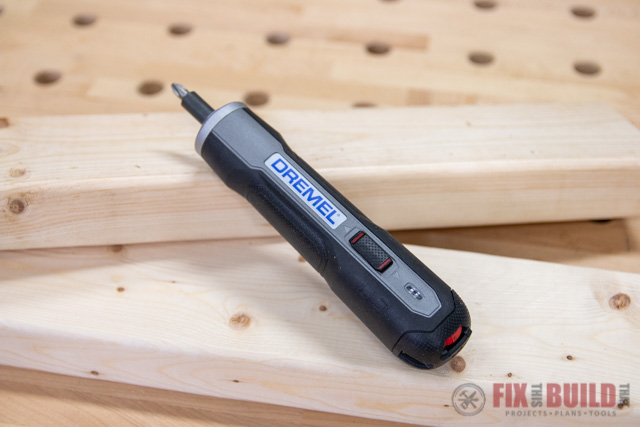 The Dremel Go is the last tool I'm checking out today, and it's all about convenience.  This is pretty much a screwdriver on steroids.  It seems like a handy tool to have for light applications around the house.
I could see this being used to screw in light switch face plates, open up battery compartments on toys, and installing cabinet hardware.  You would probably store this in a drawer in your house and just grab it when you need a screwdriver.
I acknowledge that The Home Depot is partnering with me to participate in the promotional program described above (the "Program").  As a part of the Program, I am receiving compensation in the form of products and services, for the purpose of promoting The Home Depot. All expressed opinions and experiences are my own words. My post complies with the Word Of Mouth Marketing Association (WOMMA) Ethics Code and applicable Federal Trade Commission guidelines.