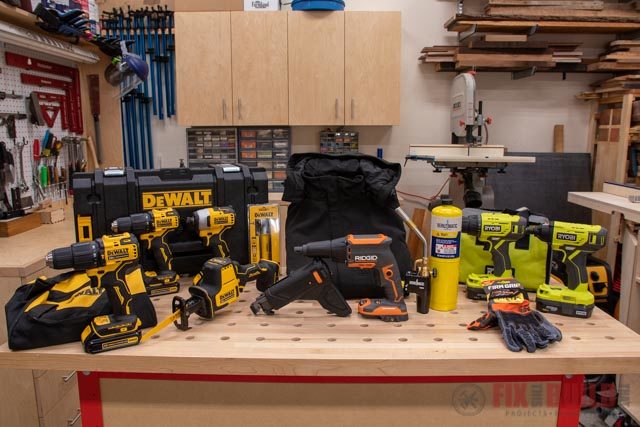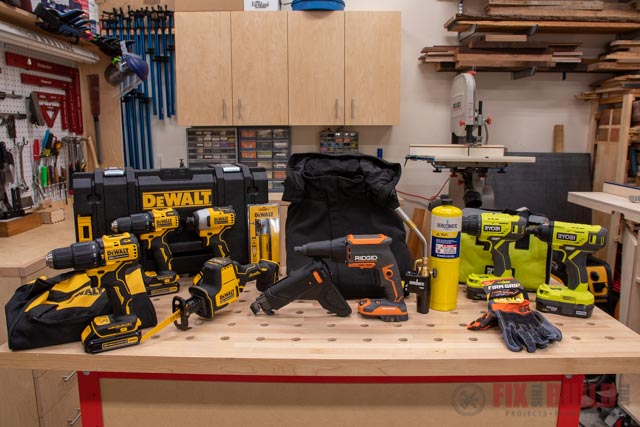 Today I'll be going over the latest tools I received from Home Depot through their ProSpective program. I'm lucky enough to get tools from them once a quarter so that I can share them with you.  I'm not doing full tool reviews, I'll just be giving you my first impressions on each tool.  
This post is sponsored by The Home Depot.  Affiliate links are used on this page.  See my disclosure page for info on affiliate programs.
I recorded myself unboxing all these tools so if you want to see exactly what comes in the boxes and get my first reactions watch my IGTV video below.
For the 2019 Q4 First Look I'll be featuring new tools from the following brands.
DeWalt
RIDGID
Ryobi
Bernzomatic
BTP
First Look at the DeWalt Tools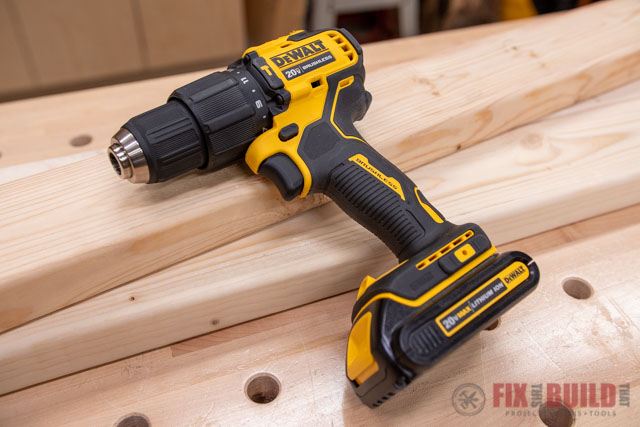 Let's get things started by looking at the DeWalt Atomic 20V Hammerdrill.  Right away I like the size and feel of this compact tool.  The hammerdrill is only 6.8″ long and only 2.5 pounds.  I could see myself using this drill if I were doing a lot of overhead work, it could really save your arms.
This is a brand new tool from the DeWalt Atomic line, which is only available at Home Depot. This drill has two-speeds, a hammerdrill setting and a clutch setting.  I find myself using a clutch setting over an impact driver, so I'm happy this drill has that feature.  This DeWalt Atomic 20V Hammerdrill comes with two batteries, a carry bag and a charger.  If you just want a single drill this is a good option, but if you're looking for a little more check out #2.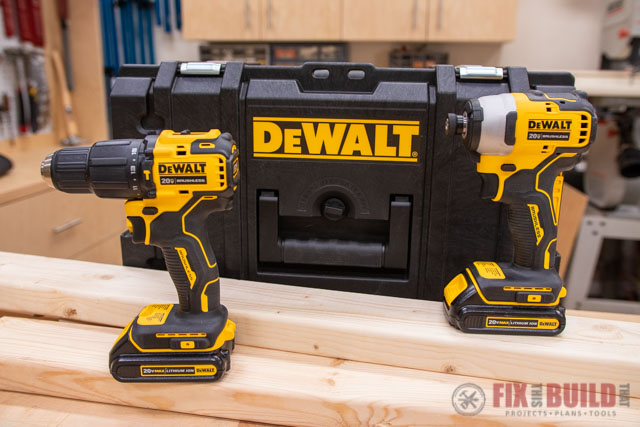 The first thing I noticed about the DeWalt Atomic 20 Volt Compact Drill/Impact Combo Kit was the tough carry case.  It's really beefy and has two different handles which allows you to carry this case upright or flat.  That's a nice touch.  And the case itself is really durable.  The lid has a layer of weather stripping which keeps the contents dry.  You have a lock at the top so you can secure the case if you need to.  There's also plenty of room inside to hold more than just the two drills that come with it.
This set comes with the DeWalt Atomic 20V Hammerdrill,  DeWalt Atomic Compact Impact Driver, two 1.3 Ah batteries, the carry case and a charger.  Since I just talked about the hammerdrill I won't really touch on that here but I do want to take a look at the Impact Driver.  They call this thing the DeWalt Compact Impact Driver and they aren't kidding, it's only 5.1″ from front to back.  The Impact Driver also has a brushless motor that gets 1700 in./lbs. of torque and has LED lights so you can see what you're doing.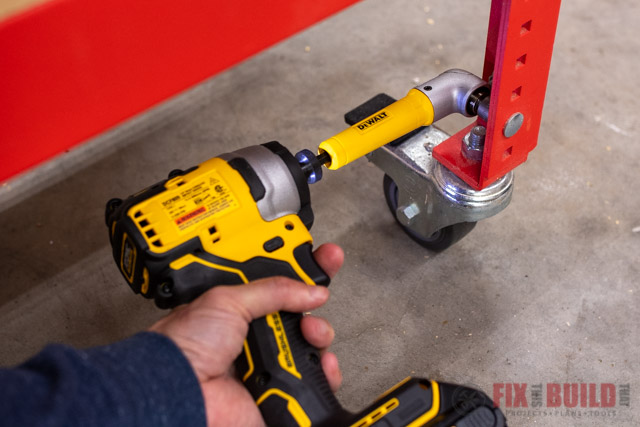 I'm pretty excited about the next tool up to bat, it's the DeWalt Max Fit Right Angle Adaptor.  I've used a right angle adaptor before and they're such a handy tool to have in your bag.  If you're working in a tight spot and need to drill a hole but your bit is too long, this is the answer.  You just attach the right angle adaptor to your drill, including impact drills, and put the bit on the end of the adaptor.  Then you'll be able to drill the hole coming from a different angle.
The DeWalt Max Fit Right Angle Adaptor can be used with spade bits, drill drivers, socket nuts and hole saws.  There's also a magnet on the end to make it easier to seat your bit.  I'd probably want to have this on hand for a renovation or any other projects with lots of tight angles.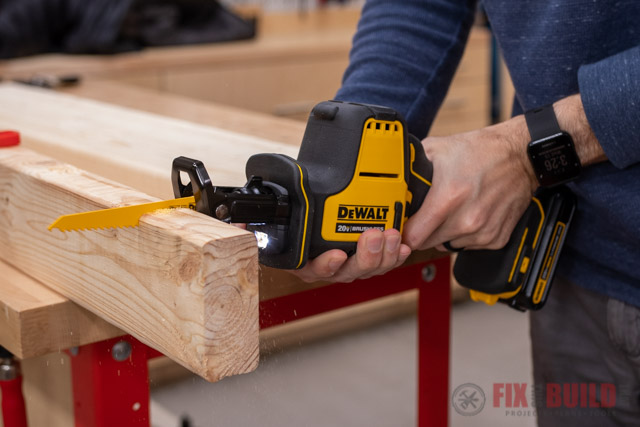 Finally we have the DeWalt Atomic 20 Volt Compact Reciprocating Saw.  It's only 12.5″ long, which is much smaller than your typical reciprocating saw.  Normally a reciprocating saw has a big barrel, is much longer and you have to hold it with two hands to operate.  But because of the smaller size and design of this saw, you can use it one handed. 
I haven't used a one-handed reciprocating saw but I've seen them used in plumbing jobs.  They seem to be a good fit when you're cutting a PVC pipe with one hand, while holding the pipe that's about to release with the other hand.  I don't have any plumbing jobs on the horizion, but I could see myself using this to do some light pruning.  We have a crepe myrtle that I have to cut back every year.  I normally use my two-handed reciprocating saw and I get hit on the head by some of the small branches as they're cut off.  Looking forward to using this one-handed version and saving my noggin.
The DeWalt Atomic 20 Volt Compact Reciprocating Saw has a variable trigger which can go up to 2,800 SPM.  Let me tell you, it feels pretty powerful.  It has a quick change system to easily switch out the blade on the saw and LED lights to help you see what you're cutting.  You should also know that this is a bare tool which means it doesn't come with a battery.  It's compatible with all DeWalt 20-Volt MAX batteries.
First Look at the RIDGID Tools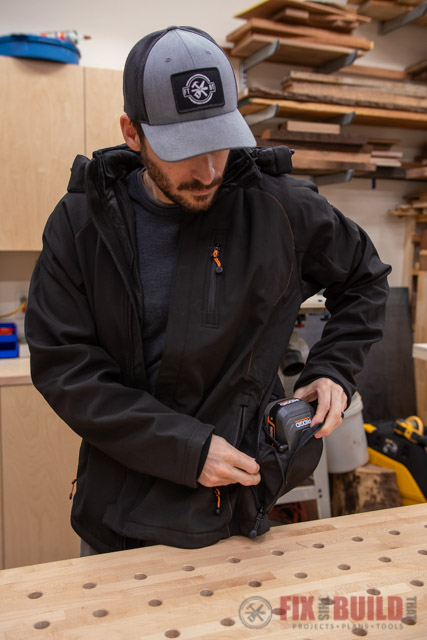 First up from RIDGID is the 18V Heated Jacket with Removable Hood.  Yes, you read that right a heated jacket!  The 18V Heated Jacket comes with a charger, battery and a USB power source.  The heated jacket has three heating zones and three heat levels.
Once you've attached and turned on the battery it's stored in a zippered pocket on the side of the coat.  From there you use the power button on the collar of the jacket to control the level of warmth.  The USB power source can also be used to charge other devices while you wear the heated jacket.  I know I'll be wearing this when I'm working outside this winter.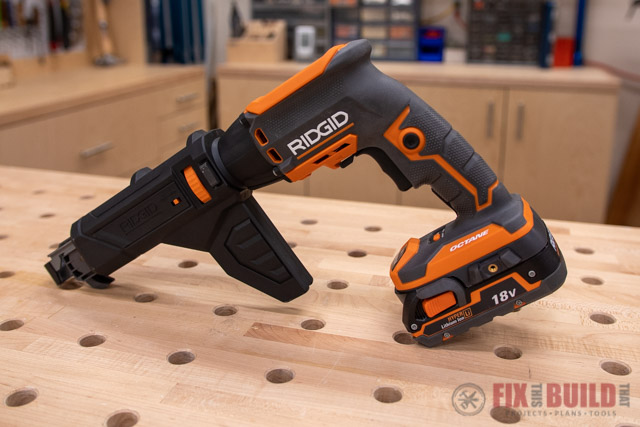 If you have a big drywall job coming up, you may be interested in the RIDGID 18-Volt Drywall Screwdriver.  The tech in this tool is pretty cool.  The Drywall Screwdriver lets you set those drywall screws just below the surface of the drywall.  You want to dimple the surface not puncture it and that's what this tool is all about.
RIDGID uses Push-to-Drive Technology which incorporates a pressure-sensitive variable speed switch.  This controls the speed by pressing down on the tool, which eliminates the need for a trigger.  
There are two attachments that go with the 18 Volt Drywall Screwdriver, drywall nose cone and collated attachment.  The drywall nose allows you to easily feed each screw to the screwdriver one at a time.  But where you're going to get the most efficiency is by using the collated attachment.  With the collated attachment in place you can insert collated strips of drywall screws and fire them into the drywall quickly.    
First Look at the Ryobi Tools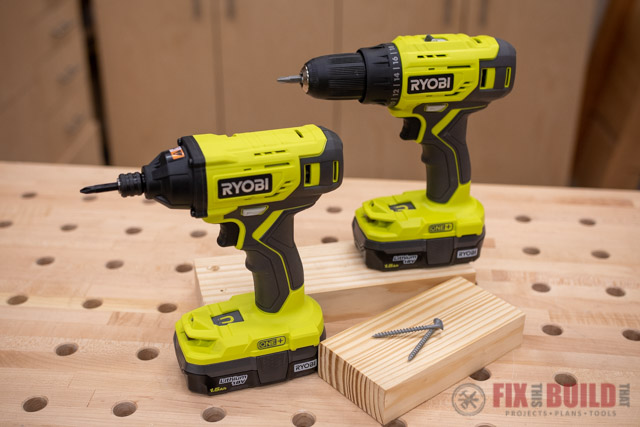 Next let's take a look at the RYOBI ONE+™ Drill and Impact Driver Combo Kit.  This is a good, basic drill and impact driver set.  The drill has 2 speeds, delivers 500 in-lbs of torque and a 1/2 in. single sleeve keyless chuck with 24-position clutch.   The impact driver has a variable speed trigger and delivers 1,800 in./lbs. of torque.
This set comes with a carry bag, charger and two 1.5 Ah batteries.  The charger and batteries are upgraded from previous versions.  They charge a little faster and have 50% longer runtime compared to the 18-Volt ONE+ Lithium-Ion 1.3 Ah batteries
First Look at the Bernzomatic Tools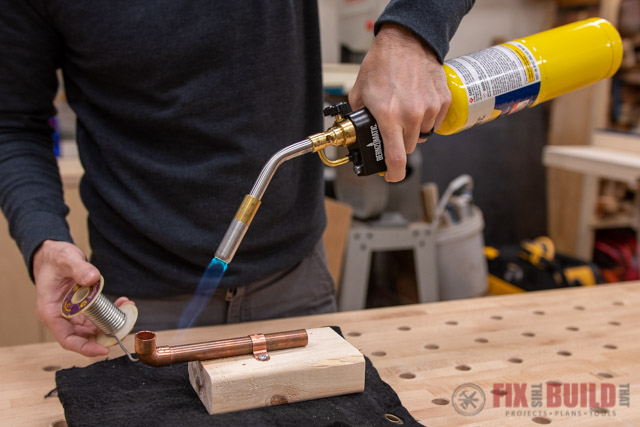 Next I'll be looking at the Bernzomatic TS8000KC Premium Torch Kit.  This is the top of the line torch kit from Bernzomatic and uses MAP/Pro which burns hotter than propane.  This kit includes the TS800 torch push trigger which makes it crazy easy to click on a flame.  The flame can be adjusted as needed.  The trigger does have a lock so you can keep it secure.
This torch has cast aluminium body construction and is pressure regulated so it works in cold temperatures and even upside down.  This Bernzomatic torch also comes with a limited lifetime warranty.
First Look at the BTP Tools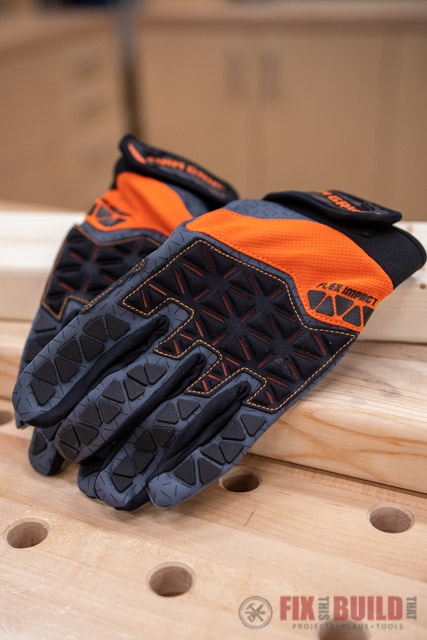 Finally I'm checking out the BTP Firm Grip Pro-Fit Flex Impact Gloves.  These work gloves look pretty sweet. They have a tough but flexible outer layer to protect your knuckles and the backs of your hands.  And there's a layer of lightweight EVA foam underneath the harder exterior.
These gloves would be perfect for demolition, roofing, operating power tools or anything else where your hands could take a beating.  Sometimes it's the little things like having a good pair of work gloves when you need them.
Hope this educated you on some of the new offerings from these brands.  I gotta say I really love that DeWalt 20v Atomic line!  I'll catch you in the next first look for Q1 2020.