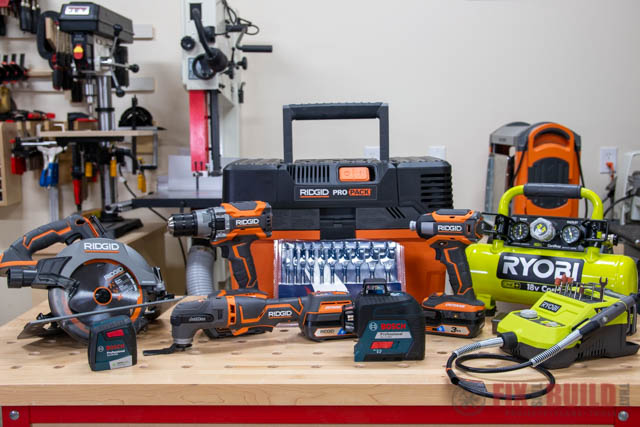 I'm excited to announce I'm part of a program with Home Depot called ProSpective.  Through this program Home Depot will be sending me tools to check out and share with you once a quarter.  I won't be doing full tool reviews, instead I'll be sharing my first impressions of the tools with you.  Most of these are brand new tools, so you may not have seen them before.  If you love tools as much as I do, I hope you enjoy checking these out!
This post is sponsored by The Home Depot.  Affiliate links are used on this page.  See my disclosure page for info on affiliate programs.
I recorded myself unboxing all these tools so if you want to see exactly what comes in the boxes and get my first reactions watch my IGTV video below.
For the 2019 Q2 First Look I'll be featuring new tools from the following brands.  Click on each of them if you want to jump straight to that brands new tools:
First Look at the RIDGID tools
This 18V 7-1/4 circular saw is a part of RIDGID's new OCTANE line.  That means it's battery powered and it gives extra performance when it's needed, along with more run time and power.  I have several older models of these saws so I'm excited to see what changes they've made.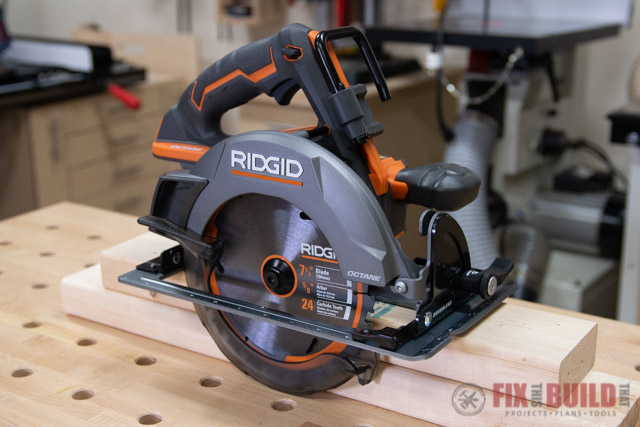 First of all I noticed that they've included a dust port which is a game changer in my opinion.  Being able to hook up a dust collection system to this tool and eliminate a ton of dust is HUGE!  At least for anyone (like me) who hates dust…  RIDGID has also included a joist hanger and a saw blade so you can get right to work.  It's important to note that this is a tool only which means you need to have batteries, they don't come with this particular model.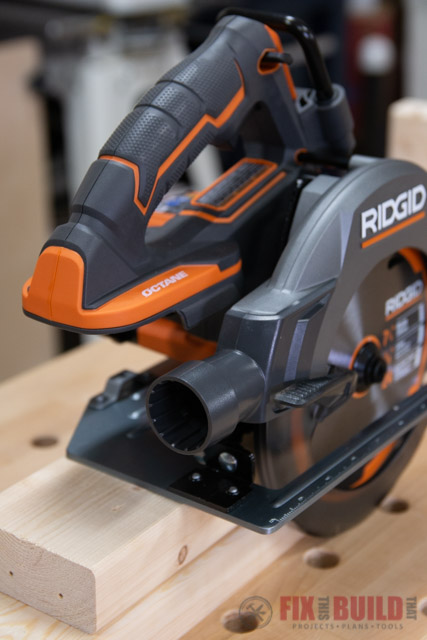 This is a full sized circular saw at 7-1/4 inches.  You can make tons of different angled cuts with up to 56 beveling cuts.  This is a brushless OCTANE tool; when you pair it with an OCTANE battery you should get 30% more power than the previous RIDGID brushless unit.  Once again, I love the idea of the dust chute and included vacuum adapter.  These things can put off a ton of dust so anything to reduce dust is a win in my book.  The rafter hook is also a cool idea if you're working on a job site.  Go check out the RIDGID OCTANE 18V 7-1/4 in. Circular Saw online.
This combo kit includes a 18V OCTANE Hammer Drill and 6-Mode OCTANE Impact Driver.  It also includes (1) 6ah OCTANE battery, (1) 3ah OCTANE battery, battery charging center, a drill handle along with a handy carry bag.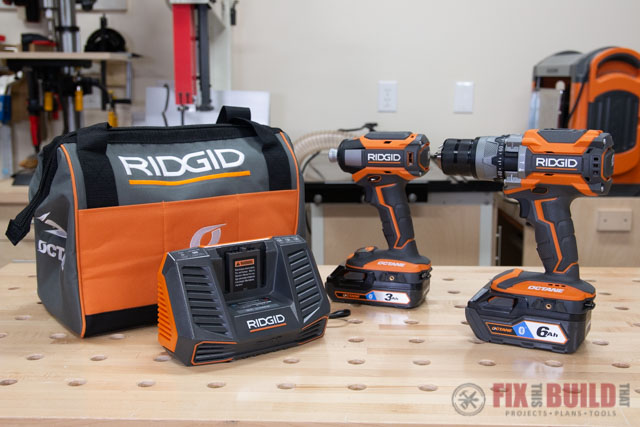 First let's look at the 18V OCTANE Hammer Drill.   It has a brushless motor and paired with the OCTANE battery gives you an industry leading 1,300in./lbs of torque.  That's enough power to really get the job done.  I use an older model RIDGID Hammer Drill all the time, it's been my go-to drill for a while.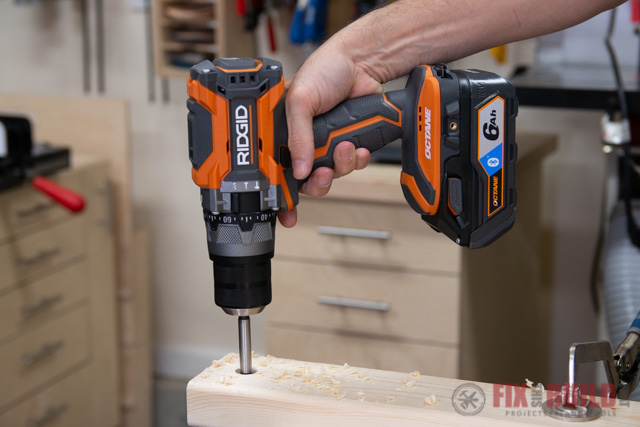 Next let's look at the 6-Mode Impact Driver.  I'm really intrigued by the features included on this tool.  You can see that RIDGID has a new display on the impact driver which shows you two things 1) the mode you've selected and 2) the amount of torque or force you've selected.   You can choose from the three modes (Auto Stop, Self-Drilling Screw and Fastener Assist) and then pick the amount of power you need to use.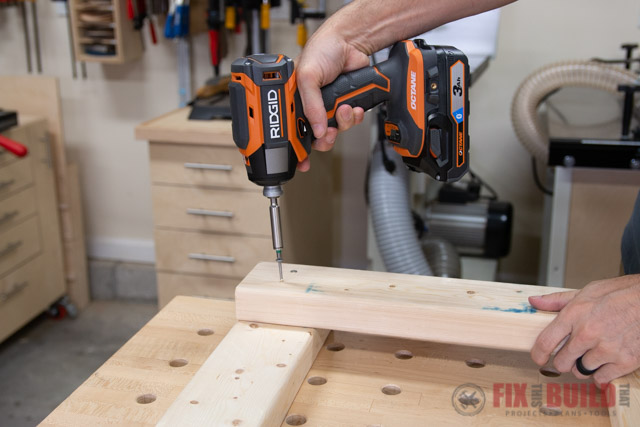 Let's break down the different modes on this driver.  The Auto Stop Mode shuts down the tool after impacting to prevent over-tightening.  The Fastener Assist Mode controls the speed by starting slow, speeding up as you're driving and then slowing down when you hit your torque to prevent stripping the fastener.  And the Self-Driving Screw Mode prevents overdriving self-drilling screws.  It looks like a pretty handy that you can use smart technology for your specific situation when you're using this tool. 

I have an older model Ridgid JobMax Multi-Tool which I love.  I've used it in so many projects from trimming baseboards to taking up tile and more. The new RIDGID OCTANE 18V JobMax Multi-Tool looks to be a great upgrade.  It has 20% more power than the previous brushless unit when paired with an OCTANE battery, and more power it always a good thing.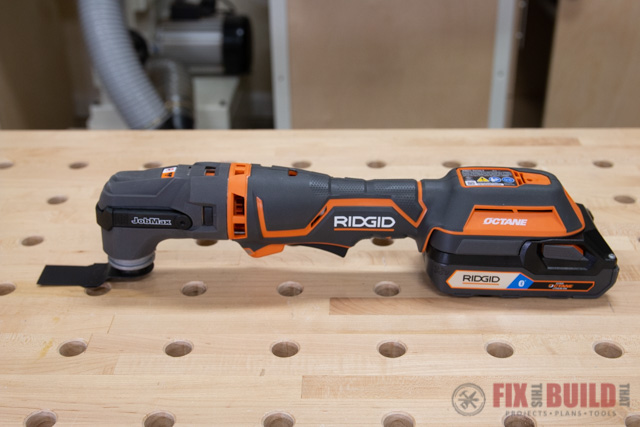 The JobMax Multi-Tool also has seven different heads that can be attached for different types of jobs.  The universal adapter is compatible with most multi-tool accessories and has 4° of oscillation for maximum cutting power.  There are also 4 directional head positions adjustable for easier access in tight spaces.  Looks like they've made a good tool even better with more power!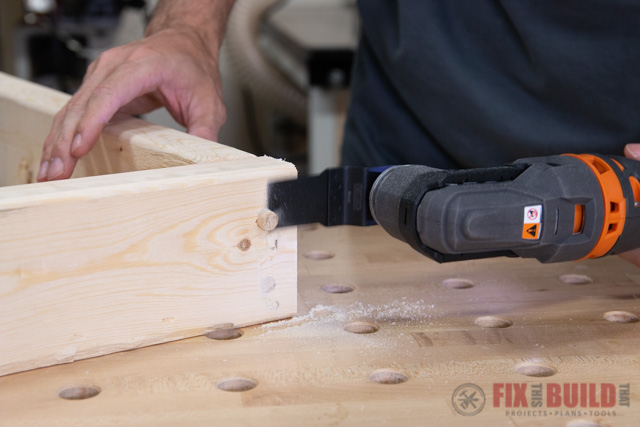 I really love the idea of the RIDGID 4.5 Gal 5.0- Peak HP Pro Pack Wet Dry Vac because it's essentially a more portable shop vac.  I have a few shop vacs and they're great, but they don't travel well.  Shop vacs tend to be awkward to schlep around and that's a problem when you need to take one to a job site.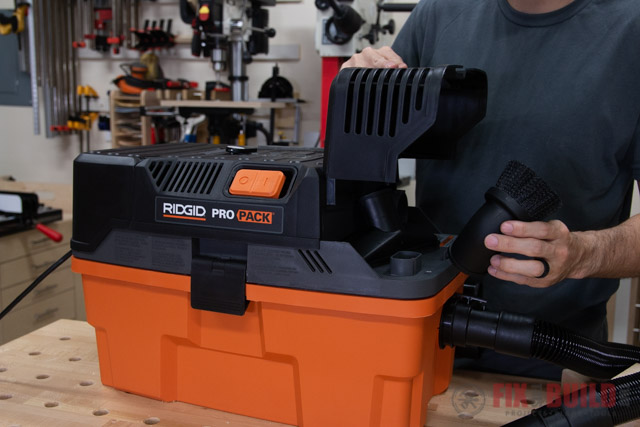 I like the design of this 4.5 Gal Shop Vac.  Everything is stored on or in the container from the power cord to the hose and attachments and it doesn't roll!  This would be easy to throw in your truck and take along.  The 5 peak HP motor creates a powerful suction and the 20 foot cord is long enough to give you good reach but can still be stored away easily.  The filters look nice too with 3-layers for maximum filtration.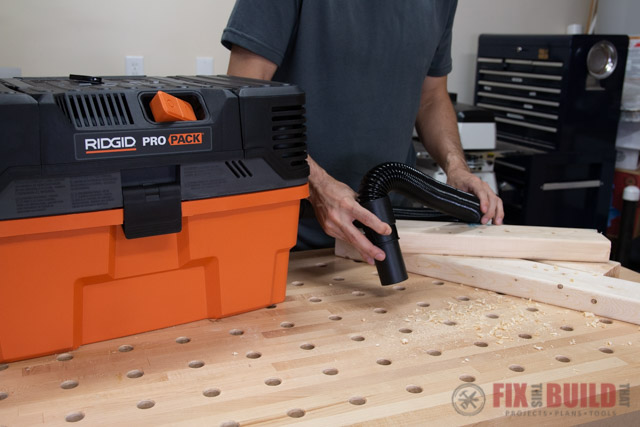 First Look at the RYOBI Tools
I use rotary tools fairly often, but not a cordless rotary tool, which is what you're getting here.  The Ryobi ONE+ 18V Rotary Tool looks handy to use on the go since you don't need to find an outlet to plug it into.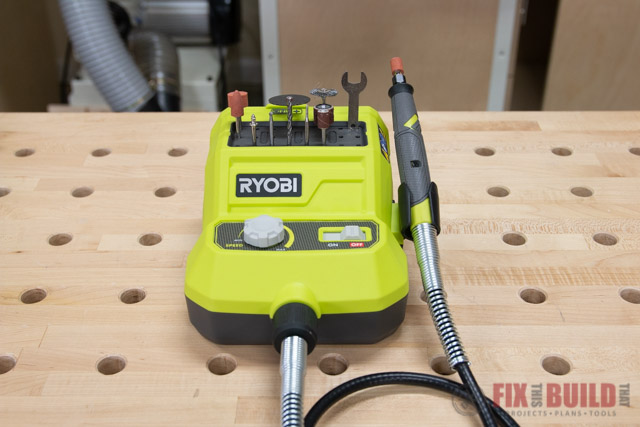 The Ryobi ONE+ 18V Rotary Tool has variable speeds up to 34,000 RPM, so it has you covered over a wide range.  It comes with 33 accessories and a 36 in. flexible shaft pen design for more precision and comfort.  I'm intrigued and I'll put this thing to use when I need some fine detail work.
I really like having a portable air compressor on hand, they're great for keeping your tires filled, and for the really important stuff… inflating pool floats.   The Ryobi ONE+ 1 Gallon Compressor impressed me when I took it out of the box because it's small and lightweight.  Despite it's size, it can inflate a car tire from flat to full in one minute and 20 seconds.  It runs on one 4.0 Ah Battery can can inflate 9 car tires per charge.  That's not too shabby.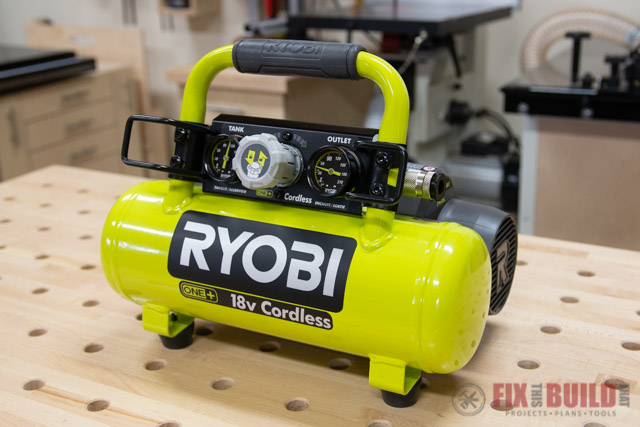 If you're in the market for a portable air compressor I'd stay away from the smaller versions without tanks.  They take forever and just don't do as good of a job, they really can't compete with an air compressor with a tank.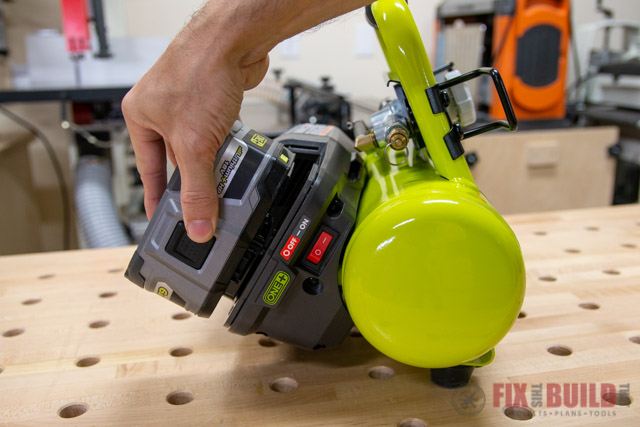 First Look at the BOSCH Tools
The first tool is an unsung hero in a DIY toolkit, the spade bit.  The Bosch Daredevil Spade Bit Set includes 10 bits built with the Daredevil paddle design for faster drilling. I've used these bits before when drilling holes for electrical lines, and they worked great.  I really like the full-cone threaded tips because they pull the bit through the wood for more effortless drilling.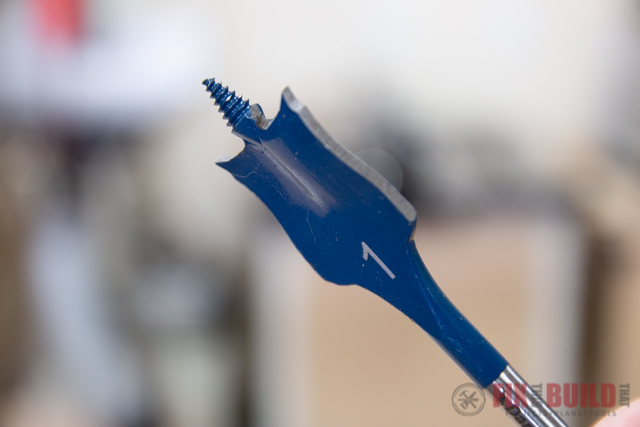 The spur and reamer also helps to make clean holes and the contoured paddle clears the material faster.  The hex shank has a power groove for reduced slippage which is also great.  This set includes 1 of each of the following bit sizes: 3/8 in., 1/2 in., 5/8 in., 3/4 in., 9/16 in., 7/8 in., 1 in., 1-1/8 in., 1-1/4 in. and 6 in. extension.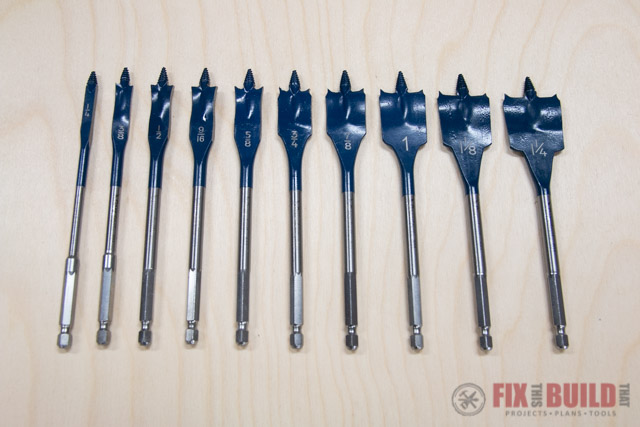 I've not used self levelers before so these are new to me.  The Bosch Self-Leveling Cross-Line Laser allows you to find a vertical and horizontal line on any surface, which is great for projects like tiling and installing a chair rail.  The laser level projects visible green lines up to 40 ft., which are up to 4X brighter than standard red beams.  They were very bright and easy to see in my well lit shop, and I got my sign squared away 🙂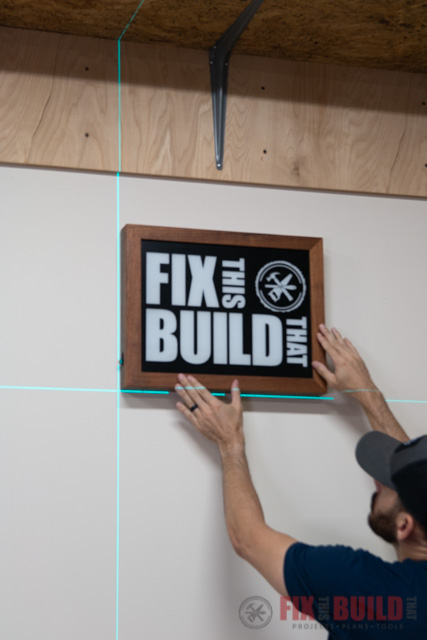 This tool features Bosch-exclusive VisiMax technology, which monitors tool temperature and power consumption to deliver the brightest line for the job. It is also equipped with a Smart Pendulum System for self-leveling and indication of out-of-level condition, as well as pendulum lock for safe tool transport.  A flexible mounting device allows the laser level to be clamped to multiple surfaces which could definitely come in handy.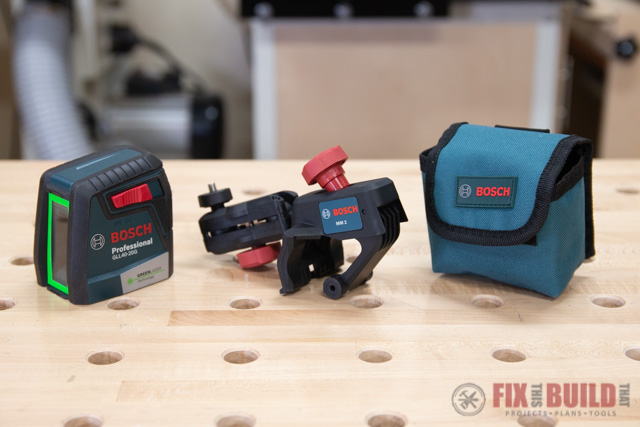 If the last level wasn't enough tool for you, then you're the type of guy or gal who needs to step up to this bad boy.  The Bosch 200 ft. Self Leveling 3 Plane Cross Line Laser Level is a professional tool that comes with a professional tool's price tag ($400 when this was written).  The laser level finds plumb and square like the last level, but then it goes a step further.  With 3 chalk lines in 360 laser planes 1 horizontal and 2 vertical this leveling laser delivers fast job setup from 1 initial point. The lasers 2 vertical lines cross at 90 angles to quickly square the layout of a room. It's considered to be an all-in-one level and alignment tool.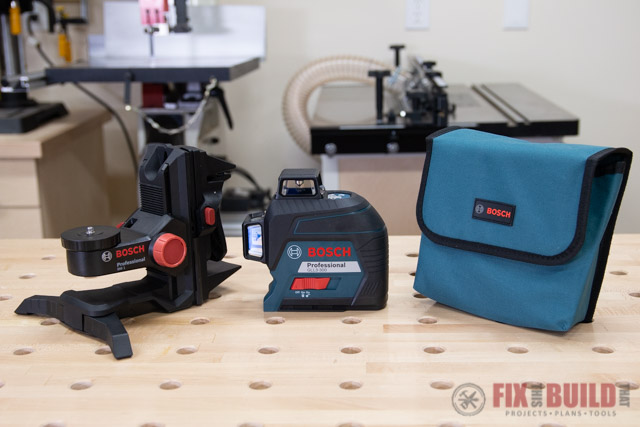 The Bosch 200 ft. Self Leveling 3 Plane Cross Line Laser Level has built-in VisiMax Technology which monitors power consumption to maximize line visibility and extend battery life.  It also has Smart Pendulum System self-levels and indicates out-of-level condition up to plus or minus 4 degrees.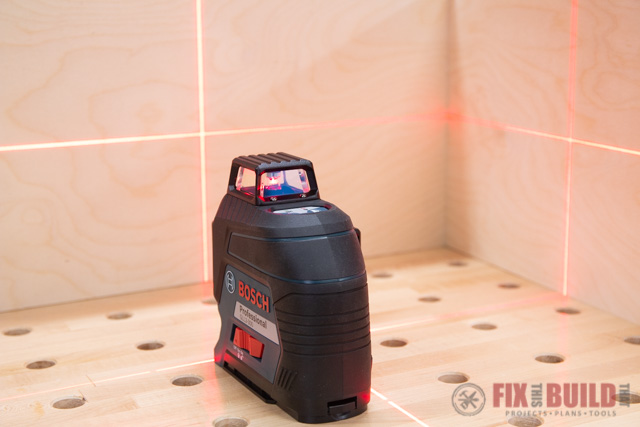 Featuring an upgraded diode with a brighter beam, the GLL3-300 has a visible range of up to 200 ft. Dia, and a working range of up to 300 ft. Dia with an optional receiver. This laser includes VisiMax Technology for maximum line visibility.  It also has Pulse Mode which allows the working range to extend up to a whopping 300 ft., that's pretty crazy.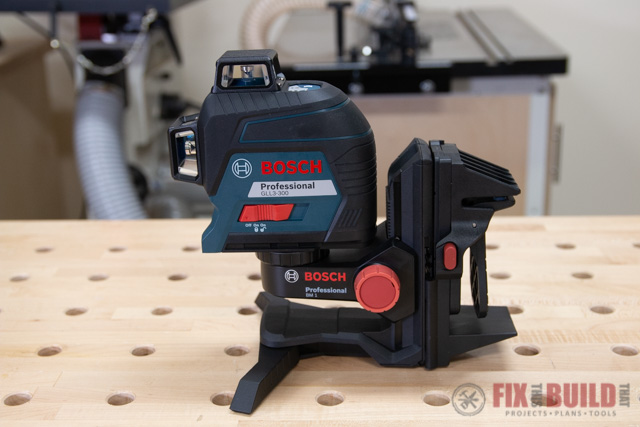 Wrap Up
Alright, that's it for my inaugural First Look at New Tools posts.  I'll be back in Q3 (which we are already in actually) with the new round of tools.  And I gotta say I'm pretty excited about them!
Until then though you can check out my entire line up of tools that I personally own and use over at My Tools page.
I acknowledge that The Home Depot is partnering with me to participate in the promotional program described above (the "Program").  As a part of the Program, I am receiving compensation in the form of products and services, for the purpose of promoting The Home Depot. All expressed opinions and experiences are my own words. My post complies with the Word Of Mouth Marketing Association (WOMMA) Ethics Code and applicable Federal Trade Commission guidelines.