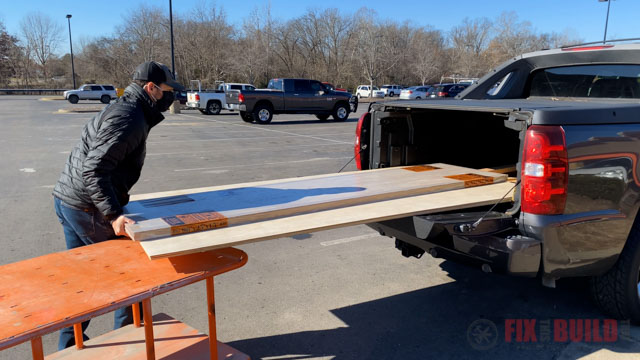 I don't know about you, but I spend a lot of time and money at Home Depot.  Well before I ever started my blog or YouTube channel I was making runs to Home Depot.  It doesn't hurt that they have the same colors as my beloved alma mater either (Go Vols!).  But somehow after all those trips and even working with them professionally for many years, I didn't know about their Pro Xtra Loyalty Program.  So when they told me about it and asked me to try it out I was onboard 100%.
This blogpost is sponsored by the Home Depot.
Affiliate links are used on this page.  See my disclosure page for info on affiliate programs.
[vc_separator]
What
is
 Pro Xtra?
The Pro Xtra program is Home Depot's loyalty program built for Pros.  It's made to help you save time, money, get organized and manage your business.  And let's be honest, I think we could all use those benefits to help us out.
Can anyone sign up for Home Depot Pro Xtra?  
I'm not a "licensed professional" so I always wondered if I'd actually qualify for the Pro side of things at Home Depot.  But don't worry, any Pro from any trade can sign up for Pro Xtra, and you don't need an official license or anything like that.  That includes everyone from woodworkers like me, to small time handymen.  Any Pro can join and it's free to use.
How do I sign up for Pro Xtra?
Getting started was easy, I just needed to register for a Pro Xtra account. You can register on your desktop or on your phone.  I went into the Home Depot app on my phone and created my Pro Xtra account.  This was also easy to do, just click "Create an Account" and select "Pro Xtra Account."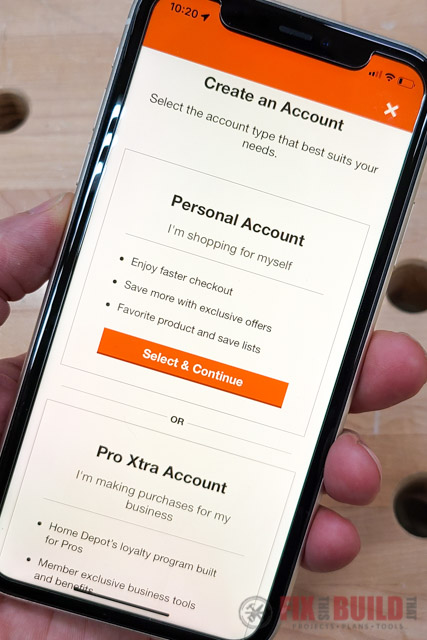 Once you're signed up for the Pro Xtra loyalty program you'll get access to perks like exclusive deals, purchase tracking, and paint rewards.  And of course the rewards you get for reaching certain spend levels, like Pro Xtra Dollars or a Tool Rental Perk.
How do you earn Perks?
Once you're registered the app will generate a Virtual ID for you.  This is just a QR code in the app that you will scan when you checkout.  I love this versus one of those silly keychain tags that always fall off.
You earn perk discounts at Home Depot by doing what you're probably already doing, spending money!  Just make sure to scan your Virtual ID every time you check out and the app will track your spending.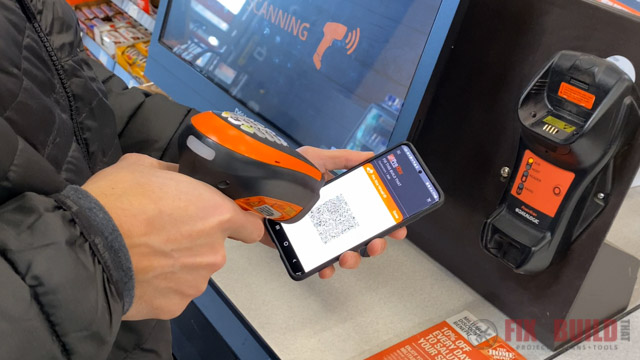 The reward perks are awarded as you pass different spending tiers.  The more you spend, the higher the reward.  And the perks are credit towards your purchases or double that amount for tool rentals. Reward tiers start as low as $2,500 spent.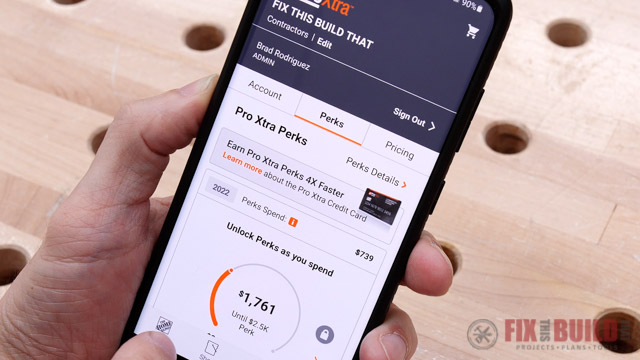 But there is also a specific paint reward you can get as well.  After spending $1,000 on paint and paint suppliers you'll get 10% off your purchases.  And this goes to 15% at $3,500 and 20% at $6,500 spent.  So if you do a lot of painting in your business this could be a huge reward in itself.
Other Perks
After I signed up for my Pro Xtra account I got a welcome coupon in my email for $20 off of $200 which was a nice surprise.  They also send you a coupon from time to time for a free snack at check out.  And I'm always down for grabbing some salted nuts or a candy bar if I'm feeling my sweet tooth.
Then there are fun perks that make the shopping experience at Home Depot even better. From VIP parking, to dedicated checkouts for pros and of course the Pro Desk where you can do bulk and specialty orders.
Want to Track Lumber Pricing?
With lumber prices sky high, buying lumber is downright stressful.  And making sure you're up to date on pricing is more important than ever.  Being able to easily monitor the current prices on the lumber and sheet goods I use most helps me decide when to run out and take the 2nd mortgage to buy some lumber.  
I created a list in my Pro Xtra app to track all the SKUs I use most.  I can see prices and quantity available at my local store anytime I want right from my phone now.  It's easy to make a list then just "heart" items you search for and you can add them to your custom lists.  Now when I check I can see if the prices have come down so I can drop what I'm doing to go fill out that loan application to finance my woodworking 🙂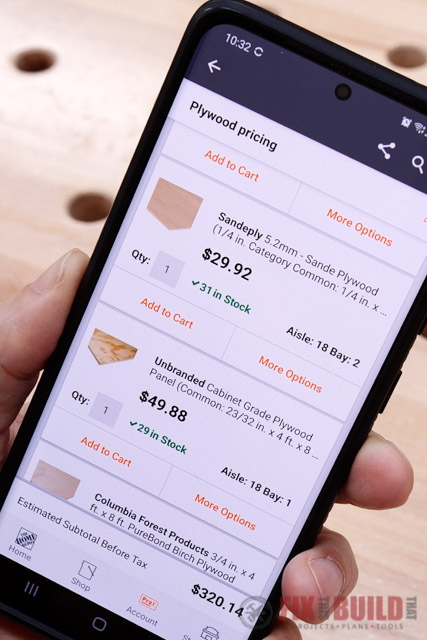 This may sound simple, and it is, but it saves me time and money by not having to be caught off guard by high prices and try waiting for prices to go down.
Managing Your Business
The Pro Xtra account also gives you some nice tools to manage your business.  The one I like the best is being able to see all your purchases in the app and track them by job name.  All you need to do is put in the job name at checkout and it'll group it for you.

I also love that they will give you 1 year returns as a Pro Xtra member.  So if you have a job that lasts 3 or 4 months and have some extra unopened supplies at the end, you can take them back and get a refund!
My Takeaway:
I'm already spending a lot of money at Home Depot, so why not get rewarded for it too?  I really like how easy it is to track lumber prices and get coupons and discounts.  The additional perks I can earn make it a no-brainer for me.  If you're interested in the program you can sign up for your own Pro Xtra account here.  It's free, easy and a great way to save money!
Want more ways to make your life easier?  Check out my Home DIY projects for more great projects and ideas.   
The Home Depot provided me with product and/or monetary compensation as a sponsor of this build.  All opinions are my own and are not filtered by the sponsor.