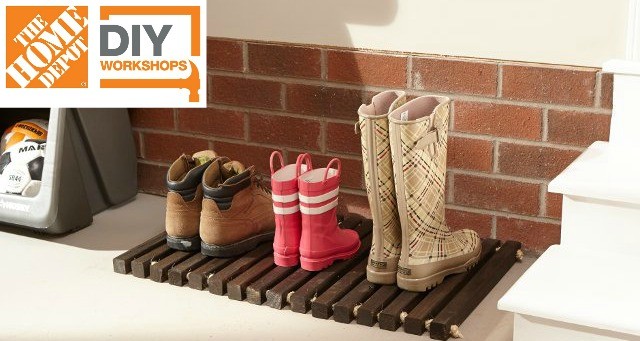 *This post is sponsored by The Home Depot
Hey, guys!  I am so excited to share this post with you today and to announce my new partnership with The Home Depot.  I'll be working with The Home Depot to help promote their DIY Workshops.  The DIY Workshops are held in Home Depot stores all around the country and are designed to give you a hands on class where you can learn to build fun projects.
I'm totally in love with this idea because one of my biggest goals with starting this blog was to help get more people building and make it easy for them to do it by providing plans.  So it made perfect sense to partner up with The Home Depot for these workshops.  Not only do you get the plans, but you have someone there showing you how to do it!
For the first project we'll be building a Wooden Door Mat.  The door mat is a fun project and perfect for beginners as it takes only a drill and a handsaw to make it.  Here is what you'll be making.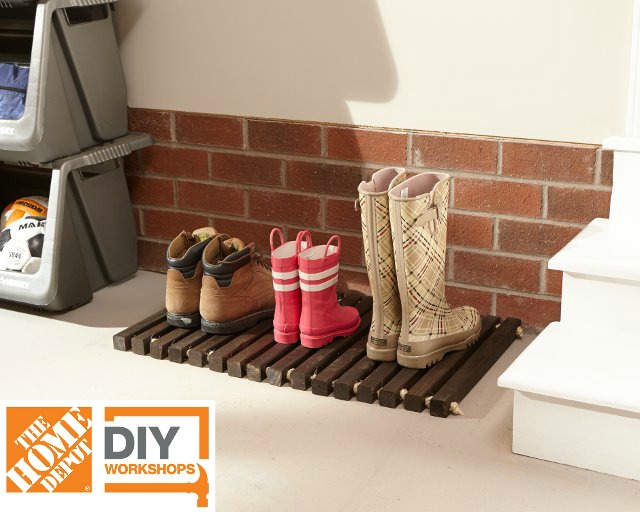 I can see so many applications for this little doormat.  Put it at the backdoor near your garage/mudroom to hold the wet boots and let them dry off.  Have it in your entryway as a designated custom mat for guest's shoes.  Or of course replace those boring "Welcome" mats with a handmade wooden doormat that will be a great conversation starter every time someone comes to the door.
The DIY Workshop will be held at your local Home Depot on March 26, 2016.  You can follow this link for more details and to register for the class ahead of time:
Let me give you a little more info on this whole deal.  First off, I'm over the moon at the opportunity to work with The Home Depot!  I've always been a HD guy over the blue guys, it doesn't hurt that as a Tennessee grad I just love orange.  The opportunity to work with them while getting people building is just awesome.  I'll be doing one build each quarter of 2016 for a total of 4 builds this year.  I can't wait to share all these projects with you and see your versions of them.
And in case you are wondering about these workshops or have never heard of them before here are some details.
The Home Depot offers Workshops at all of their locations for do-it-yourselfers of all ages and experience levels
There are three types of Workshops offered – Do-ItYourself (DIY), Do-It-Herself (DIH) and Kids
Customers can learn how to build decor projects, how to make easy home repsirs and how to operate tools through demonstrations and step-by-step instructions
Visit workshops.homedepot.com to learn more
I can't wait to get start on these projects and remember, you can go register for the Wooden Door Mat Project by going to this link:
I acknowledge that The Home Depot is partnering with me to participate in this Workshops Program (the "Program").  As a part of the Program, I am receiving compensation in the form of products and services, for the purpose of promoting The Home Depot.  All expressed opinions and experiences are my own words.  My post complies with the Word Of Mouth Marketing Association (WOMMA) Ethics Codes and applicable Federal Trade Commission guidelines.