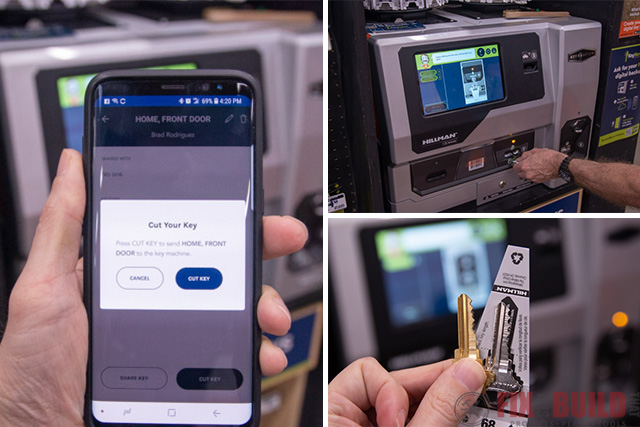 I recently put a new deadbolt lock on my front door and it only came with a single key.  I've been meaning to make a few copies of the key, so when KeyHero reached out to me to help spread the word about their digital key service I thought it was the perfect fit.  After getting to use it I can say it's a really cool technology and I've even used it in a pinch completely outside of this post.  I'll tell you more about that later.  But first a big thank you to KeyHero for sponsoring this post and let's get into what it's all about.
The whole idea of KeyHero is it let's you securely store a digital copy of your keys so you can always make a new key even if you don't have the key with you.  I know what you're thinking.  "Store my key information in the cloud!?!".  I thought the same thing, but after a little research I found out their servers have military grade encryption on them, your address is never associated with the key, and the only way to get a key made is to enter a secure pin on the machine while the associated owner's phone and app are present.  Basically it's a triple fail safe to keep your information secure and can only be used by you or someone you share the digital key with.  Read on to hear my experience and how this whole thing works.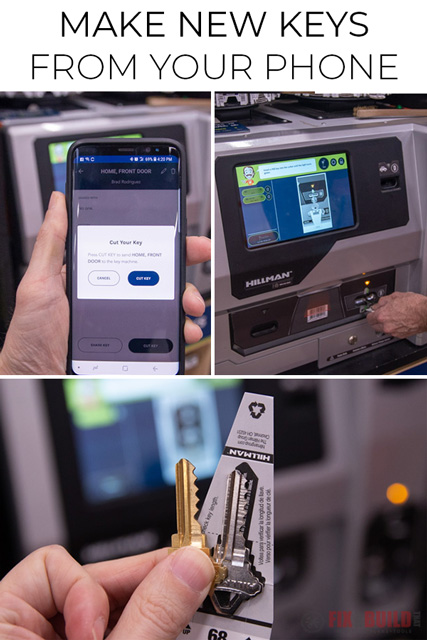 [vc_separator]
How can you print house keys from your phone with Key Hero?
Download the KeyHero App
Scan Your Keys at Home Depot
Cut a Key Now or Later
Send Keys to Family or Friends
1. Download the KeyHero App
The system runs off an app you download to your phone and is the go-between with the KeyHero servers and the key cutting machine at the store.  It's free to scan and save as many keys as you want to your KeyHero account.  And the best part is that you'll never really lose your keys again.  With digital copies of your keys already saved, all you have to do is go to your local Home Depot and cut new keys and you're done!  No more calling the locksmith and paying a ton to break in and rekey your locks.  Just make a copy and you're back in the house then can decide if you want to rekey after a thorough search of your jacket and pants you were wearing when you last had the keys (yep, found my "lost" keys there many times).
The app is available for both Android and Apple so it'll work with most phones.  To sign up for the app you just need a phone number and e-mail.  It never asks for other personal info like home address or credit card number as part of the security measures.  The app also makes you login every time you use it.  So even if you lose your phone and it gets unlocked they still won't be able to use it to make a key without the password.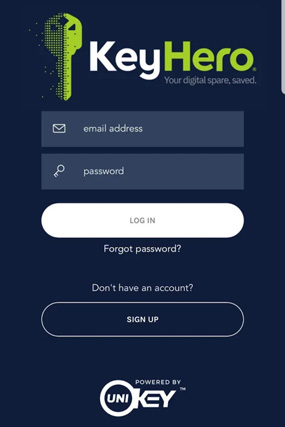 Once you have a KeyHero account set up you're ready to go to Home Depot to scan your key and get store some digital keys.
2. Scan Your Keys at Home Depot
To find out which stores have a KeyHero key center you can head over to the locator page on the KeyHero website.  From what I could tell all my local ones have it, and the stores in Florida where my parents were had it too (again more about that later).  I walked over to the key center area and saw the new setup.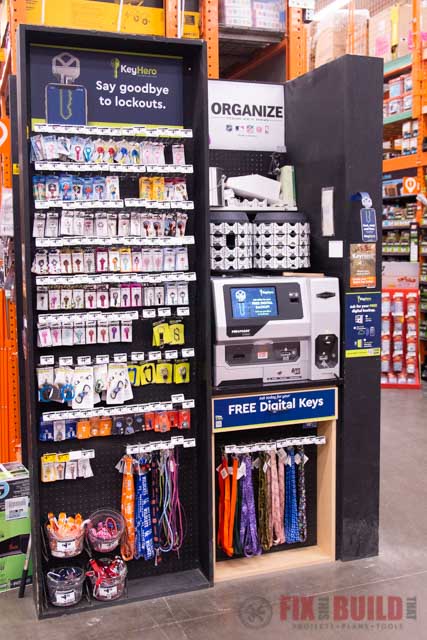 It should be in the same location as the old one, they just put the new digital machine in there.  The new machine is called the KeyKrafter, though I think Digital Key Printer 5000 has a better ring to it, but that's why I just write the blogs and don't name the things 🙂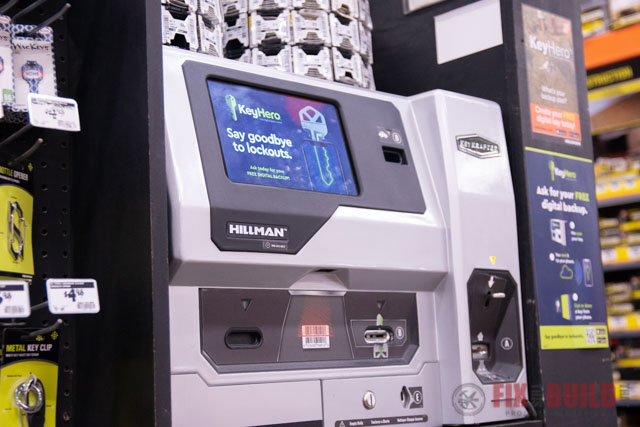 An associate came over to help me out and walked me through the process.  I handed her the key I wanted to make a copy of and she put it in the KeyKrafter to scan it.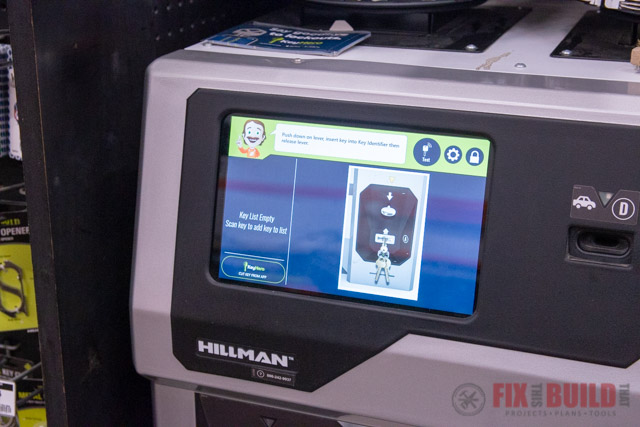 The KeyKrafter figured out which blank was needed to make a copy of the key.  There are a ton of different key types out there and the machine takes the guess work out of it.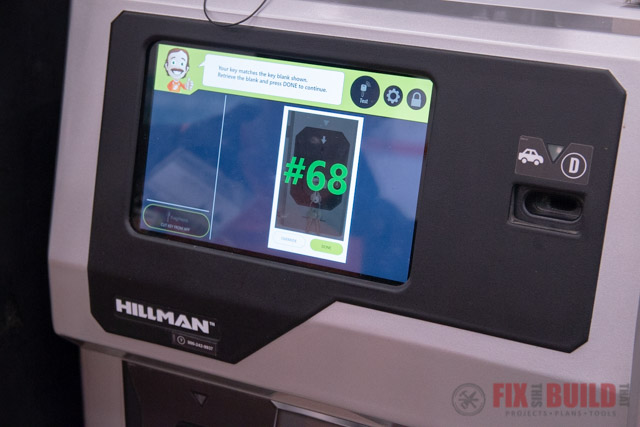 And after it decided which key blank to use it asked me to name the key to be saved and enter my cell phone number.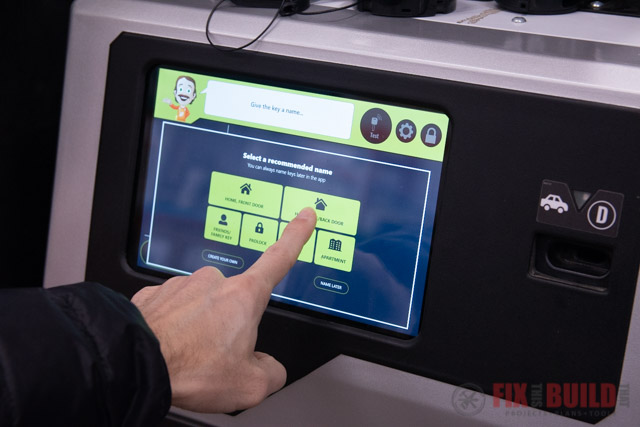 The digital key was actually texted to me to accept.  The KeyKrafter has cellular service and sends the text to you phone.  After I clicked on the link the key showed up in the My Keys section of my app and now I'm able to get it cut at any KeyKrafter nationwide.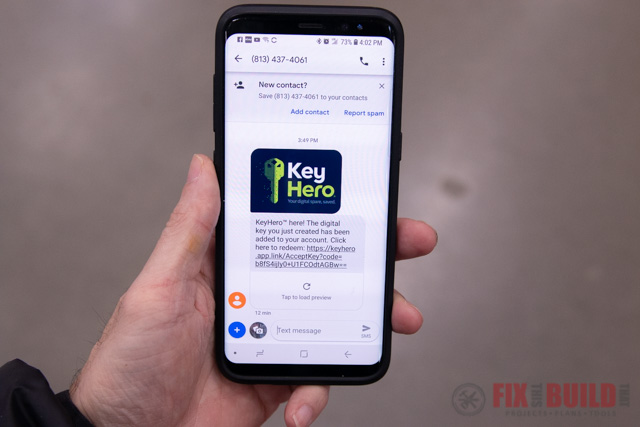 After I selected my choice the associate scanned the key blank and inserted it into the KeyKrafter to make the copy.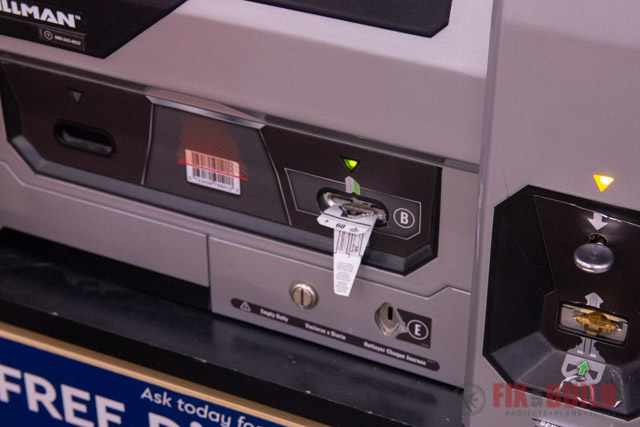 The KeyKrafter cut a replica of the key.
3. Cut a Key Now or Later
To test out the service I went ahead and tried to cut the digital key that I had just saved.  It was pretty straightforward, I just went into the My Keys section and selected my key and hit "Cut Key".
From there it asked me if I was at a machine and gave me the option to find one if I wasn't.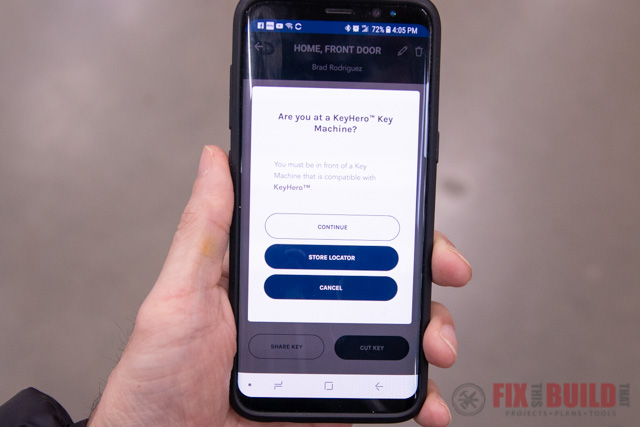 Then the associate hit the "Cut Key from KeyHero app" button on the KeyKrafter and I was given another pin number to input in my app.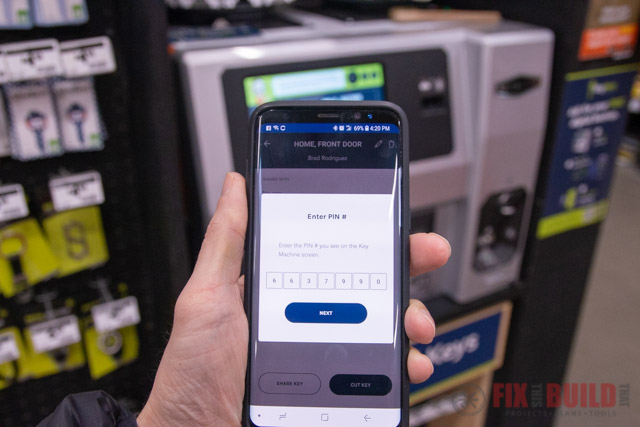 After the pin successfully synced it asked me to confirm cutting the key.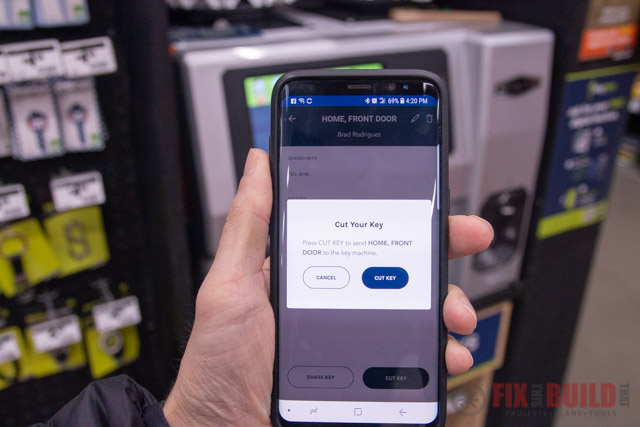 I confirmed it and the KeyKrafter told the associate what blank to use to cut my specific key.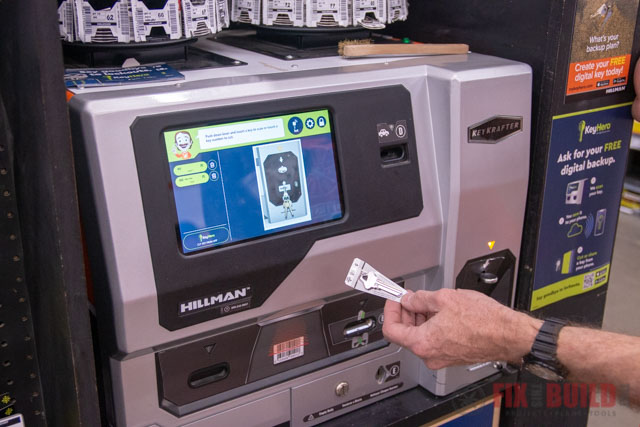 It was as easy as that and I had another duplicate copy of the key without every having to pull the original key out!
4. Send Keys to Family or Friends
Now here is a part I didn't plan on using, but I actually did and it was a big help.  You can send keys to anyone you'd like to…you know, mom, dad, sister, random strangers you meet online…okay maybe scratch that last one.
My parents were out of town on an extended vacation in Florida and I needed to get in their garage to drop off the cabinets I'm giving my Dad.  Well they moved about a year ago and we'd never gotten around to getting a new key from them and they don't have a garage door keypad.
The stars aligned and I told my mom about KeyHero and sent her to the local Home Depot down in Florida.  She scanned in a digital copy and then using the app sent me a copy of it using my phone number.  I accepted it via text the same way I did before.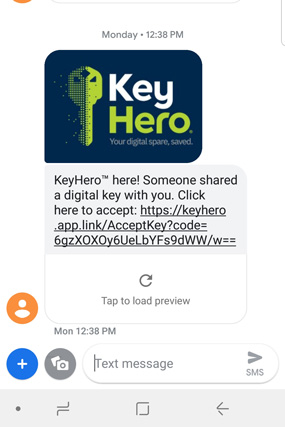 Then I took it to my Home Depot and had it cut on the KeyKrafter using the same steps above.  To me, that's just amazing.  My mom was 10 hours away and sent me a digital key that I could cut within the hour.  I went to my mom & dad's and dropped off the cabinets in his garage (and set them up of course since I'm a good son).  And now when they get home everything will be ready for my dad to do his leather work in his new workspace.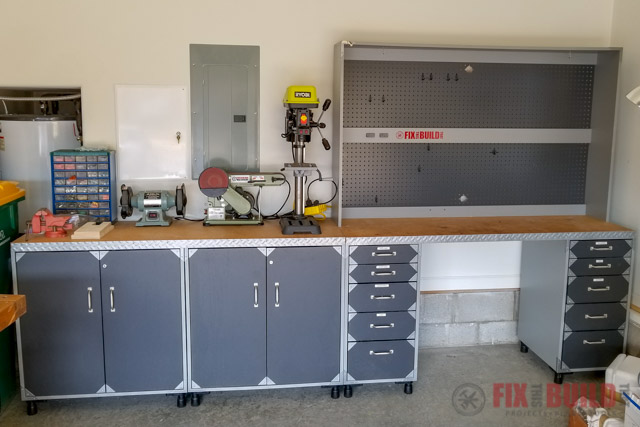 Oh and another cool thing happened.  Whenever someone makes a copy of a key in your digital library you get a notification letting you know and it saves who cut it in the history of the key.  So it adds a fourth security measure to the process and if your digital key is cut at a KeyKrafter you'll know it right away!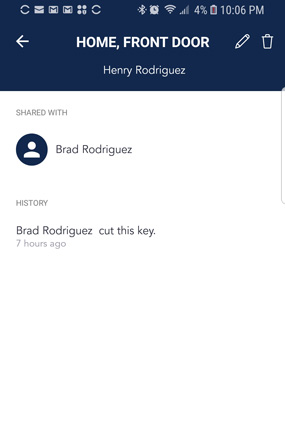 I think the KeyHero app and service is pretty sweet and already had a chance to use it in a real world situation.  Now let's just hope I don't have to use it again anytime soon due to lost keys…where's my jacket???
KeyHero provided me with product and/or monetary compensation as a sponsor of this build.  All opinions are my own and are not filtered by the sponsor.