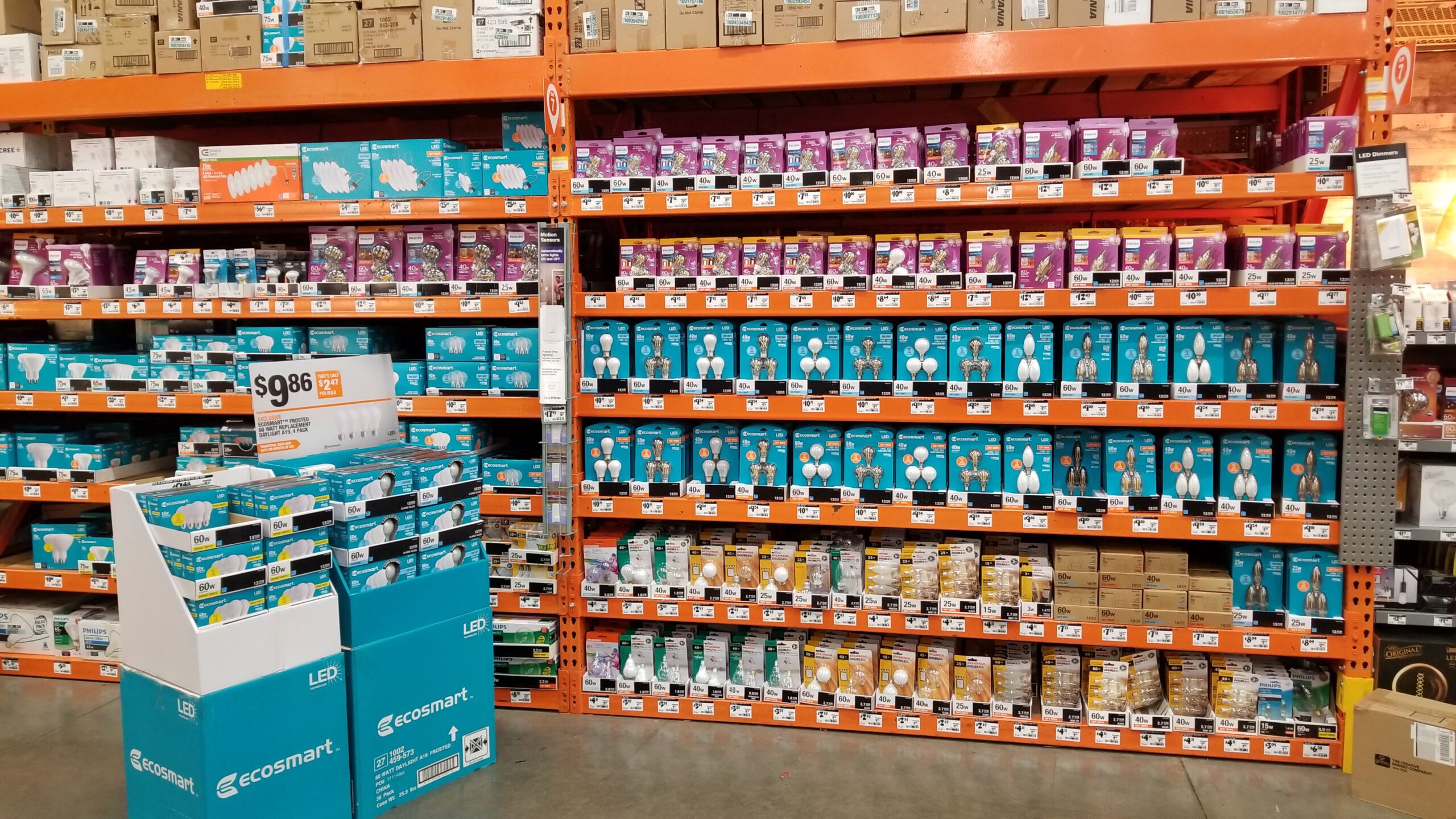 Did you know there are easy ways to go green while improving your home?  Given the chance I try to use eco-friendly products around my house to try and do my part to lower my environmental impact.  And I'm partnering with The Home Depot to help show you some products you can pick that will do the same for you.  I'll also tell you a little about what Home Depot is doing, outside of just offering green products, to make environmentally conscious choices.
And the best way to show you the options available was to go on a little shopping trip of my own to pick up some green products!  I'll share my trip with you and show you a few of the options that are a smart, green choice.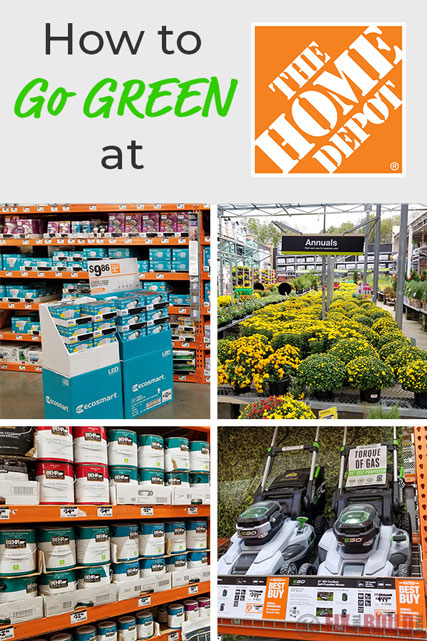 Before we get started, make sure to follow me on YouTube, Facebook and Instagram to keep up with all my latest builds!
Affiliate links are used on this page.  See my disclosure page for info on affiliate programs.
[vc_separator]
Some of these products I'll be showing you are obvious, like LED lightbulbs.  But others you might not think about as an obvious green choice.  So let's jump in and get started.
Like I said, LED lightbulbs are probably the most obvious and easy energy efficient change you can make in your house.  LEDs use up to 85% less energy when compared to standard incandescent bulbs.  And even in a moderate sized home that energy savings adds up.  An average LED bulb saves $60 in energy costs over the course of their life, which is about 11,000 hours.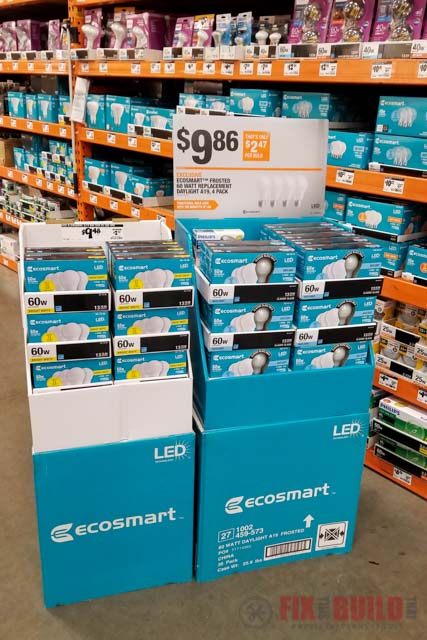 The Home Depot has a big selection of energy efficient LED light bulbs for you to choose from.  If you've not checked in a while, the prices have come way down since they first came out.  And you can find just about any LED light bulb you need now including some of the smaller candelabra lights that didn't used to be available.  They also have bulbs with different watt equivalents so you can find just the right amount of light in your energy efficient bulb.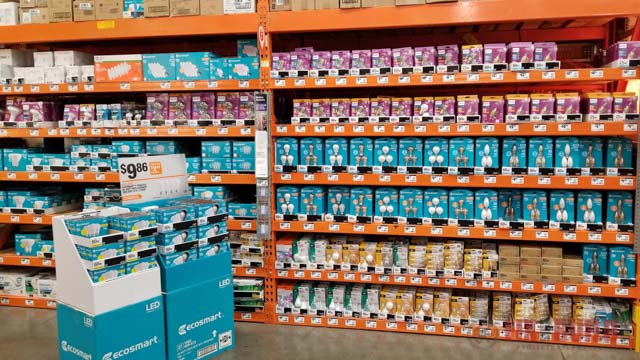 Another easy way to go green is by using low or zero VOC paint.  Ever gotten a headache when you're painting?  The paint's fumes or VOCs (volatile organic compounds) were probably to blame.  If you're exposed to them long enough, VOCs can cause long term health effects at just short term irritations like those headaches.  
How are Low and Zero VOC Paints Better?
Regular paint has VOCs

up to 250 grams per liter grams/liter (g/l)

for flat finishes and 380 g/l for other finishes

Low VOC paints have up to

50 g/l

for all finishes

Zero VOC paints have up to

5 g/l for all finishes
So basically there are far fewer chemicals released into the air when you use Low or Zero VOC paint.  That means less headaches and worry about any ongoing concerns.
Finding Low or Zero VOC paint is easy at the Home Depot. 100% of BEHR's interior and exterior water-based broad wall paints are low or zero VOC.  And nearly all of their interior wall paints are Greenguard Gold certified. That means they are safe for sensitive individuals (like children and the elderly) and are acceptable to use in education and healthcare facilities.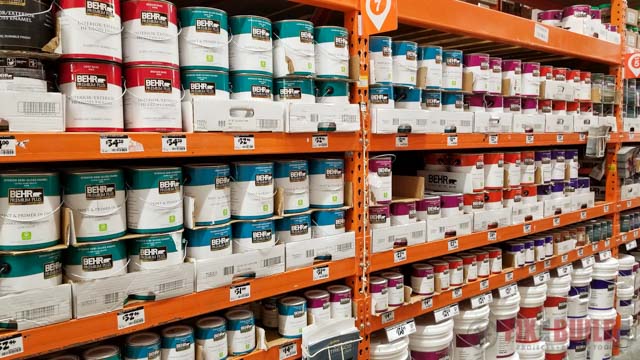 We've always used BEHR paint because we like the coverage it provides. But knowing that it's a low VOC paint makes me feel even better about using it in my house especially with three growing kids.
Okay, lights and paint are great, but let's get to some power tools 🙂  I went over to the lawn care aisles and checked out Home Depot's EGO tools.  EGO was the 1st ever high capacity, lithium powered yard tools. I love cordless tools in my shop, so cordless yard tools are right up my alley.  They're described as powerful and strong without all the noise and fumes you get from traditional yard tools. The EGO line has a ton of different battery powered tools including a lawnmower, string trimmer, blower, hedge trimmer, snow blower, chainsaw and a generator.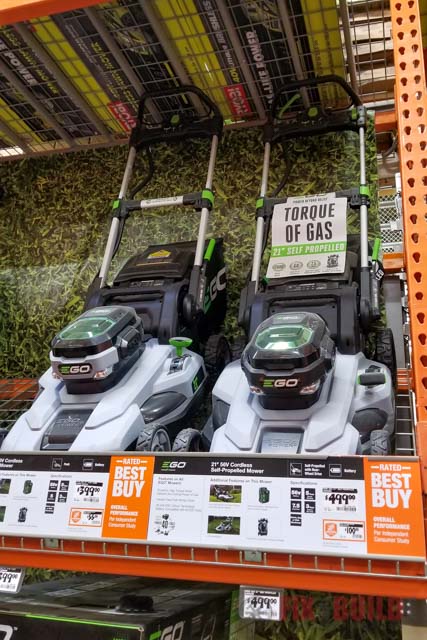 Going cordless and gasless has other benefits too, and I'm pretty pumped about the 56 Volt EGO Brushless Hedge Clipper Set.  My wife likes to do the hedge clipping sometimes with our corded trimmer and cords and fast moving blades aren't always a great combo.  She's accidentally cut the extension cord while trimming… more than once 🙂  So the environment and our extension cords are going to be happy with the EGO battery powered hedge clippers.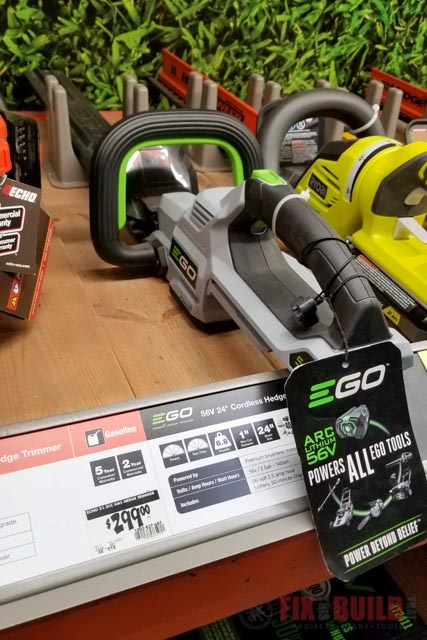 And with Fall in full swing I've also been in the market for a new leaf blower.  I was considering going with a gas powered one, but realized the electric blowers now have just as much power.  The EGO Variable-Speed Electric Blower has a variable speed control that can be adjusted from 250 CFM to 550 CFM.  It also has a run time of up to 75 minutes, plenty of time to handle those leaves.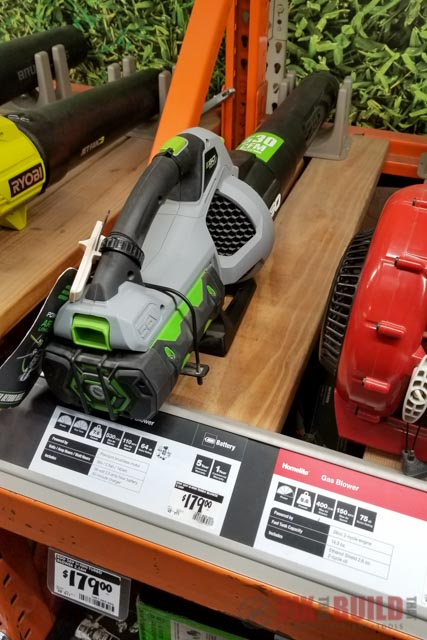 The last stop on my shopping trip was the garden center.  You might be thinking "aren't all plants green!?".  Well Home Depot carries over 50 varieties of organic, non-GMO vegetable and herb plants in their stores.  Which means they're raised without harsh chemicals.  Plus they buy their plants from 250 local growers and buying locally is a win for the environment.   Less distance to travel keeps trucks off the roads and lowers gas emissions needed to get the plants to market.  
I checked out the local plants my Home Depot had in stock.  With it being Fall, it was no surprise to find a lot of mums at the store.  This will look quite a bit different in the spring and summer when it's planting season and they'll have a full variety of those organic vegetable and herb plants.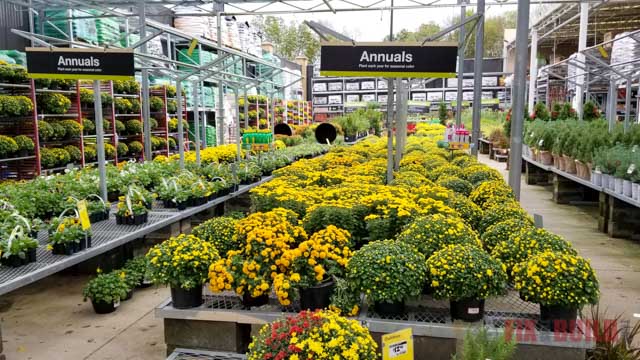 So I've showed you some products you can choose to go green, but let me tell you what else Home Depot is doing in and out of the store.  The Home Depot has been focusing on addressing global environment concerns since 2007.  That's when they started their Eco Options program which recognizes the best energy efficient products they offer.  They've also set a "science-based target" of 50% energy reduction by 2035.
Here are some pretty awesome statistics from 2018 of the impact The Home Depot is making and how they're going to meet their goal.
ENERGY STAR products sold at THD save about $1.2B in annual energy costs

THD customers saved over $655M on water costs by using WaterSense products

Solar power installs had the capacity to reduce CO2 emissions by 90,000 metric tonnes, which is like taking 19,000 cars off the road for a year
They redesigned 134 packages to reduce size and materials
THD installed energy efficient HVAC in 133 stores, and 467 over the last 7 years
They eliminated 117K truckloads by better loading efficiencies
I'm proud to partner with a company like The Home Depot who is focused on being environmentally conscious.  They aren't just talking the talk, but they are walking the walk and making a positive impact every year.
If you're interested in other ways that you can go green at home, check out my HVAC Basics.  That's where I go over furnace troubleshooting along with furnace and air conditioner maintenance to keep your home running smooth and use less energy.
The Home Depot provided me with product and/or monetary compensation as a sponsor of this build.  All opinions are my own and are not filtered by the sponsor.