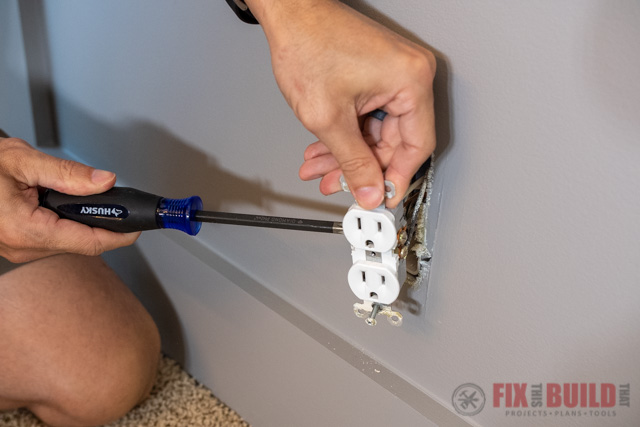 Electrical outlet not working? Loose connection?  No problem!  Learning how to replace an outlet is easy, as long as you follow some important safety rules. Whether you have a dead outlet, or just need to switch out your outlet, I'll show you how to DIY this project.
I have a white electrical outlet in my dining room and it's working fine.  But I want to switch out for a dark grey outlet to match my DIY Feature Wall.  Luckily switching out an outlet is easy to do, and I'm going to walk you through every step of the process.  But if you aren't comfortable taking on this project call a licensed electrician instead.
This post is sponsored by The Home Depot.  Affiliate links are used on this page.  See my disclosure page for info on affiliate programs.
How to replace an outlet
Turn off power to electrical outlet
 Identify wires connected to outlet
 Unscrew wires from outlet
 Attach wires to new electrical outlet
1. Turn Off Power to Electrical Outlet
Before you do anything else, turn off the power to your outlet.  To turn off the power, flip the switch in your circuit breaker that controls the power to your outlet.  I always confirm the power is turned off to the outlet by checking it with my non-contact voltage tester.  Follow the instructions on your voltage tester for more information.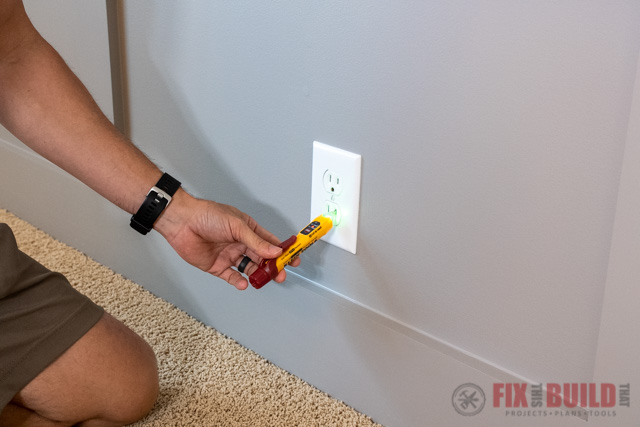 2. Identify Wires Connected to Outlet
Next I used my Husky Diamond Tip Magnetic Screwdriver to remove the faceplate.  I've been working with Husky this year as part of the Home Depot ProSpective program.  I received the Husky Diamond Tip Magnetic Screwdriver and the Husky 6-in-1 Pliers as a part of that program.
When I'm doing electrical work I find myself reaching for this screwdriver because of the magnetic tip.  It's amazing how something so small can make a big difference.  I've dropped way too many screws over the years and when you're doing electrical work, that's the last thing you need.  The Husky Diamond Tip Magnetic Screwdriver is comfortable to use and keeps your screw secure.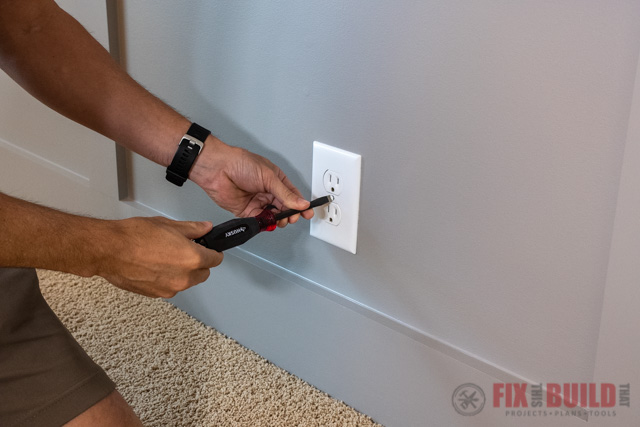 Finally I unscrewed the outlet from the electrical box and gently pulled the electrical box out to examine the wires.  Since you'll be removing the wires from your electrical box, you need to be able to tell them apart.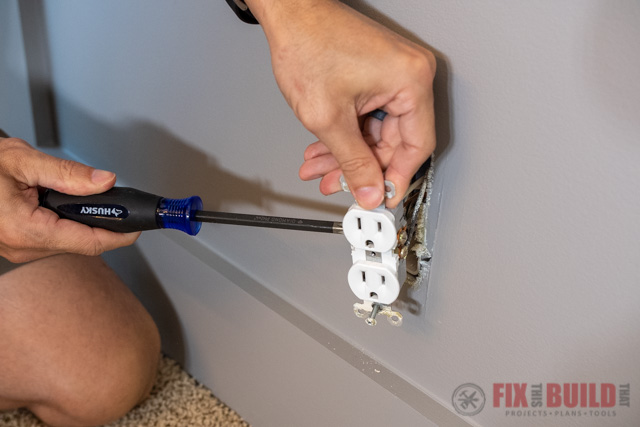 Typical electrical outlets are connected with three types of wires:
Hot Wire: This is usually a black wire or a red wire.  The hot wire carries the current to your electrical outlet.  It's connected to one side of your outlet with brass or yellow colored screws.
Neutral Wire: The neutral wire is a white wire; it carries the electrical current back to the power source.  This wire is connected to the other side of your outlet with silver screws.
Ground Wire: This wire is green or bare copper; it connects the outlet to safe, negatively charged matter.  Ground wires are important to prevent electrocution and fire. The ground wire is usually connected to the bottom of the outlet.
3. Unscrew Wires from Outlet
With the power turned off, start unscrewing the wires from the electrical box.  Each wire will be looped around a screw for a good connection.  My wires were attached really tightly so I used my Husky 8 Inch 6-in-1 Multi-Function Pliers to pull them off.  The non-slip grips and long nose design on the Husky pliers make this easy to do.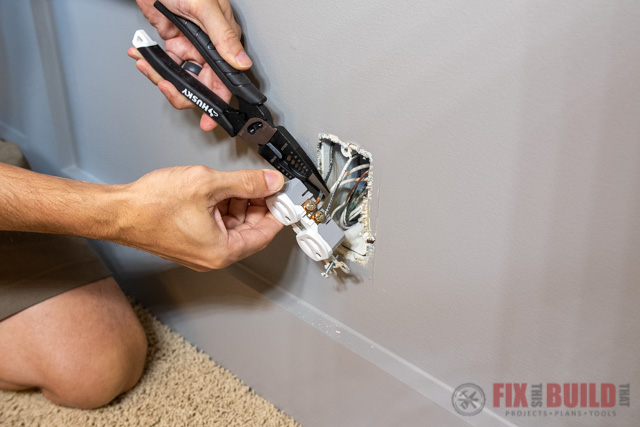 4. Attach Wires to New Electrical Outlet
I had a standard white electrical outlet on my dining room wall that worked fine. But we wanted out electrical outlet to match our new DIY Board and Batten Feature Wall.  The grey wall looks great, but the white electrical outlet was distracting. Instead I found a light grey Decora electrical outlet that was almost a perfect match.  Once it's combined with the matching grey faceplate cover we had a seamless look. 
Our old white outlet was a standard electrical outlet and the grey Decora outlet is shaped a little differently in the front.  They both get wired the same way though which makes the transfer easy.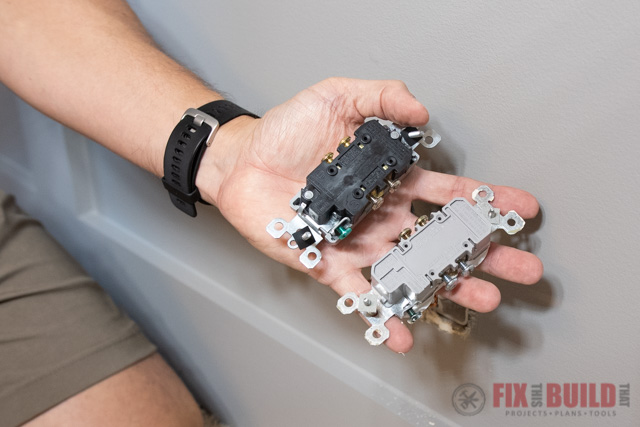 Attaching the Wires
Attach the black wires onto the yellow or brass screws, and the white wires onto silver screws.  The neutral wire (green) is attached to the screw at the bottom of the outlet.
You may need to widen the loops a little before you fit them around the screw heads.  Make sure you don't have any loose wires so you have a strong connection.  I used my Husky 6-in-1 Pliers to attach the wires to my new outlet.  The Husky pliers allowed me to gently wrap the wires around each screw.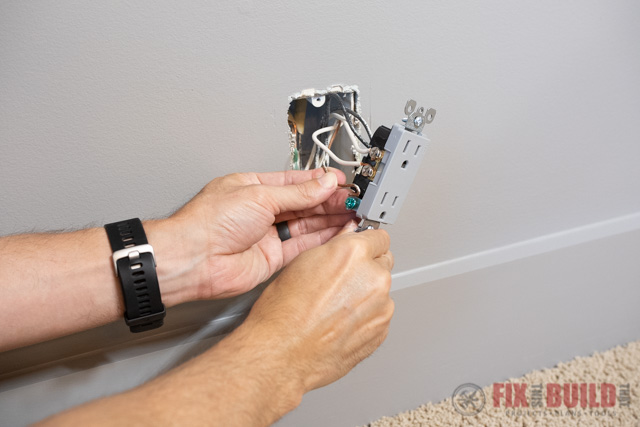 Finally screw your outlet back into the electrical box and add the faceplate.  Then you're ready to turn on the power and test your outlet.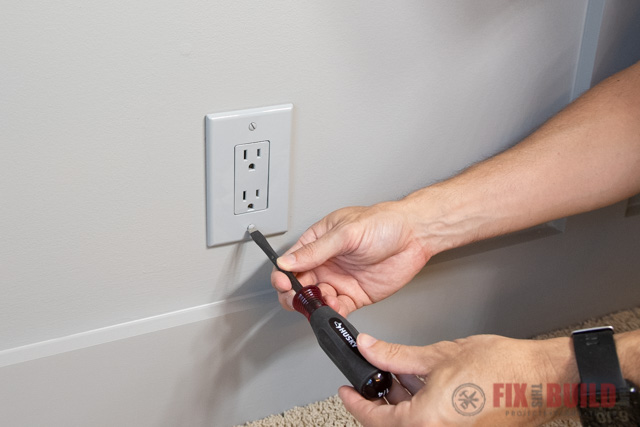 How do you test the outlet?
After installing the electrical outlet you should make sure it's working.  Start by turning the power back on. Then carefully insert each probe from your non-contact voltage tester into each of the top openings on an outlet.  Make sure you hold both probes in one hand while doing this.  The voltage tester should register a voltage of about 110 volts.   
And that's how to replace an outlet!  Now you can change old yellowed outlets, replace dead outlets or put in your own cool grey outlet.  If you  liked this project I've got more Home DIY Projects.