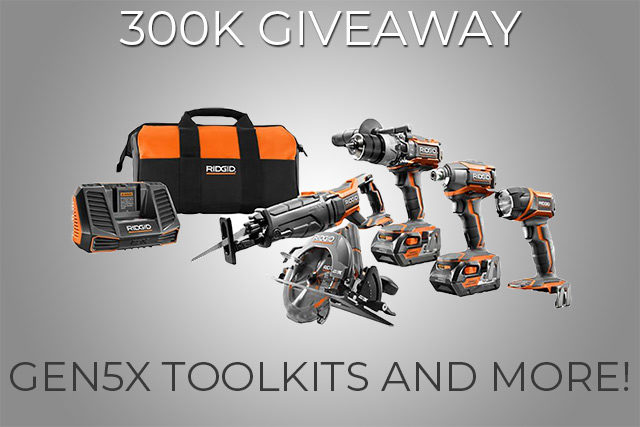 Help Me Celebrate 300K with RIDGID Tools!
I recently hit 300K followers over on Instagram!  To help me celebrate, RIDGID is sponsoring this giveaway with some amazing tools up for grabs.  Check out the prizes and you can enter below.  Here are the prizes that are being given away:
Affiliate links are used on this page.  See my disclosure page for info on affiliate programs.
Grand Prize – 3 Winners
Three Grand Prize winners will get a RIDGID 5pc 18V toolkit
R9652 – 18-Volt GEN5X Cordless Lithium-Ion Combo Kit (5-Tool) with (2) 4.0Ah HYPER Lithium-Ion Batteries, Charger and Bag
18-Volt GEN5X Cordless Lithium-Ion Combo Kit
This 5pc combo kit is awesome and can be the cornerstone for any builder.  My favorite tool out of it is probably the cordless circular saw, but they are all rugged and pack a ton of power.

1st Prize – 3 Winners
Three (3) 1st Prize winners will receive their choice of one of the following:
R86116K – 18-Volt Lithium-Ion 1/2 in. Cordless Brushless Compact Hammer Drill Kit
One RIDGID Bare tool of your choice from ridgidpowertools.com
One 6Ah 18V Bluetooth battery
18V Brushless Compact Hammer Drill Kit
The R86116K Brushless Compact Hammer Drill Kit is a great entry into the RIDGID 18V lineup.  It packs a punch with the Hammer Drill capability but is also a great drill for regular duty items too.
6Ah HYPER OCTANE Bluetooth Enabled Battery
The new 6Ah battery is the next step in the cordless line for RIDGID.  The batteries have bluetooth technology and when they are paired with an Octane tool they can have up to 65% more power.  I don't know all the details behind that magic, but basically the battery can sense when more power is needed on an Octane tool and it will deliver it.  Pretty sweet.

Just follow the rules below and get in your entries for your chance to win.  And be sure to share it with your friends! Use the widget below to get all your entries into the giveaway.  Giveaway ends August 6, 2018 at 8:00pm CST.  Open to US and Canada residents.  See giveaway widget for rules and conditions.  Good luck!
You must log in using e-mail, Facebook, Instagram, Soundcloud, or twitter below to enter.  Scroll down until you see "Log in using…" and the icons to log in.
RIDGID provided me with product and/or monetary compensation as a sponsor of this giveaway.  All opinions are my own and are not filtered by the sponsor.