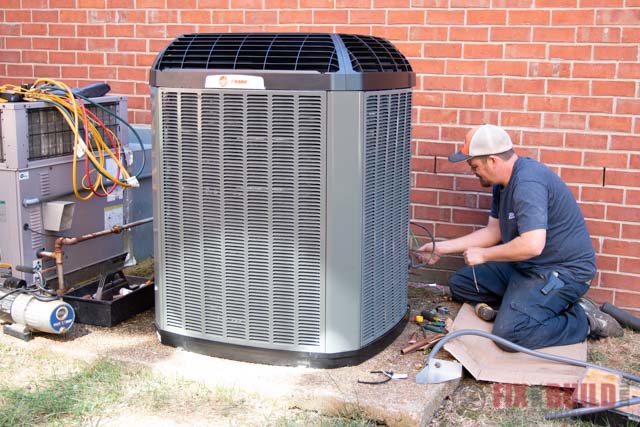 Are you considering replacing your HVAC system?  An HVAC replacement is a big decision and you may have a lot of questions you need to answer.  Questions like; 
When should you replace your old system?  

How much would an HVAC replacement cost?  

What's the best HVAC system for my needs? 

Should I buy a High Efficiency HVAC system? 

And maybe even, what does HVAC stand for anyway?  It's Heating, Ventilation and Air Conditioning, in case you were wondering…
I just had a new HVAC system installed in my house and I learned a lot along the way.  I'm going to do my best to answer all of those questions and more below. Choosing the right HVAC system for your house is a big decision, I'll show you how I decided on mine.
I've partnered with Trane Residential to bring you this blog post, it's the latest installment in my HVAC Series.  Trane has resources on their website that can also help to answer questions you have about everything heating and air conditioning related.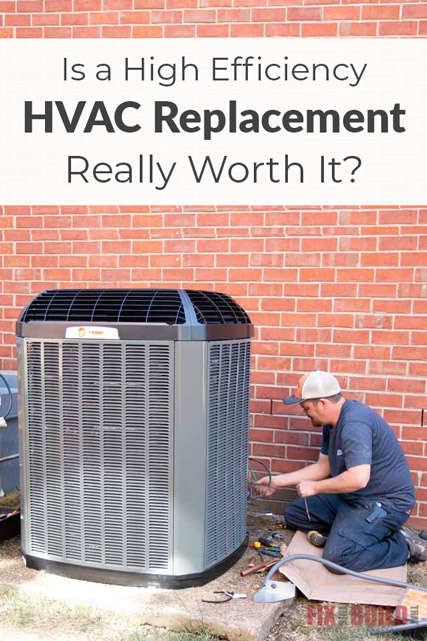 [vc_separator]
When Should You Replace Your HVAC System?
There were a few reasons we thought it might be time to replace our air conditioner.  The first factor was its age. Our air conditioner was 15 years old, and they usually last 10-20 years. A furnace tends to last 20-30 years. We also decided to replace our furnace at the same time, more on that below.  
Just because the AC unit is getting older doesn't mean it needs to be replaced right away.  But our old AC unit was installed before 2006 and it isn't as energy efficient as a new unit.  Most of the systems installed before 2006 don't currently meet the minimum energy efficiency standards. 
But the real reason we knew it was time to think about HVAC replacement was because the AC stopped working at the beginning of the summer.  We had to put in a new capacitor and a hard start kit to get it running again. This helped revive the system, but was not a permanent fix and meant we were on the clock for replacement.
Evaluating Our Old HVAC Unit
To confirm our suspicions that our old air conditioner wasn't keeping up, we had a pro come out and analyze our set up.  We used the Trane website to find a local Trane Comfort Specialist.  After contacting the top three recommendations, we went with Total HVAC Nashville and a setup an appointment with Jeff Holland, a Senior Project Manager, to evaluate our system.
When our Trane technician Jeff came to our house he performed a lot of analysis to help us understand how the HVAC system should actually be sized vs. just accepting it was properly sized to start.  He used a laser measurer to calculate the area in all the rooms the system would service. This gave him the total cubic feet the new HVAC system would need to support.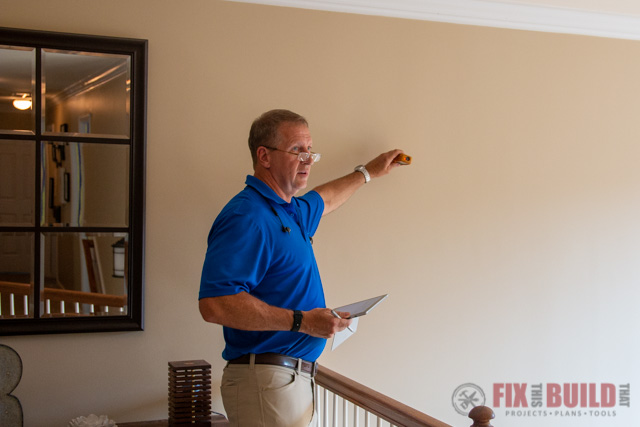 He used these measurements to draw our house in an HVAC load calculation program.  It took into consideration things like insulation values in the walls and attic, number of windows and other factors that affect heat gain/loss.  This let him calculate the BTUs needed for our space to provide optimal heating and cooling.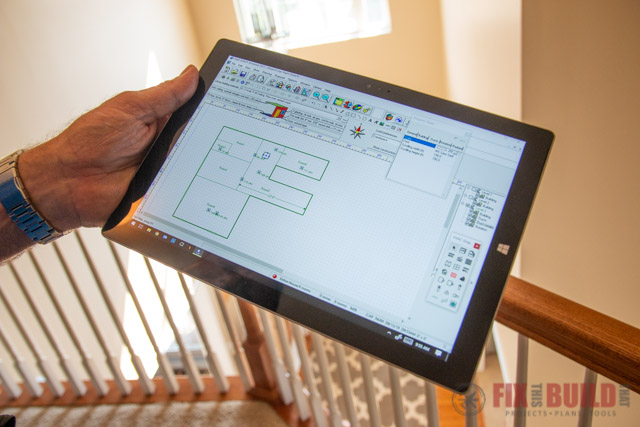 After laying out the house, he took readings from our current system.  He measured the airflow at the return vents to see how much air the unit was moving.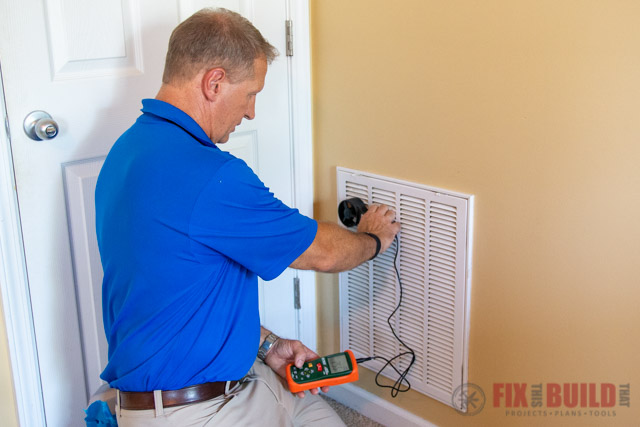 Then Jeff also measured the temperature and humidity before and after the AC evaporator coil.  Using this data, he found our current AC unit was only outputting 31k BTU when it was rated at 42k BTU.  So, turns out, we'd lost 26% of the system efficiency over the years or through setup issues.  And this made more sense why the AC took longer than expected to cool.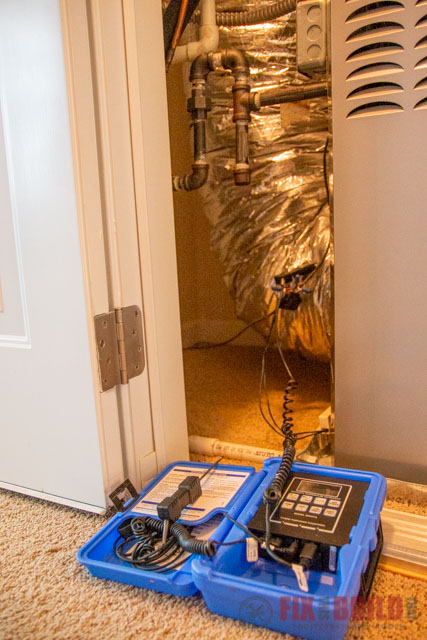 Finally, he inspected our outdoor AC unit, which was not in the worst of shape, but definitely showed its age.  Armed with all that info, we decided it was indeed time for a new air conditioner so we could get ahead of another failure and save some money on our monthly bills.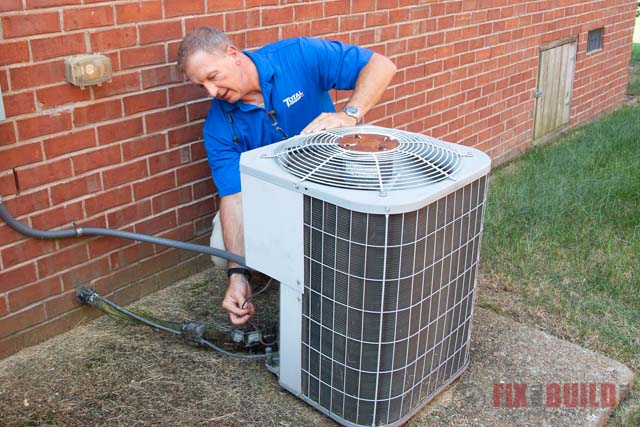 What's the best HVAC system for my needs? 
There are three main types of air conditioners you can choose from for your home; single stage, two stage and variable speed.  I'm going to go over some of the main features of each here.  Trane Residential also has more information online to help you choose the best unit for your home.
Single Stage vs. Two Stage vs. Variable Speed Air Conditioner
Single Stage
These units are either on and blowing out cold air at 100% capacity or they're off.  There is no middle ground.  

Not energy efficient.  It takes more energy to start up and shut down an air conditioning unit, compared to letting it run continuously at a lower power level. 

Initial product cost is lower than two stage or variable speed units, but monthly energy bills are higher.
Two Stage
Two stage units run at two levels; full capacity or a lower level depending on outside temperatures.  

More energy efficient than a single stage because they cycle on and off less.  But they don't run as continuously at a low level like a variable speed.   

Less expensive initially than a variable speed unit, but two stage units have lower SEER ratings.  In the middle for monthly energy bills.
Variable Speed
A variable speed air conditioner stays on for extended periods, but at much lower levels.  It reads outside temperature/humidity and makes minor adjusts to airflow to keep indoor temperatures even. 

Variable speed air conditioners have higher SEER ratings; they are energy efficient because their compressor can run at more than 700 stages.

They have the highest initial cost, but the lowest monthly energy costs.   
Upgraded Air Conditioner Options
Trane Residential has a wide variety of air conditioners to choose from, and Jeff showed us the options we had in variable speed, two stage and single stage units.  Here are the options we looked at.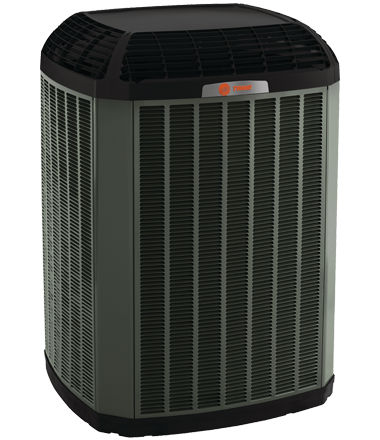 XV20i TruComfort™ Variable Speed 
Variable Speed (700 stages)

Capacity Variability 30-100%

SEER Up To 22

Most Efficient Unit Available

Highest Cost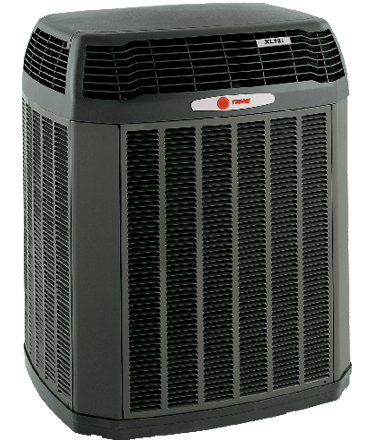 2 Stage 

Capacity Variability 70-100%

SEER Up To 18

Mid to Upper Cost Level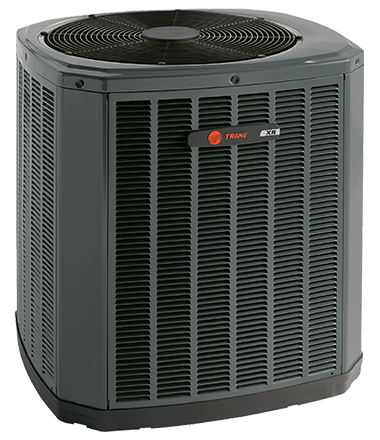 Single Stage

Capacity Variability 0 or 100 %

SEER Up To 16

Budget friendly model
We told Jeff we wanted to go for efficiency and were making a long-term investment with our new AC unit.  That said, Jeff recommended the XL18i or XV20i, as they're both a step up from a single stage system. We decided to go for most efficient model and we chose the XV20i TruComfort™ Variable Speed Unit.
The XV20i is a great energy efficient system with ratings of up to 22 SEER and a cooling capacity of 48,000Btuh.  It also has a quiet running fan and TruComfort technology. This allows it to run at the exact speed it needs to in order to keep the house cool.  The price tag is definitely up there, but we knew we'd reap the benefits in more even comfort levels and monthly savings  
Do you need to replace your furnace with the AC? 
Technically, no.  You don't have to replace your furnace when you replace the AC, though you likely will have to replace the evaporator coil on top of the furnace.  But putting a variable speed AC on a single stage two stage furnace is kind of like putting a V8 in a Pinto.  It's going to be an amazing engine that's held back by a bad transmission, skinny tires, and a constricted exhaust.
At a minimum we needed to upgrade to a furnace with a variable speed blower motor to pair up with the variable speed AC.  With that in mind we decided to go with the Trane XC80 Gas Furnace.  This is a two stage furnace with a variable speed blower motor that will work effortlessly and efficiently to keep our house warm.  But that begs a few more questions to answer as well.
What is a Two Stage Furnace?
A two stage furnace has a two stage gas valve.  With an older traditional one stage furnace (like we had before) the gas valve is either open at full capacity or closed.  With a two stage furnace it adds a partially open setting.  A partially open gas valve reduces  the amount of gas the furnace uses to heat the air.  The Trane XC80 usually runs at 65% of the furnace's capacity. That means lower energy bills, a quieter system and steady warm air heating your home vs. a blazing inferno or nothing.  
If we have a brutally cold day and the furnace isn't able to warm the house on the lower setting, it's no problem.  The unit switches into high gear fully opening the gas valve, but only as long as it needs to.  This efficient system is continually striving to heat your space using the least amount of energy.  
What is a Variable Speed Blower Motor?
Once the air has been heated, it needs to be delivered to your space in the most efficient way possible.  And that's where the variable speed blower motor comes in. It adjusts the speed of the fan that pushes the heated air through the duct work and into your rooms.  
Other furnaces may have a two stage or a four stage blower motor.  This means that they can only adjust to blow air out at two or four speeds.  A variable speed blower motor however can make minor adjustments to the fan speed in order to control the temperature in your house more efficiently.  
Our old furnace had a two stage blower motor which could only blow air at high and a lower setting.  Unfortunately to get our house warm we had to run the furnace on high all the time. This means our old furnace cycled on and off a lot in the winter.  Also, the air coming out of our vents tended to whistle because it was being pushed out so fast, which is a sign of a failing system.  
New HVAC Installation Day
After we picked the units we wanted to go with, Jeff set up an install day that was convenient for us.  About two week later the technicians from Total HVAC came out to our house and started installing the new HVAC system.  And thankfully the installation went off without a hitch.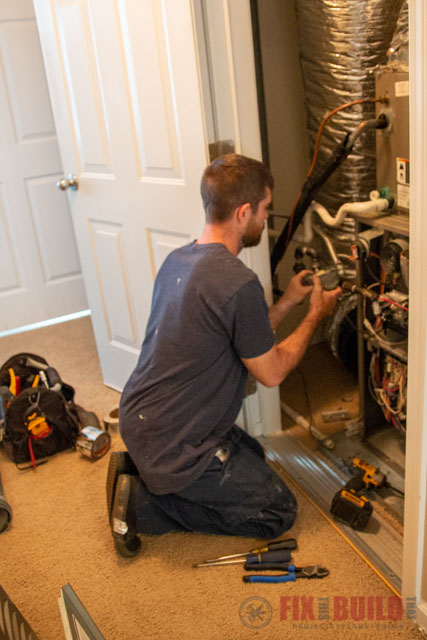 They removed the old furnace and AC units to make room for the new ones.  And it was crazy to see the size difference when they removed our old air conditioner and placed it next to the new AC unit.  The XV20i is so much bigger, which is mainly because of the extra heat exchanging surface area.  There's a lot more area to dissipate heat which means it can more effectively pull heat from the house (which is how an AC actually works).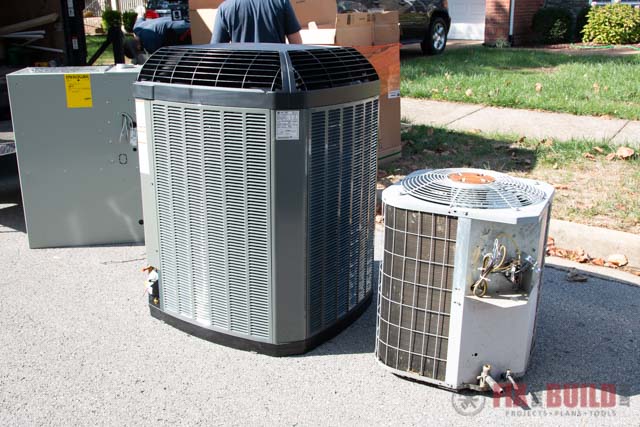 The XC80 furnace on the other hand was about the same size as  the old furnace.  This was good because it was installed in a small closet and we didn't have much room for anything bigger.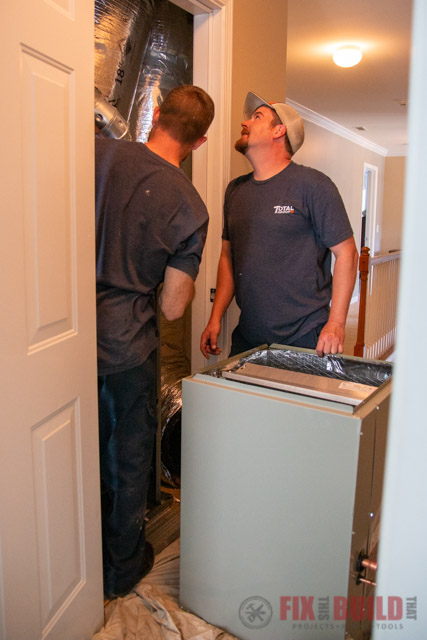 They installed the new AC unit on the same pad outside which sits next to the heat pump unit for our first floor.  Even though it's much bigger than our old unit, it fit well and it was very quiet.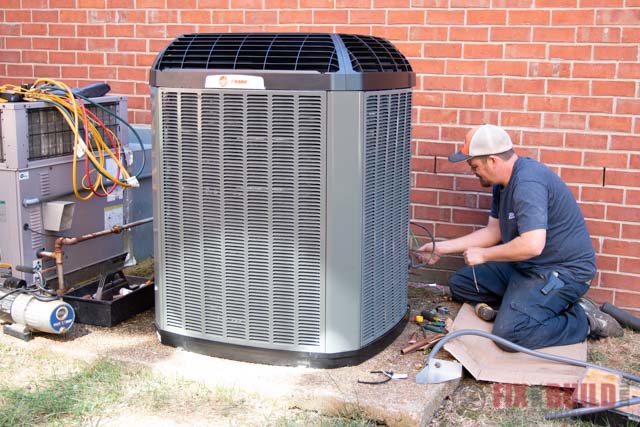 They finished off the AC install by calibrating and leveling out the refrigerant to make sure the unit was running at peak performance.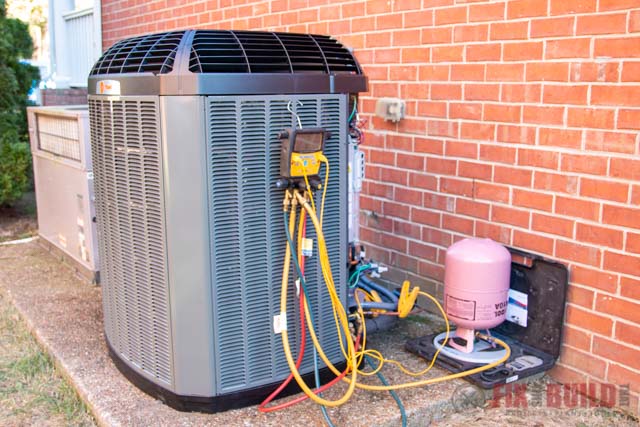 And to let the units talk to each other most effectively we also installed a new ComfortLink™ II XL850 Thermostat.  It works with the variable speed systems and uses a network of controls and sensors to optimize the temperature and humidity.   It's basically the brain of the system and regulates and controls all the variable speed settings.  And the nice thing is it's WiFi connected so you can monitor and control your system from your phone with the Nexia app.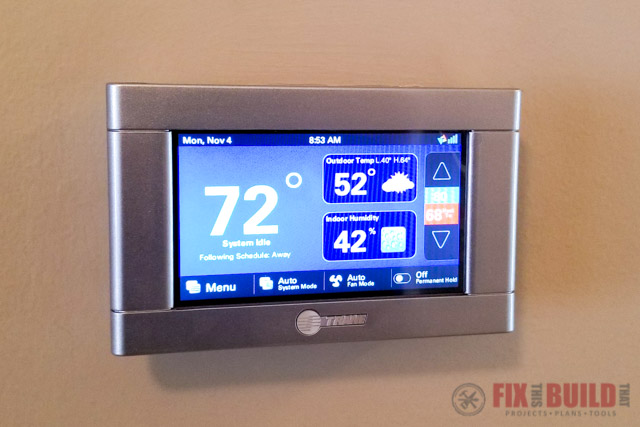 And a special thanks to Trane Residential and the Total HVAC Nashville team for helping walk us through the whole process.  They made it quick and painless and answered all of our questions along the way.
So, Is It Really Worth It?
So, you're probably wondering, "Well is it really worth the extra money or not!?!".  And my answer to you would be, it depends on your situation and what you're looking for.  The older and less efficient the old system, the bigger the savings will be between your new energy efficient system.  Going from a two stage system to a variable speed system will take much longer to financially make sense and could exceed the life of the new system.
But at the same time there is another factor, and that's the overall comfort in your house.  We dealt with a lot of ups and downs with our single stage units.  And we also had a lot of extra noise with the all or nothing setup which took off like a rocket or sat idle.  For us, it was a combination of great energy savings from our old unit to the new one (~8 SEER to 22 SEER) and the lure of even heating and cooling.
We're very happy with our decision and can't wait to enjoy the benefits of our HVAC replacement in the heat of summer and the cold of winter.  If you are still on the fence, head over to Trane's site where they help you walk through the decision making process and find what's right for your specific situation.
Trane Residential provided me with product and/or monetary compensation as a sponsor of this build.  All opinions are my own and are not filtered by the sponsor.