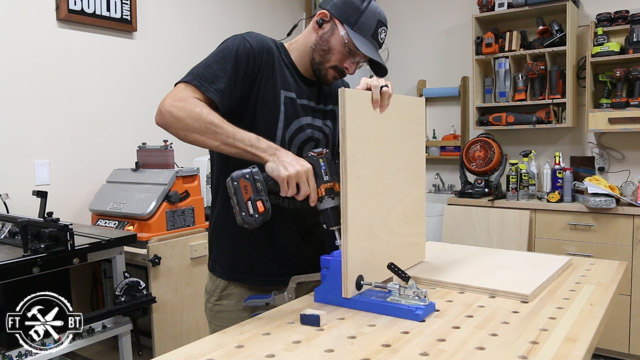 Are you a new to woodworking?  Struggling to figure out which projects to make?  My beginner woodworking projects are just what you need to get started.  These simple woodworking projects have clear, step-by-step instructions… and they're ALL FREE.  
Every project can be made using tools from my 9 Must Have Woodworking Tools for Beginners List.  That's where I go over the tools you really need when you're new to woodworking.  So grab your tools and get started on these easy woodworking projects!  
This post is part of my Woodworking 101 Series which goes over everything you need to know when you're just getting started in woodworking.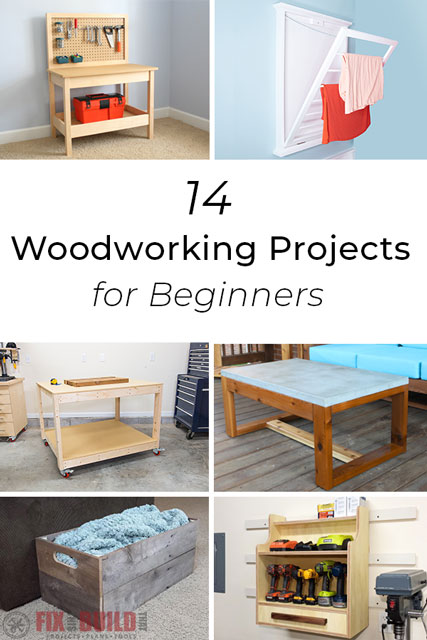 Affiliate links are used on this page.  See my disclosure page for info on affiliate programs.
[vc_separator]
Home Projects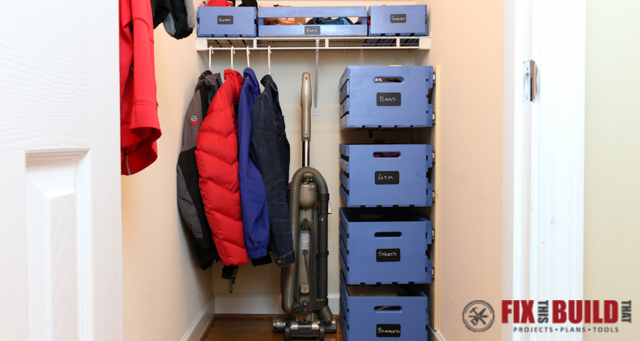 The DIY Sliding Wood Crate Storage is one of my easiest, and most popular organization projects.  This is a very simple DIY project that uses store bought crates and wall mounted sliders.  This DIY organization project is perfect for any closet or space that needs more storage.  Check out this simple build and get your clutter under control!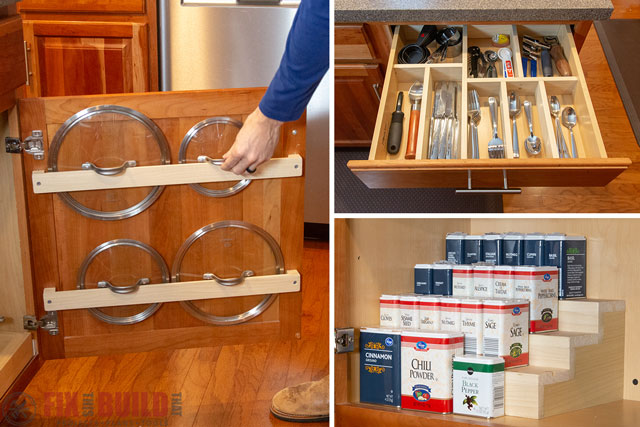 Do you need to organize your kitchen?  Well I've got you covered!  The 3 Easy Kitchen Organization Projects are the perfect beginner projects and will help you tame your kitchen!  These projects are simple to build and require very limited tools.  If you're just starting out and you don't have many tools at all, these are the projects for you!
All you need is a miter box which you can buy at your local hardware store for under 30 bucks (a miter saw works too), a drill and a few basic, inexpensive hand tools.  That's it.  But the best part is you'll be able to make THREE different kitchen organization projects.
These projects also have a full video tutorial which you can check out here: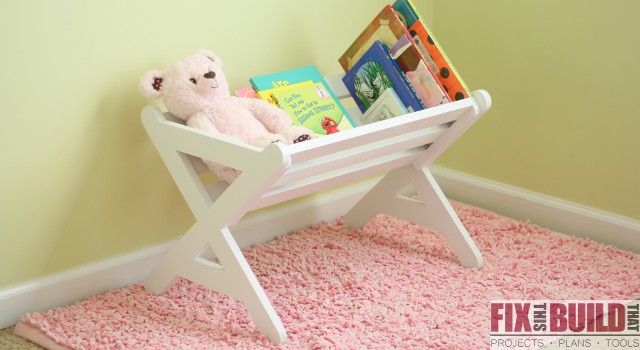 Are you constantly finding your kid's books everywhere?  I did and it was driving me crazy, so I designed the Kid's Bookshelf!  This simple beginner woodworking project is easy to build and only uses one 8 foot 1×8 board.  This DIY project has clear step by step plans and pictures and can be made in a weekend.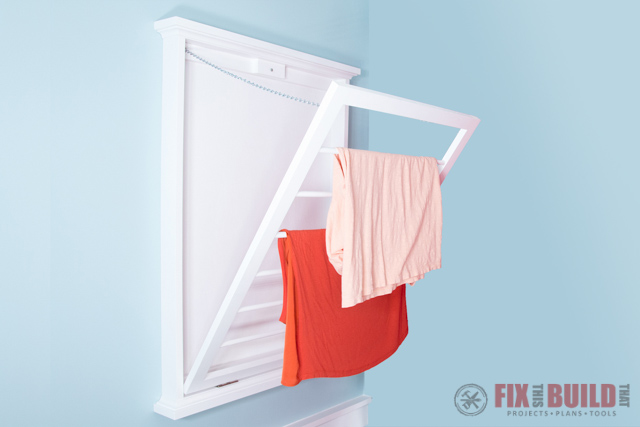 Do you have a messy laundry room?  We sure did and the Clothes Drying Rack helped us take back control!  Having a wall mounted clothes drying rack was a game changer for us, and it looks nice too.  This is an easy project with free step by step plans that you can make to tidy up your laundry space.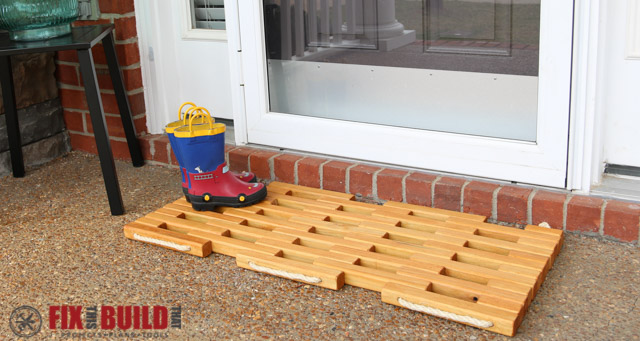 You can easily make this DIY Wooden Doormat with just a few tools.  It's a perfect beginner woodworking project that you can build in a day.  The free plans have clear step-by-step instructions that will guide you through the build.  You can also check out the full video tutorial to see how the DIY Wooden Doormat is made.  This is a fun project to make!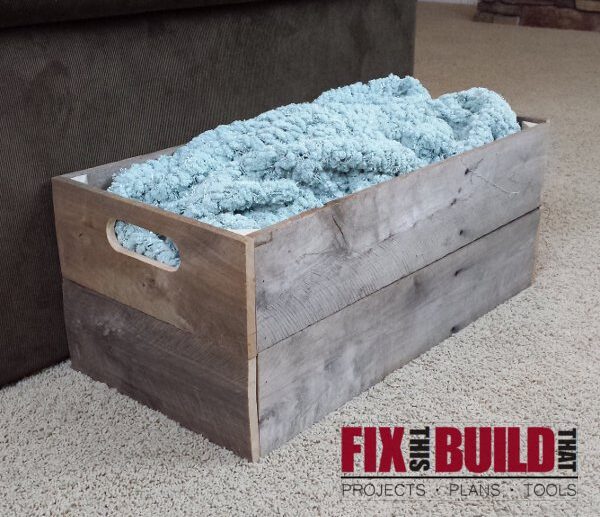 The Wooden Pallet Crate was one of the first projects I published to Fix This Build That, and we're still using it today.  This is a super simple build that you can use with pallet wood or any other type of wood.  It's an easy DIY project and is perfect for a beginner.
Furniture Projects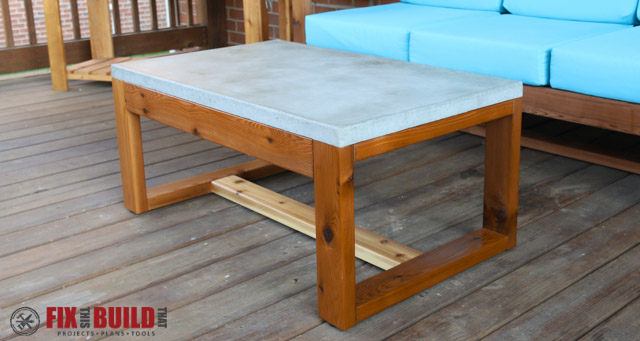 Building your own outdoor furniture is a great way to save money, and the Concrete Top Outdoor Coffee Table is an easy project to start with.  A circular saw is used to cut down all of the wood for this table, and then everything is joined together with pocket holes.  You'll learn how to make the cement top in the full video tutorial and in the free plans.  But if you're not ready to work with concrete you can use wood instead, or even cement pavers from your local home center.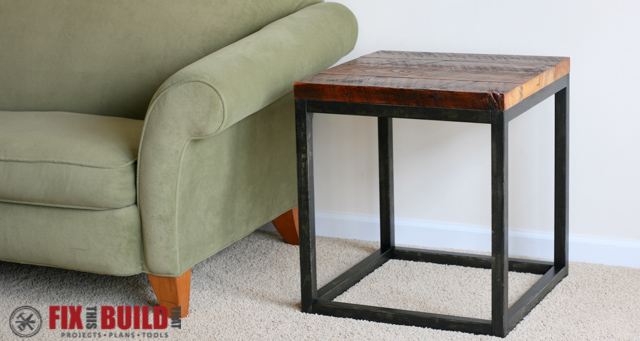 Are you new to woodworking and you want to build furniture for your house?  Then check out my Reclaimed Industrial Side Table.  This DIY side table looks difficult to make with welded legs and a beautiful top.  But the secret is… it's all made of wood.  And it's easy to build because I used pocket holes to join the wood.  The table legs are simply painted to look like they're made of metal, which I explain how to do in the free plans!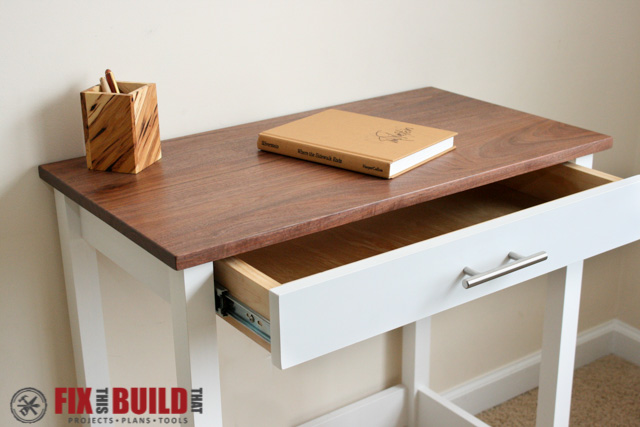 The DIY Writing Desk is an easy build with clean lines and a full-extension drawer.  This is a smaller DIY desk and is a quick and easy build.  Pocket holes are used to easily join the wood and there are clear step-by-step instructions to walk you through making the desk drawer.  The smaller size of this DIY computer desk makes this a great furniture project to take on as a beginner woodworker.
Shop Projects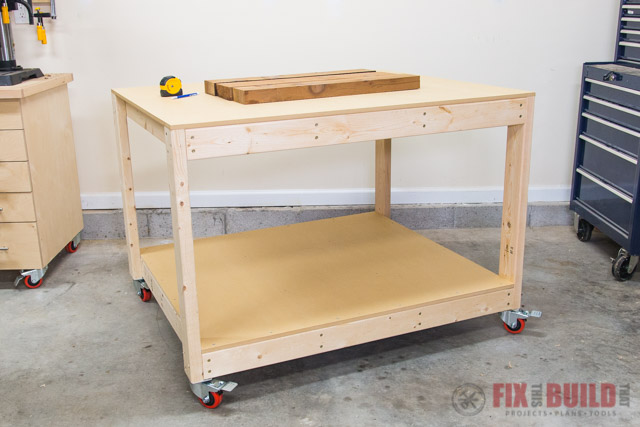 If you're new to woodworking you may not have a great work surface or workbench.  My DIY Work Table is the perfect choice because of it's simple construction and design.  You also gain a ton of flexibility by adding castors to this work table.  Since it can be rolled out of the way, this work bench is perfect for a garage shop or any other shared shop space. With the shelf underneath you have tons of room to store your growing tool collection as well. You can also choose to adjust the size of the work table to make it fit your shop space if needed.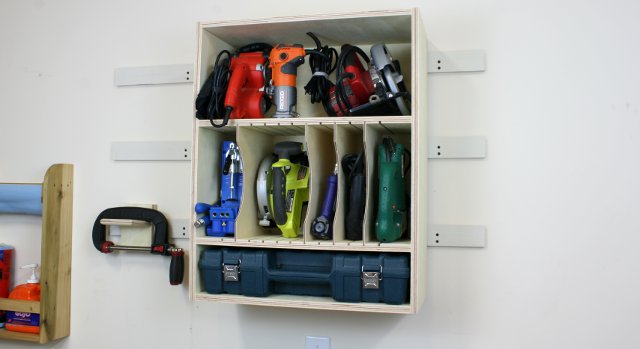 Need a place to store your tools?  The Tool Storage Wall Cabinet is an easy build with flexible storage space and hangs on the wall with a French Cleat System (see below).  I designed this wall cabinet so that you can adjust the size of the openings to fit your tools.  This is a great storage piece for a growing shop because you can make it fit your needs as you go.  Remember to check out my 9 Must Have Tools for Beginners List for more info on which tools you need when you're new to woodworking.
12. French Cleat Tool Storage System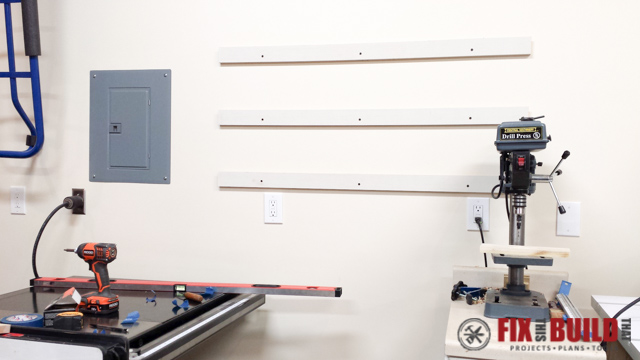 There are different ways to hang cabinets and storage units in your shop, but a french cleat system is my favorite.  I use french cleats because they allow me to move the storage units as needed.  When you're new to woodworking, this is really helpful because as you accumulate tools you'll need to rethink your layout from time to time.  I'm constantly analyzing my shop space to make sure I'm utilizing it the best way possible.  When you use a French Cleat System it makes shifting the pieces easy.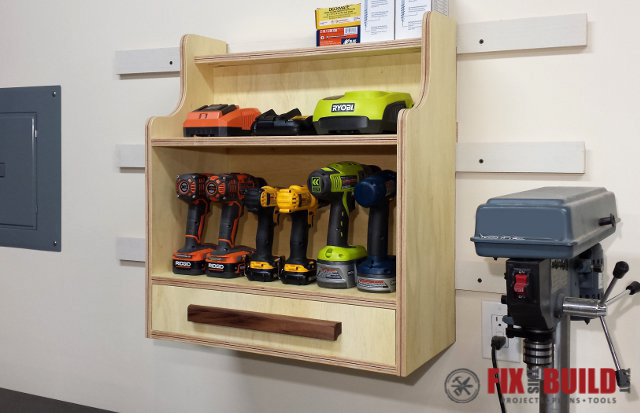 One tool you'll use frequently in beginner woodworking projects, is a drill.  I use my drills all the time and having a place designed to hold them is crucial.  The Cordless Drill Charging Center holds all of my drills, batteries, bits and the chargers which makes it easy to grab what I need when I'm working.  I'm also able to keep my shop tidy when everything has a place. And I really love the fact that I don't have to hunt around for drill bits, or chargers since I know where they are.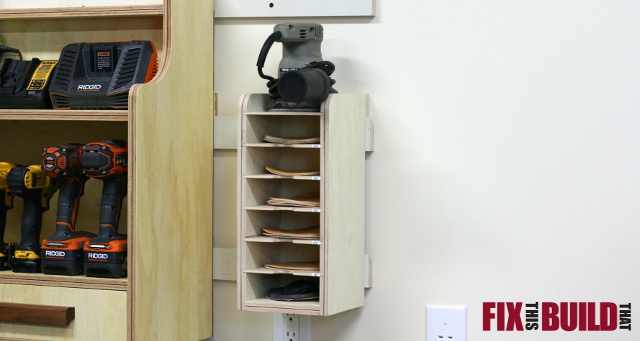 When you start woodworking you'll want to get a random orbital sander pretty quickly.  If you ever have to sand a project by hand you'll understand why it's a great tool to have.  I designed my Sandpaper Disc Storage Rack to easily hold the different grits of sandpaper that I use on a regular basis.  This is an easy build and is perfect for a beginner woodworker.
That's my list of beginner woodworking projects!  Now that you know which tools to buy and you have easy woodworking projects, it's time to start building!