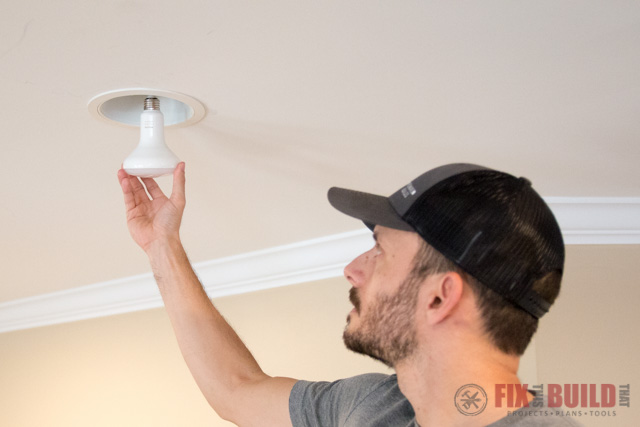 This post is sponsored by The Home Depot
Hey guys, I'm stoked to be kicking off another year of exploring Smart Home products that can make my life easier, more efficient, or just more comfortable.  The products I'll be looking at are all available at The Home Depot and I'm excited to show you some new technology and how it works in my house to help you decide if it's right for you.  I'm starting out with an easy upgrade, smart lighting.  There are a lot of options out there in smart LED bulbs and I'm looking at several products in the Philips Hue lineup today.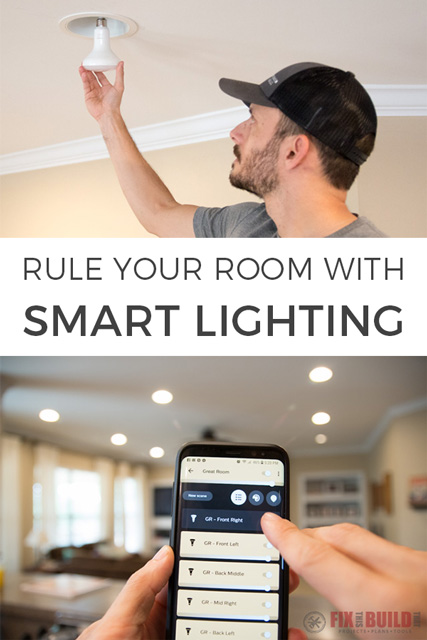 Affiliate links are used on this page.  See my disclosure page for info on affiliate programs.
[vc_separator]
Smart Home Lighting with Philips Hue
There are a ton of different options in Smart Lighting these days.  But one of them that's been around since the beginning is the Philips Hue series.  The first Hue bulbs came out almost six years ago now and their offerings have grown and gotten better over time.  I'm going to be setting up our downstairs with a sampling of different lights from easy and basic to full blow automated color bulbs.  Here's what I'll be working with.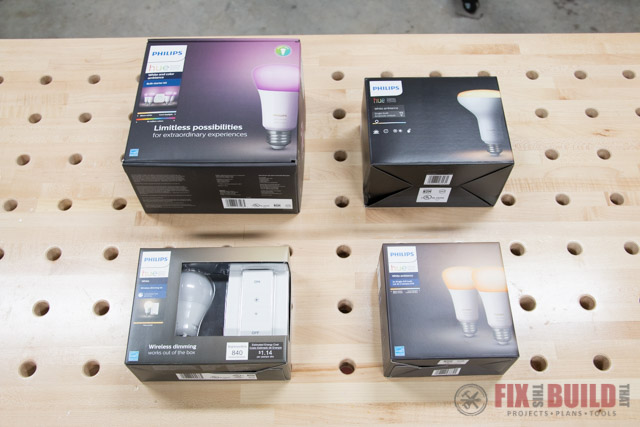 Philips Hue Smart Wireless Dimming Kit
The first thing I'll look at the is the Philips Hue Smart Wireless Dimming Kit.  It's a fairly inexpensive kit in the world of smart lighting and comes with an A19 60W equivalent dimmable soft white LED bulb and a wireless dimmer switch.  The awesome thing about this kit is it requires almost nothing to get started.  You literally install the bulb, pull the tab on the switch, turn on the bulb and you're done.  Here's a quick little video I did on Facebook showing you just how easy it is to setup.
This is a great way to add dimming to a light with zero rewiring.  It's perfect for table or floor lamps that aren't already on a switch.  We installed ours in a lamp in our great room and it was as easy as it looks.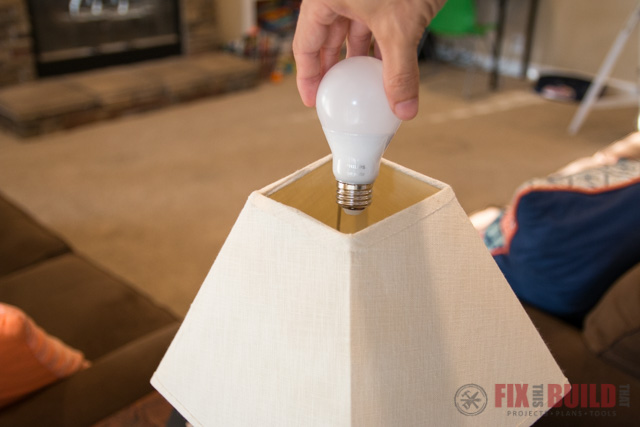 After I installed the Hue soft white bulb in the lamp I put "switch plate" on a column behind our couches.  The plate is really just a plastic docking station with magnets as well as double-sided tape on it.  Which is great because you can put it anywhere you want it, like this column that would be hard to run wiring in.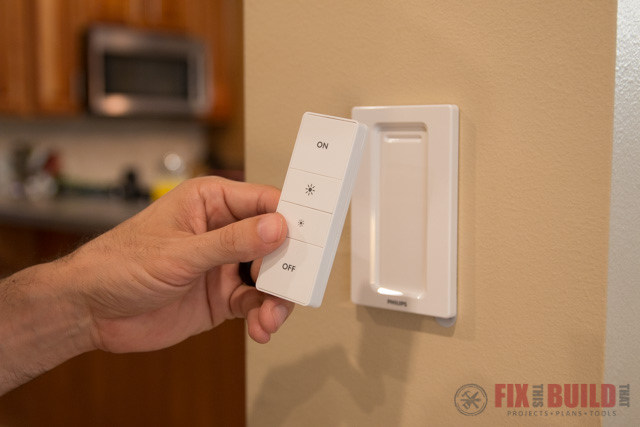 As you see, the switch plate holds the remote so it can function as a wall switch or you can have the remote on a coffee or side table.  No need to get up from your seat or get out your phone, just use the remote.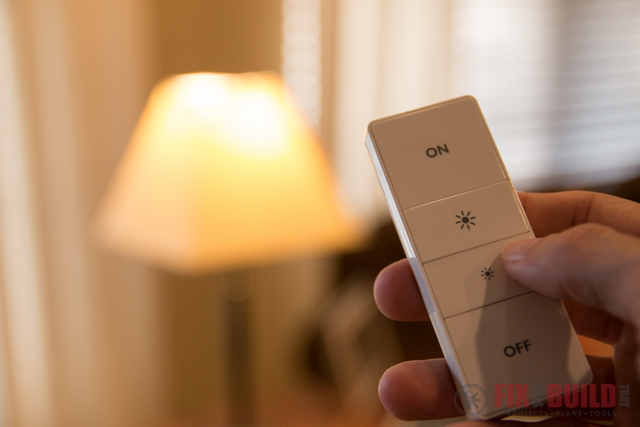 The controls are easy and you can go from full brightness down to just a low light.  You can also link up to 10 total Philips Hue Smart Wireless Bulbs to the same remote.  So instead of just a lamp you could control a whole room.
Setting Up the Philips Hue Bridge
The dimmable switch is just the tip of the iceberg in the Hue line.  The real power comes when you add a Hue bridge to the mix.  The kit that I'm using to do this is the Philips Hue White and Color Ambiance Smart Wireless Lighting Starter Kit.  It comes with the bridge as well as four dimmable color ambiance 60w equivalent bulbs.  To setup the system you just plug the bridge into power and a LAN connection near your network router.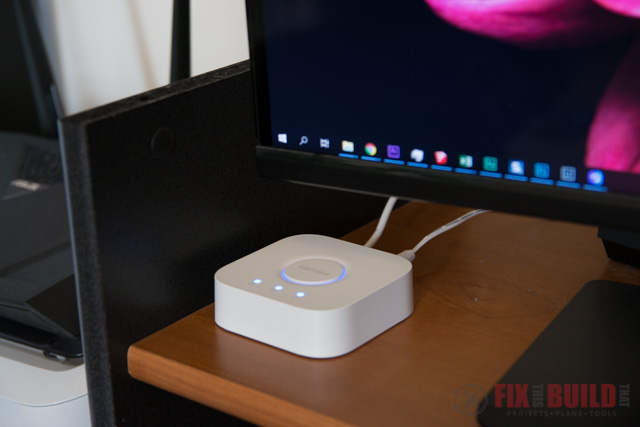 After downloading the Philips Hue app the setup is pretty easy.  The on screen commands walk you through the process easily.  And apparently it's so easy a cat can do it.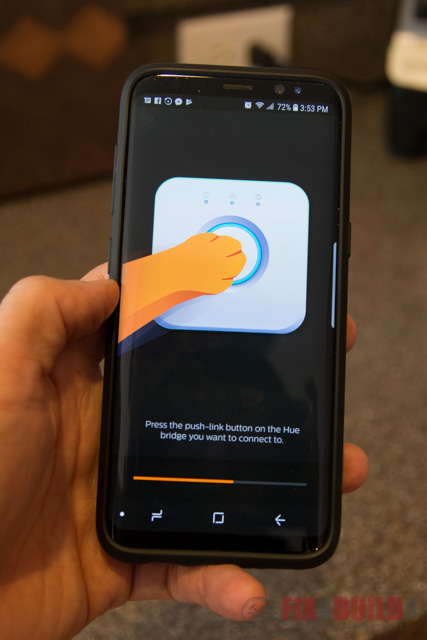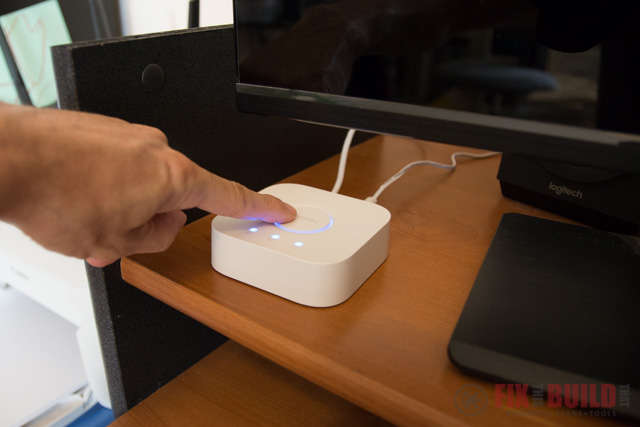 After that you can start setting up rooms and adding bulbs to the system.
Philips Hue White Ambiance Bulbs
The beauty of the system is that you can add up to 50 bulbs of all different types to the system.  To outfit the are that includes our kitchen and great room we used a combination of Hue BR30 LED 60w equivalent dimmable flood lights (left) and Hue A19 LED 60w equivalent dimmable bulbs (right) with most being flood light variety.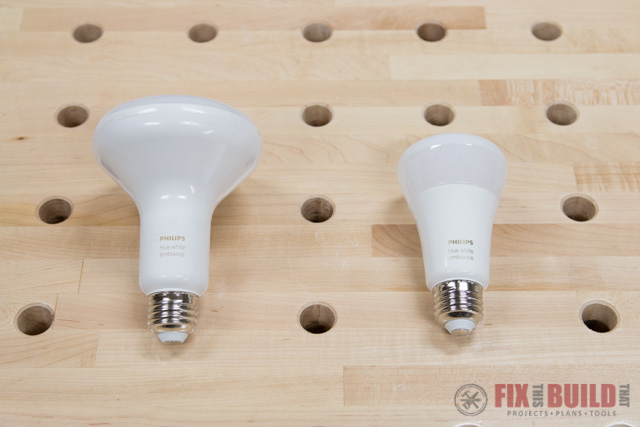 I installed the white ambiance BR30 bulbs in the Great Room and Kitchen in our can lights.  Nothing special here, just screw the bulbs in.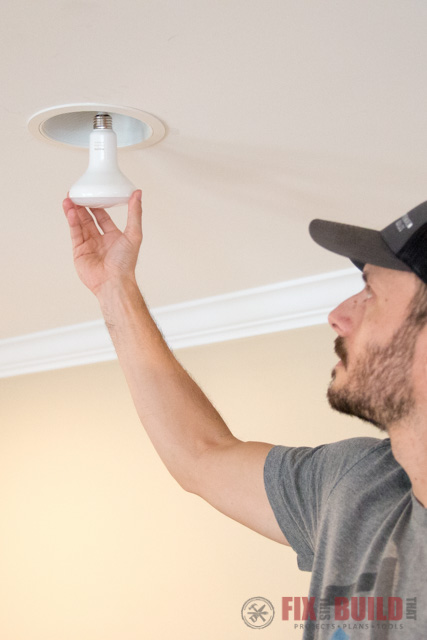 Here is the view of our Great Room after install.  We have seven lights in this room but they were all on one switch so it was either all on or all off.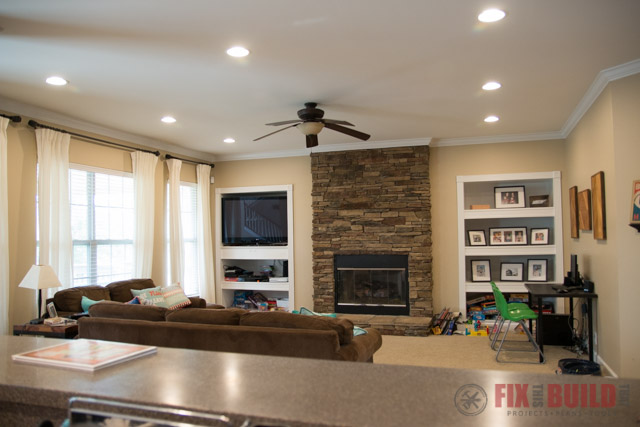 I setup the lights in a new room called "Great Room" and labeled each light based on its location.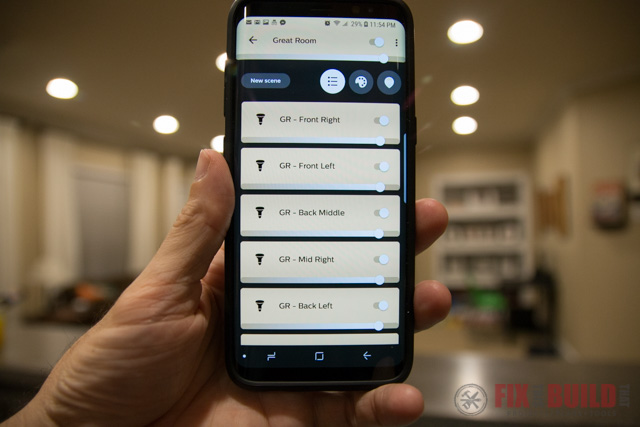 Now here is where the fun and power comes!  I can turn off or dim each light individually now.  And here's a few examples of how we're using this.  First if we want a little extra light in the kitchen, but don't want the whole bay of lights on, we just leave the back lights on and kill the rest.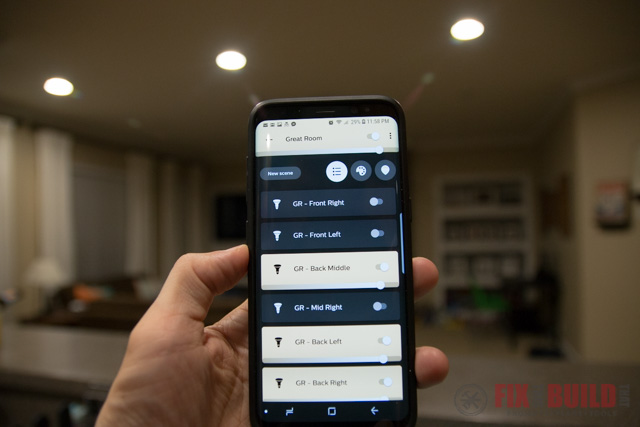 We have a desk in the front right of the room.  And if someone wants to be at the computer while others are trying to watch TV, no problem.  Two lights on over the computer.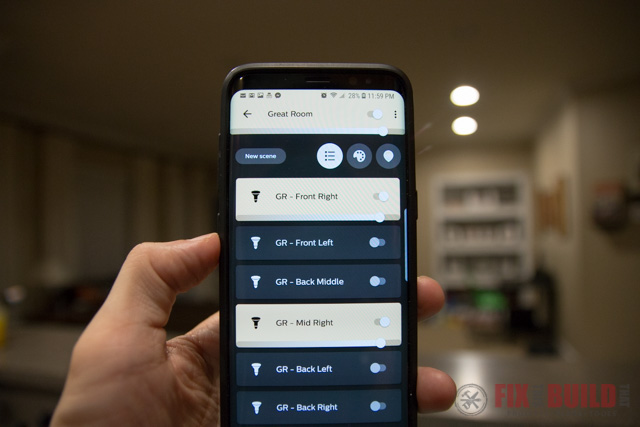 And here is our favorite.  Our TV is in the front left corner of the room.  We like to have some lights on, but it's always either too much light or in the wrong spot that will cause glare on the TV.  But with this setup we just use the back right light and put it at 25% power and it's a perfect fit with movie watching.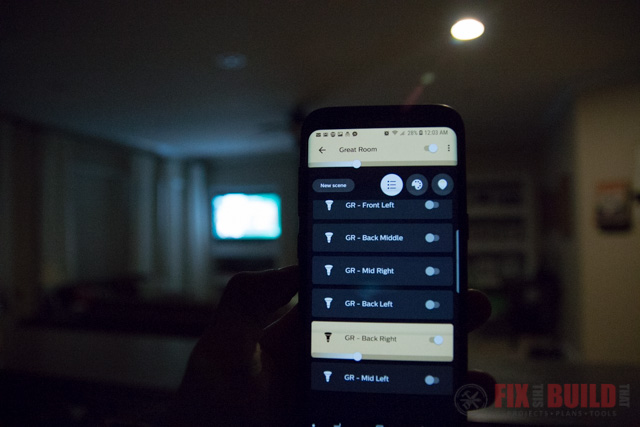 And on top of the dimming and configurability you can control the white balance of the lights all the way from warm to cool to suit your taste at the moment.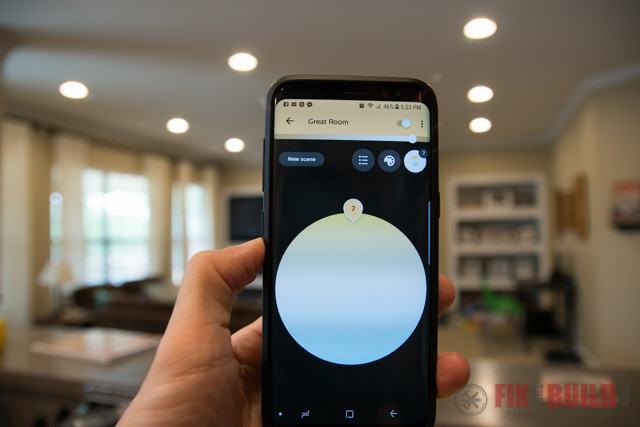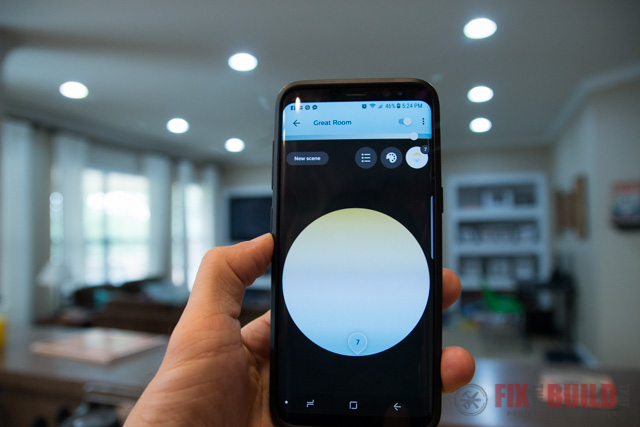 Philips Hue Color Ambiance Bulbs
Of course we couldn't wrap up our experience with the Hue bulbs without doing something fun with the colored bulbs that came with the color starter kit.  We put them in the fixture above our kitchen table.  And after installing the first one I could already say they look way more attractive than those CFLs did.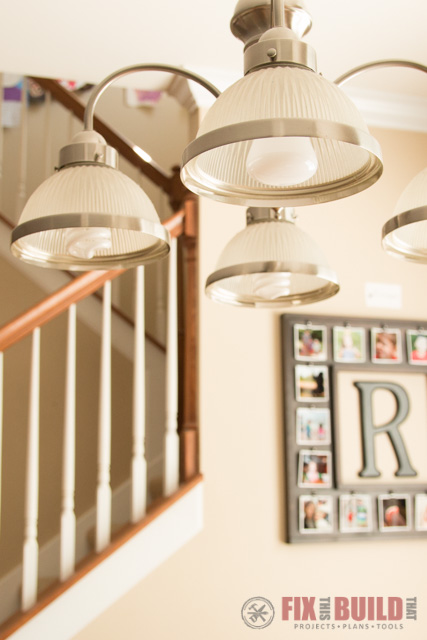 There are some stock scenes you can use in the app for different looks.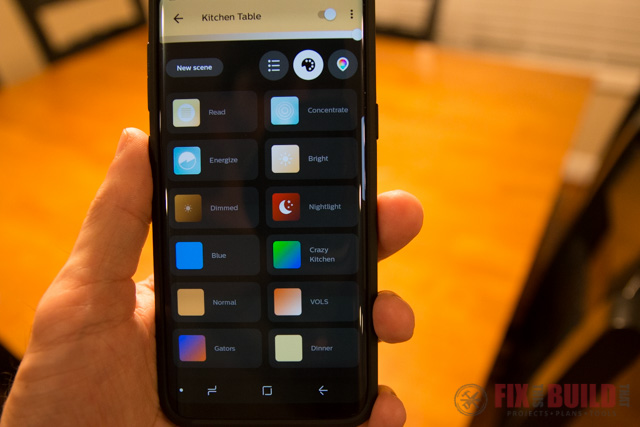 But we decided to do our own.  My kids dubbed this one the "Crazy Kitchen".  They really enjoy having this one on during dinner.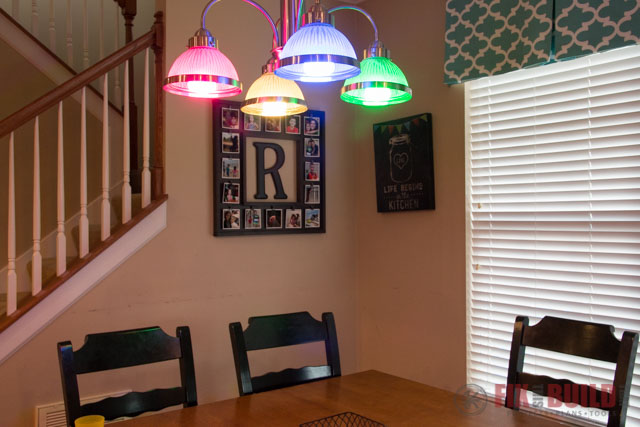 But of course I'm already thinking about the Fall and getting ready for football season.  So I came up with my own setting.  Nothing like some good orange and white to get into game day spirit.  I'm ready for football, go VOLS!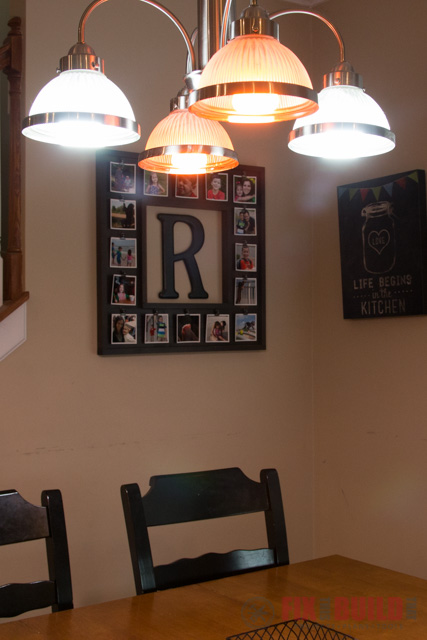 I hope you enjoyed this little walk through of how we set things up.  And believe me, we only just scratched the surface of the Philips Hue smart lighting system.  You can do timers, motion sensors, and all kinds of different things with these lights.
Stay tuned for more of of my Smart Home Integration with Home Depot in the coming months!  Until then you can look at some of my other projects on my Projects Page.
I acknowledge that The Home Depot is partnering with me to participate in this Smart Home Program (the "Program"). As a part of the Program, I am receiving compensation in the form of products and services, for the purpose of promoting The Home Depot. All expressed opinions and experiences are my own words. My post complies with the Word Of Mouth Marketing Association (WOMMA) Ethics Code and applicable Federal Trade Commission guidelines.