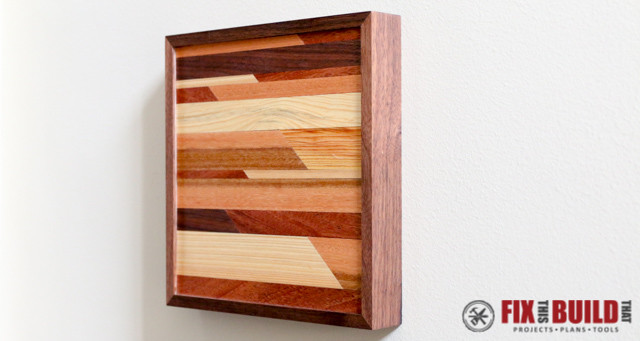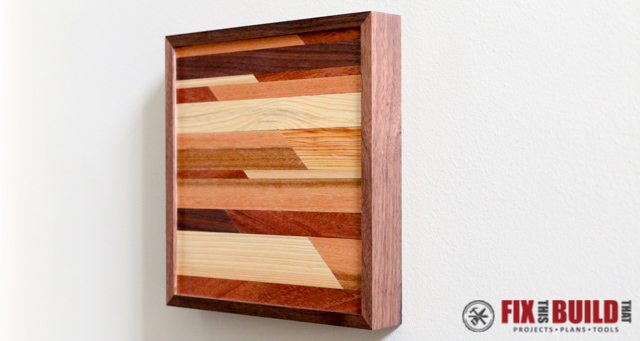 Today I'm going to show you how to make this great little wall hanging.  Pieces like this can be used almost anywhere as home decor accents, and I'm sure you've got a little spot for one.  I've made several larger pieces like the Scrap Wood Wall Art, and I've also done a few smaller ones.  So I figured a tutorial on a smaller DIY wooden wall art piece was in order.  They are pretty easy to make, so read along and build one with me!
The beauty with these pieces is you can do just about any design you want using these same methods.  For today's piece I went with a modern art look and feel, but you can just as easily do rustic, country, or whatever your little heart desires.  I can't wait to see how you customize your own piece!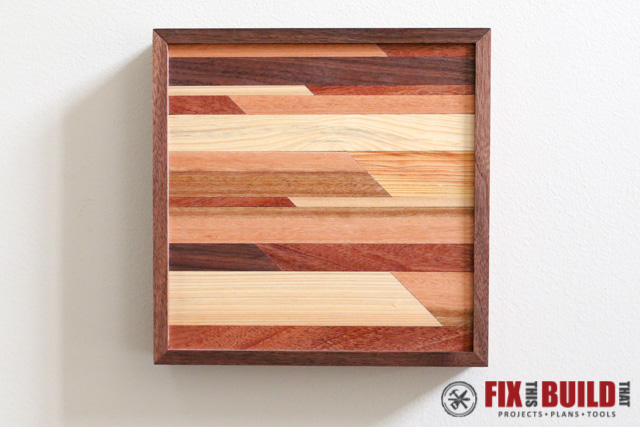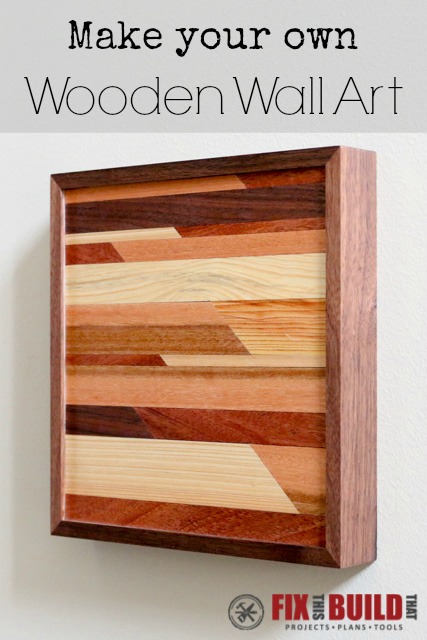 Materials/Supplies
Various Scrap Wood Pieces
(4) 9″ x 1-3/8″ x 1/4″ frame pieces
(1) 8.5″ x 8.5″ 3/4″ Plywood
Affiliate links are used on this page.  See my disclosure page for info on affiliate programs.
This piece is 9″ x 9″, but you can make them whatever size you want to fit the space they are going in.  The only thing you might need to change if you go much bigger is how you hang them, but we'll get to that later.
Start with a piece of 3/4″ plywood cut to 8-1/2″ x 8-1/2″, and draw a line down the middle of each side to form a + sign to reference the center lines.  Any type of ply will work and even MDF will work, so hopefully you have some scrap laying around.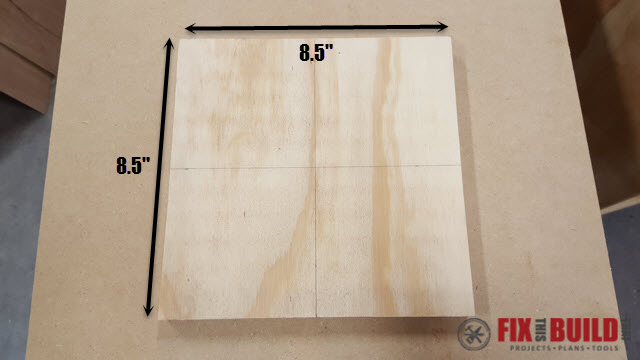 Gather up pieces of wood in different colors and sizes.  All the material I used here was from offcuts or scraps of other projects.  I had some pine, fir, walnut, mahogany, and red grandis.  They had a lot of different colors, exactly what I wanted.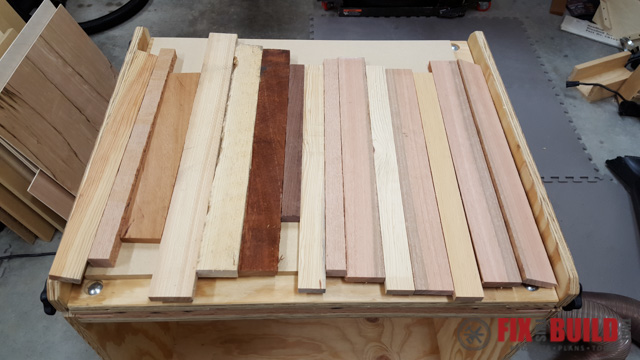 If the pieces are not all the same thickness then run them through a planer until they are all consistent.  I planed mine to 1/2″.  If you have 3/4″ stock and no planer, you could use a 1/2″ plywood backer and get the same thickness for the total piece.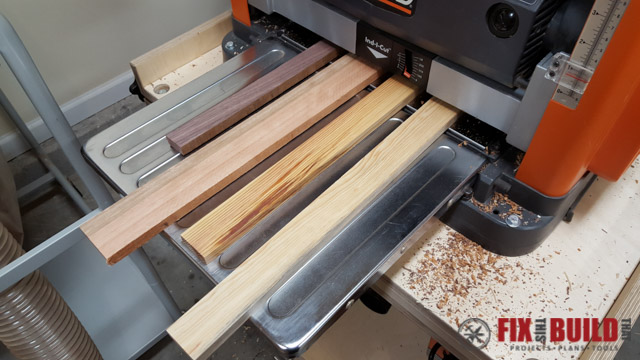 Now that they are all the same thickness, you'll want to rip them down to different widths.  I wanted several different sizes so I cut them into 1/4″, 1/2″, 3/4″, 1″, 1-1/4″, 1-1/2″, and 2″ pieces.  I let the width of the boards tell me how wide to cut them and still get the most out of the piece.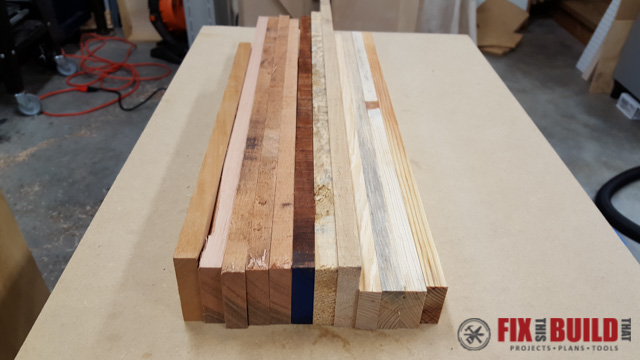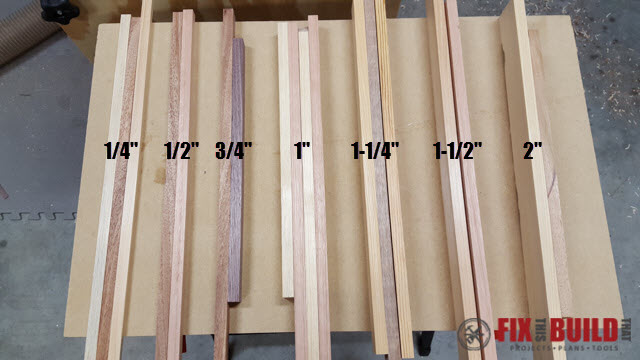 I cut enough wood to make two different wall art pieces.  I'll be sharing the other design in another post.
From here it's all about creativity.  Pick 2 pieces you want to be in a row together, contrasting woods always look good.  Set the miter saw to 45 degrees and stack the two pieces together.  Cutting them at the same time gives you perfectly matched angles.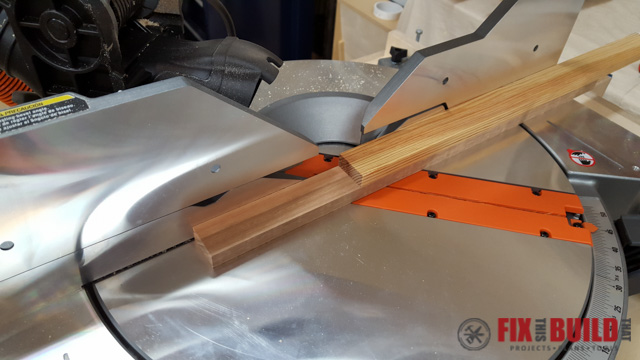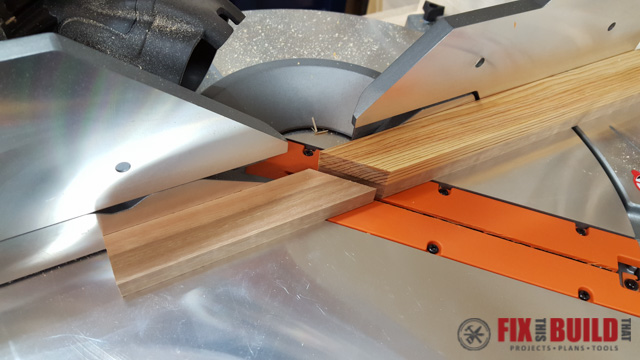 Place small drops of super glue on the back of the first piece.  A little goes a long way here.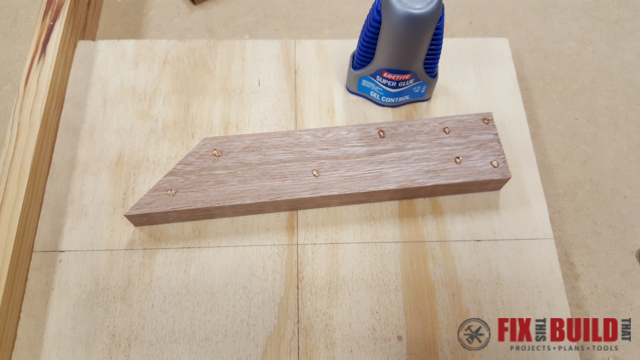 Use a wide board as a straight edge to get the end flush with the side.  Line the piece up with the center line and press it down into place.  Hold it firmly in place for 15-30 seconds and it will be set.  Don't dilly dally around (no idea what that means, but my mom always says it) trying to place it or it will get stuck in the wrong spot.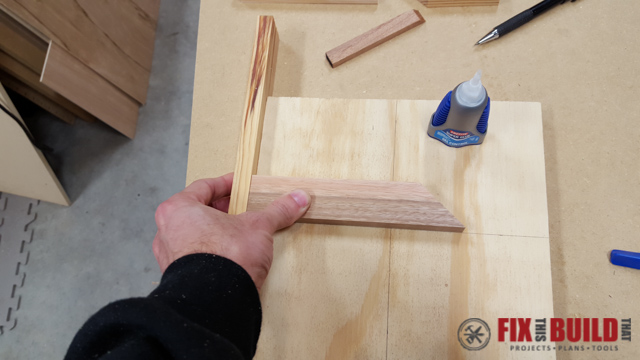 Move the straight edge from the side and snug it up to the piece you just placed.  Take the complimentary row piece, cut it down so there is about a 1/4″ overhang and glue it into place.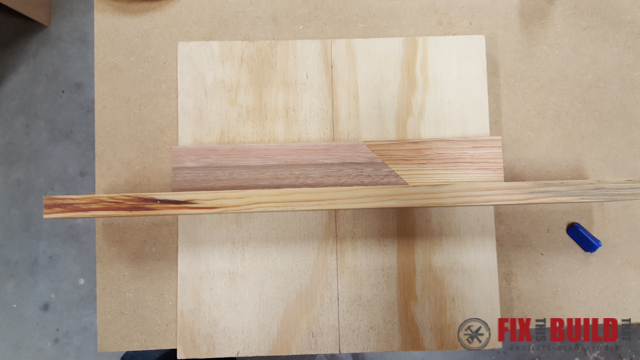 The rest is pretty much rinse and repeat from here.  Vary the board widths as you desire and move where the miter cut falls to create a random pattern. I also added some rows of full boards to break things up.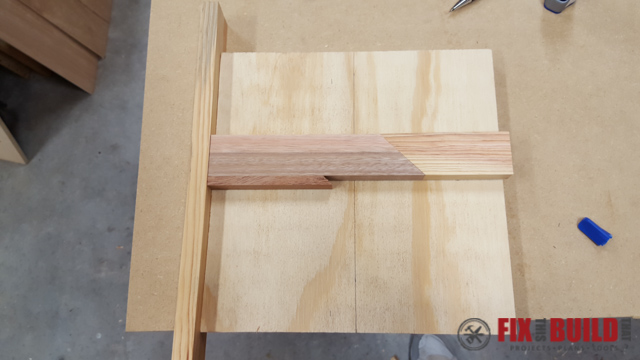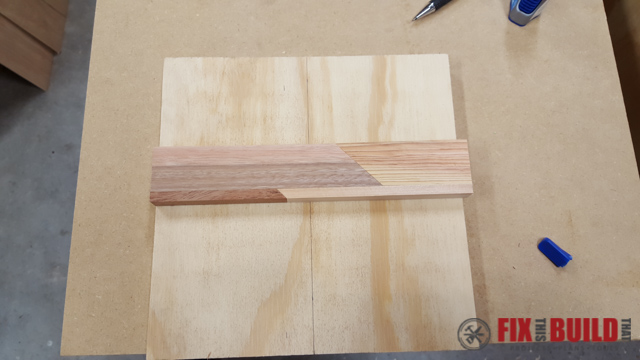 I started in the center and worked my way out both ways.  I did this to reduce the risk of getting off center and having boards at the end that didn't look parallel with the frame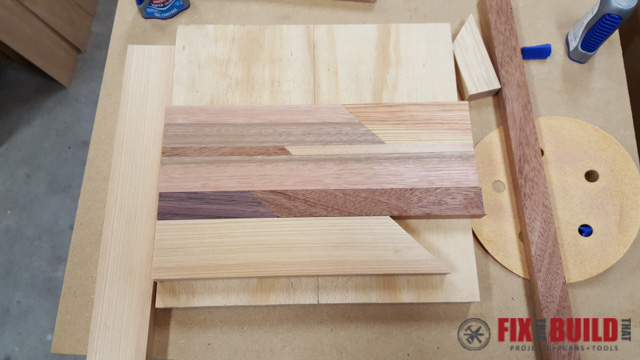 Once you've fully covered the plywood you will have overhanging pieces on at least 2 or 3 sides.  Take the piece to the table saw and trim up the edges.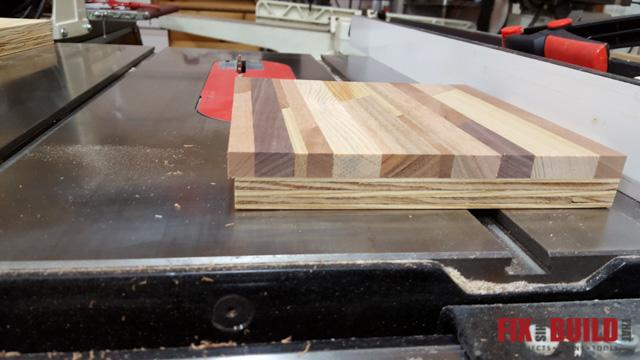 Set your fence to 9-1/4″ and use a 3/4″ spacer between your workpiece and the fence.  This lets you reference off the straight plywood underneath without touching the overhanging pieces.  Trim each side to 8-1/2″.  You should only just be kissing the plywood with the blade, not removing any of it.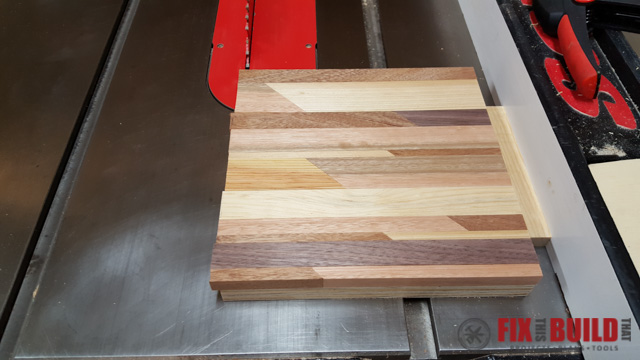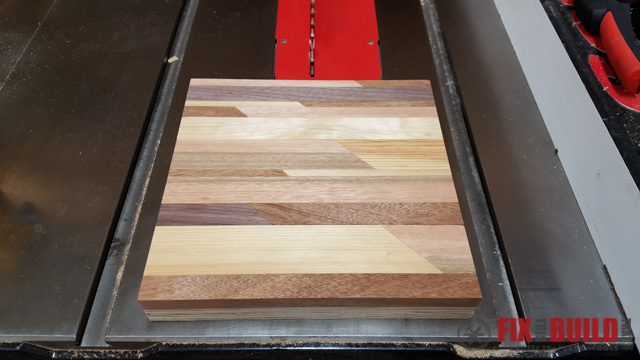 Give the whole top a good sanding up to 220 grit to smooth everything out.  Then use a keyhole router bit either in a handheld plunge router or in a router table and rout key holes on all 4 sides.  I placed them 1″ from the edge and made them 3″ long centered on each edge.
Having keyhole hanging slots on each edge lets you hang the piece in four different orientations.  Also, using keyholes vs. mounting hardware allows the piece to sit flush with the wall.  If you make the piece bigger than 16″ or so then you'll likely want two mounting points.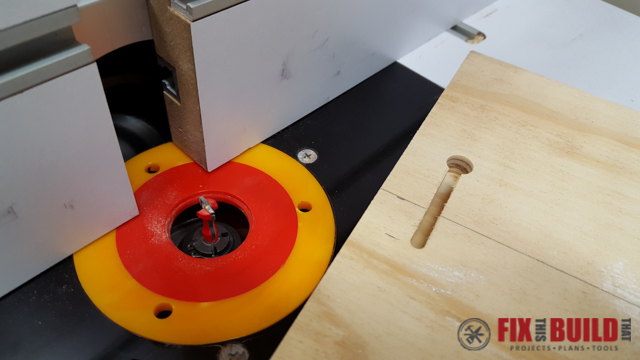 Now is a good time to put some finish on the main piece before you put the frame on.  I used a blend of oil based polyurethane, mineral spirits, and boiled linseed oil mixed in equal parts.  Just wipe it liberally on the surface and wipe off the excess after 5 minutes.  Sand with #0000 steel wool or craft paper in between coats and apply 3 coats.  It really gives the wood great warmth.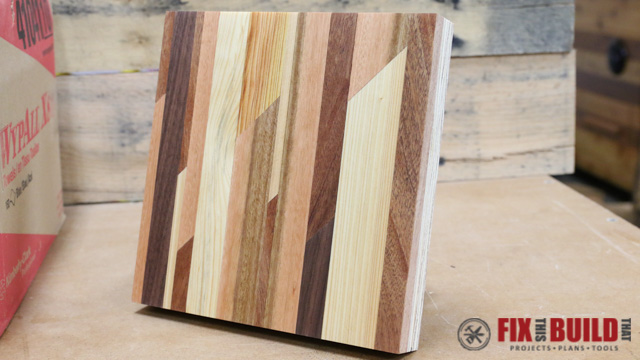 For the frame I went with walnut.  I had some pieces that were just under 1/2″ thick and ripped them to 1-3/8″ wide.  This gives an 1/8″ lip around the piece.  Change the sizing of the frame to your taste.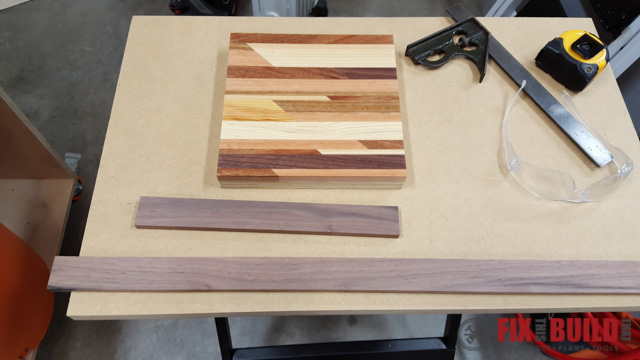 Here is how I did the miters, if you have a better method then go with that because there are a ton of ways to do them.
I set the miter saw to 45 degrees and tuned it in perfectly with test cuts.  Then I cut one side of each of the 4 frame pieces.  This lets me take advantage of the setup time without swinging back and forth doing one side at a time.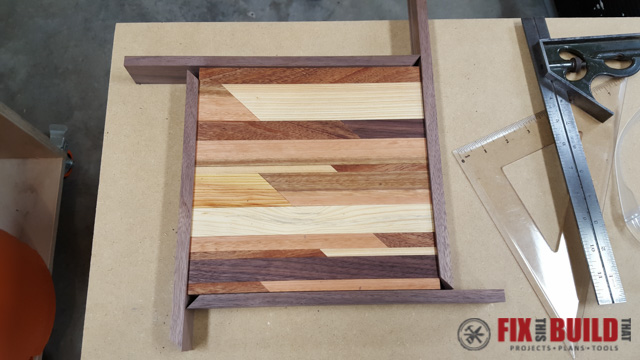 Then I swing the saw around to the other side and get it set just right at 45 degrees.  I mark where each piece needs to be trimmed and sneak up on it until the fit is perfect.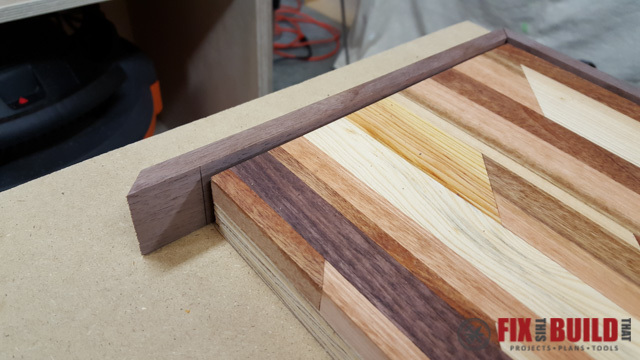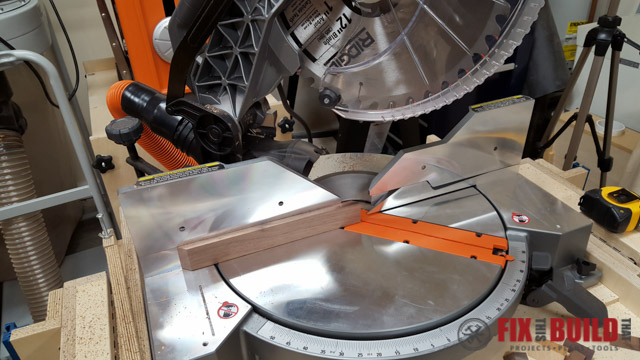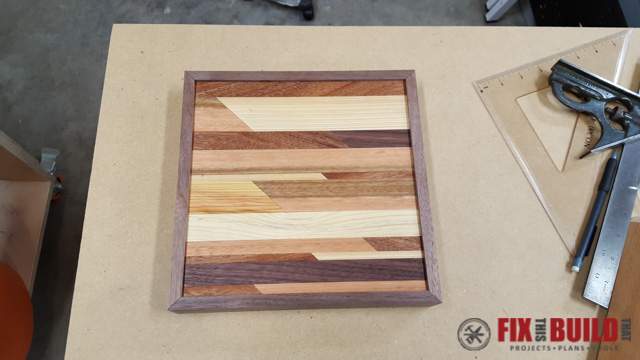 The last thing left is to glue on the sides and then apply finish to them.  I used a web clamp to clamp the sides on while the glue dries.  You could also tack them in place with a brad nailer or pin nailer.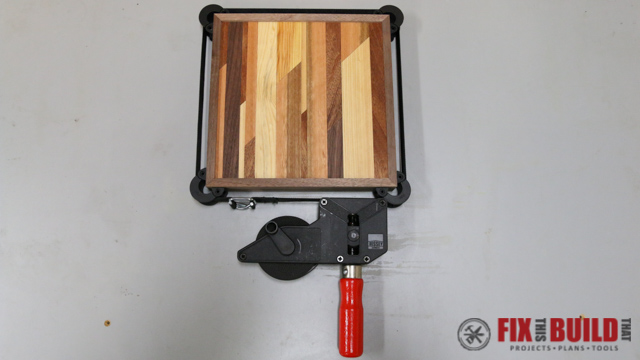 Finally, sand and apply finish to the frame and you're done!  Make a few more or pair it up with some other wall art and hang them in that perfect spot in your house.  If you want more home decor ideas head over to my home decor projects page!