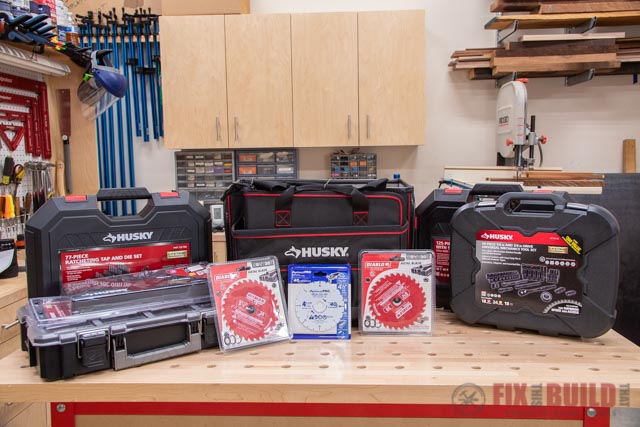 Today I'll be sharing some of the latest tools that I received from the Home Depot via their PROspective program.  I'm really lucky to be a part of this program which allows me to take a look at fresh tools and share my thoughts with you.  To be clear, I'm not doing full tool reviews, I'll just be giving you my first impressions on each tool.
This post is sponsored by The Home Depot.  Affiliate links are used on this page.  See my disclosure page for info on affiliate programs.
I recorded myself unboxing all these tools so if you want to see exactly what comes in the boxes and get my first reactions watch my IGTV video below.
[vc_separator]
First Look at New Tools
The 2020 Q2 First Look will include tools from the following brands:
First Look at Husky Tools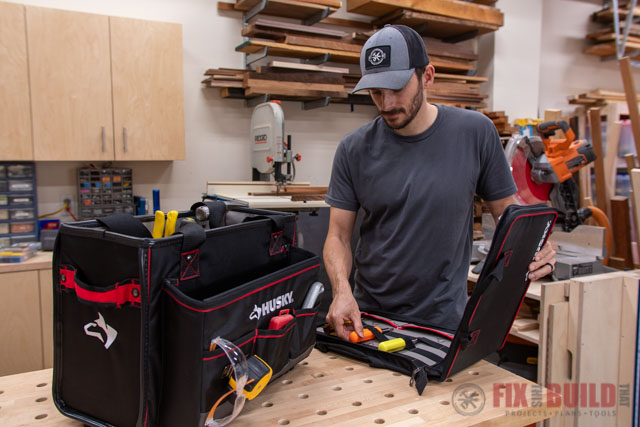 Let's get things started with the Hybrid Tote with Tool Organizer by Husky.  This thing is a beast!  This large tote bag looks like it would be a good option if you need to take lots of tools to a job site.  And it also has a removable zippered case for all of those smaller items that may get lost in the bottom of a big tote.  This looks like a good place to store ratchets, wrenches, screwdrivers, pry bars, or pretty much any smaller tool you can think of.  The removable case has a lot of pockets and straps to hold your tools and it also has a waterproof pocket.
The tote bag and organizer are made of heavy-duty 1680D polyester and it's water resistant.  The bag has reinforced edging which helps to protect it from fraying and it also has feet to protect the bottom of the bag.  The tote has a wide mouth which means you can stick a lot of tools in there.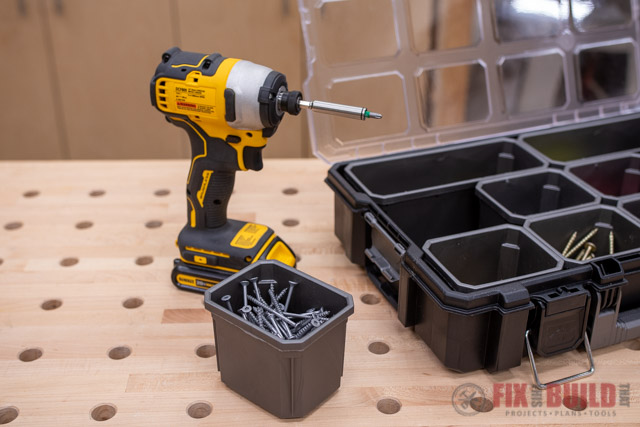 The first thing I noticed about the Husky Interlocking Organizer is that it's designed to be stackable.  You can put multiple organizers right on top and use the built-in locking tabs to clamp them all together.  This would be handy if you needed to transport them together, and I believe there is a rolling bag that these will mount of top of.  The polycarbonate lid is also designed to be extra durable.
Another thing I like about this organizer is that all of the individual compartments are removable.  There are 10 removable compartments with two sizes and you can take them all out individually.  You can put screws, nails, or other small parts in each compartment and remove only the part you need when you're working.  And you don't need to worry about the parts and pieces getting mixed up when the organizer is upside down or on it's side.  It's designed with dividers in the lid to hold everything in it's place.  Also the individual compartments are also made to stack on top of each other, they don't nest.  So you can easily stack the compartments you need to access nearby when you're working.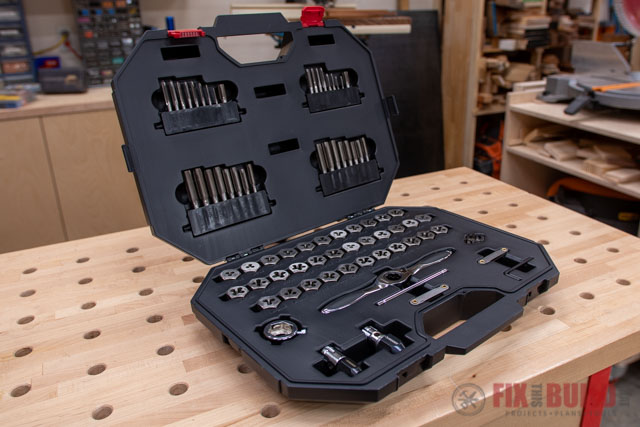 This Husky Ratcheting Tap and Die Set looks waaaay nicer than the older set I have from another manufacturer.  This is a big set, and it looks like it comes with both metric and imperial taps and dies.  This comes with a nice ratcheting set, which looks pretty sweet. You can put the ratcheting mechanism into the set and turn it in a little as five degree increments.  The set also has an auto-locking feature so that your taps and dies won't fall out, and you can easily reverse when you need to.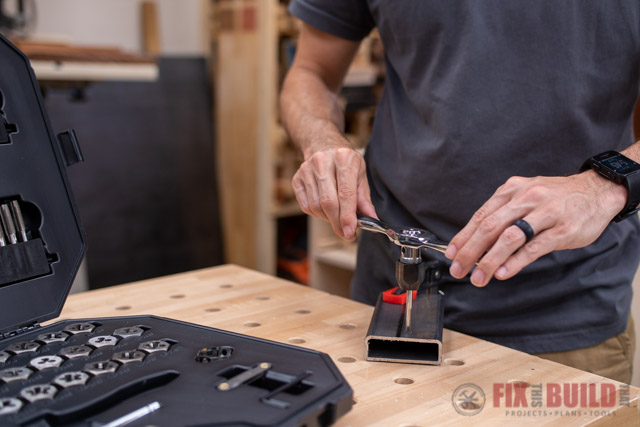 You can use the taps to thread holes into metal and the dies to rethread screws.  For me, this is a major upgrade from my older, cheap set that looks easy to use.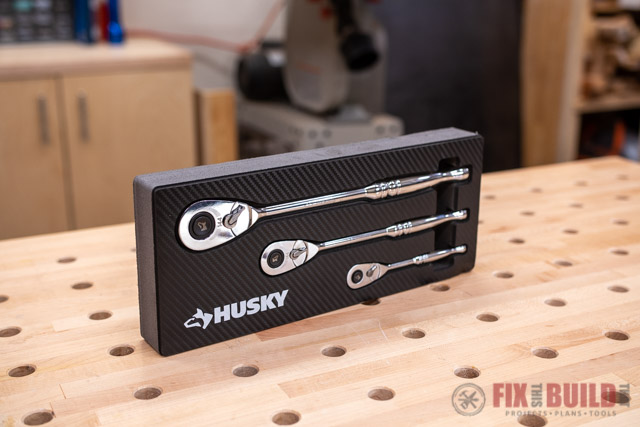 This is a three piece, low profile, 144 Tooth Ratchet Set by Husky.  This set comes in three sizes; 1/2″ 3/8″ and 1/4″.  These ratchets have an extremely fine tooth, which is important when you're working in a small space.  Having the ability to continue to tighten things down when you have limited space is huge.
I also really like the way this ratchet set is packaged.  The ratchets are set into kaizen style foam which looks like it holds them nicely.  You could put this set right into your toolbox or a workbench drawer.  So if you're looking for a nice ratcheting set, this looks like a good option.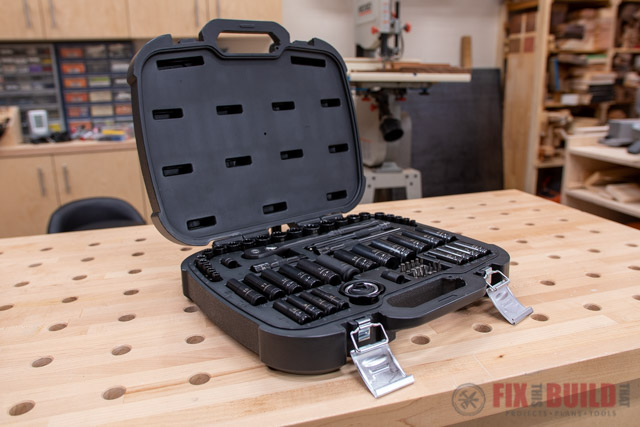 This 60 Piece Husky Mechanics Set comes with a 3/8″ ratchet along with a 1/4″ adapter.  This 100 position ratchet only needs one inch to turn a fastener.  It also has an assortment of deep sockets that have a rounded socket grip.  That's nice because if you have nuts and bolts that are stripped out, they can still grip them.  The set also comes with a swivel adapter which looks pretty cool, and bits that you can use to reach spots that your screwdriver can't reach.  The mechanics tool set also comes with a couple of long reach extensions.  If you're looking for a good mechanics tool set to keep in your truck. this could be a good fit.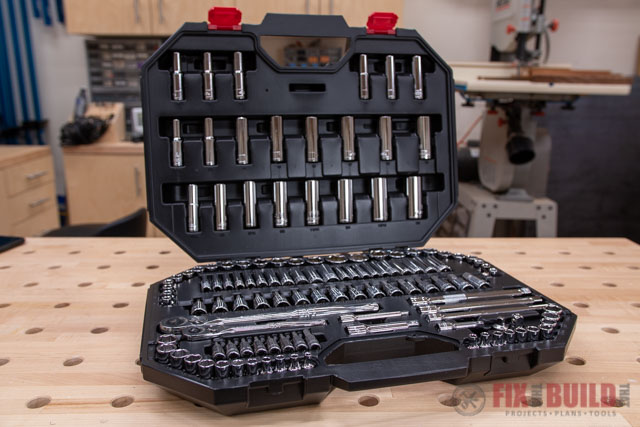 This larger 125 Piece Mechanics Tool Set by Husky comes with two 144 position ratchets that are 1/4″ and 3/8″.  This tool set has pretty much everything I would ever need in my shop.  It comes with an assortment of different sockets and drives.  You get 48 six point sockets, 24 bit sockets, 43 six point deep sockets, 6 extension and wobble extension bars and 2 female to male drive adapters.  This Husky set also comes with their lifetime warranty  with no question, and no receipt needed.
First Look at Diablo Tools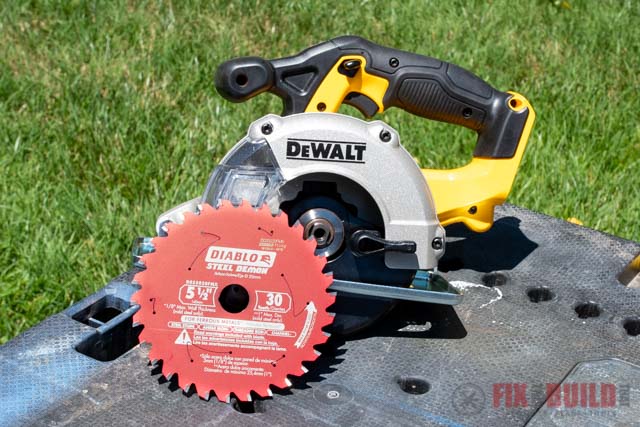 Both of these Diablo blades are metal cutting which fit in circular saws.  This is new to me and I was ready to check them out. I was given a 5-1/2″ Diablo Metal Cutting Blade and a 5-3/8″ Metal Cutting Blade.  The blade you'll need will depend on the size of your saw.  You will need to have a smaller metal cutting saw to use these blades.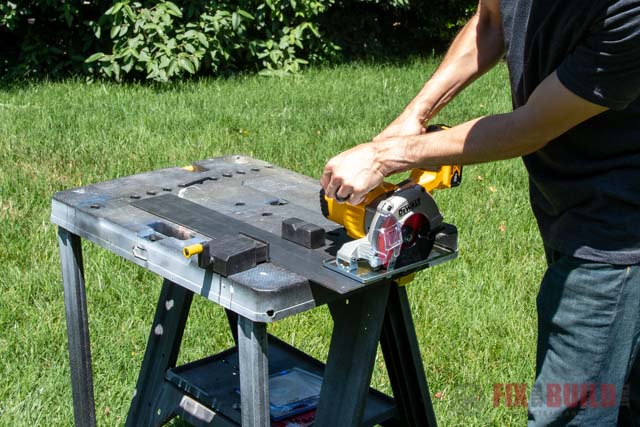 These Diablo blades have a ton of tech that go into the geometry of the blades, the teeth and how they cut.  These blades should allow you to cut through up to an eighth of an inch of wall thickness.  They should be good to use when cutting small studs, copper, or other small sized metal.  The red coating on the Diablo blade helps it to cut through the metal and not get stuck, and it's also helps to protect against corrosion.  Laser cut lines on the sides of the blades helps to cut down on vibration which allows it to be more efficient and reduce heat.
I cut through some scrap metal using both of these blades and they handled them easily.  I even used some 1/8″ plate which is the thickest metal they are rated to cut through and they didn't have a problem.
First Look at Werner Tools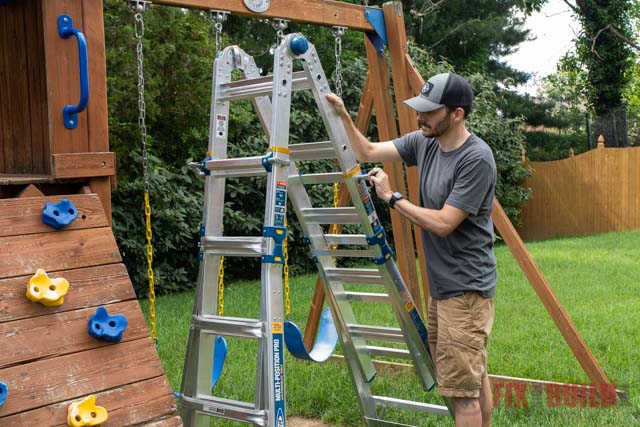 This Aluminium Ladder by Werner has a reach of 22 feet and can be used in multiple configurations which makes it really helpful for many jobs.  This is the lightest weight (375lbs) multi position ladder that Werner has.  You get five ladders in one with this multi position ladder.  You can use it as an extension ladder, a double sided twin step, have it on a stairway at an odd angle, use it at 90 degrees to the wall, or use it with two self supported scaffolding bases.
This ladder has increased durability with shatterproof j-locks push knobs which make it nice and easy to use.  Other smart features are the extra-wide flared bottoms which provides additional support and the slip-resistant feet.  I love using this ladder, I use it in my shop to reach the lights and I use it outside to reach our gutters.  It's also a really nice and firm A ladder as well.  I like that I can get a lot of uses out of one ladder, and it's nice and compact when I store it so it doesn't take a ton of room.  The 22 foot ladder is great if you have 10, 11 or 12 foot ceilings, you can easily reach everything.  It's also great to use in a two-story room or foyer.  This is my third Werner ladder, and I really like them.
The Home Depot provided me with product and/or monetary compensation as a sponsor of this build.  All opinions are my own and are not filtered by the sponsor.