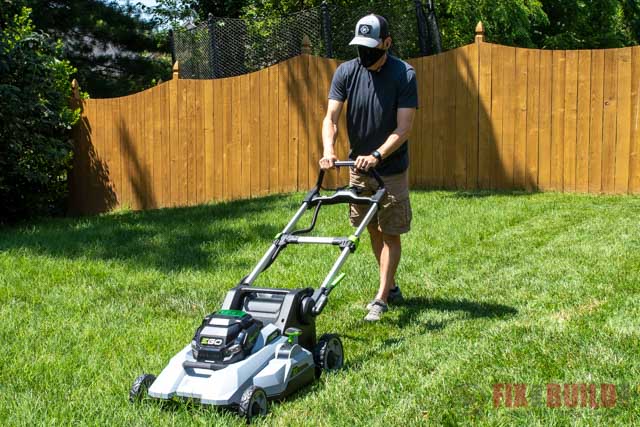 Summer is upon us and today I'm going to show you how I'm trying to tame my yard with some new cordless yard tools.  I've always wondered "Are cordless yard tools better than corded?" and I think I finally have an answer for my situation.  It's been a while in the making, but I've finally converted all my tools over to cordless and I couldn't be happier!
This post is sponsored by The Home Depot.  Affiliate links are used on this page.  See my disclosure page for info on affiliate programs.
All the tools I'll be showing you today are available at The Home Depot.  And they have their Red, White and Blue event going on now through July 5th, 2020.  So head over to HomeDepot.com and see what low prices they have on indoor and outdoor items to help you attack your summer projects.  Also keep an eye on my Instagram page for a fun giveaway next week!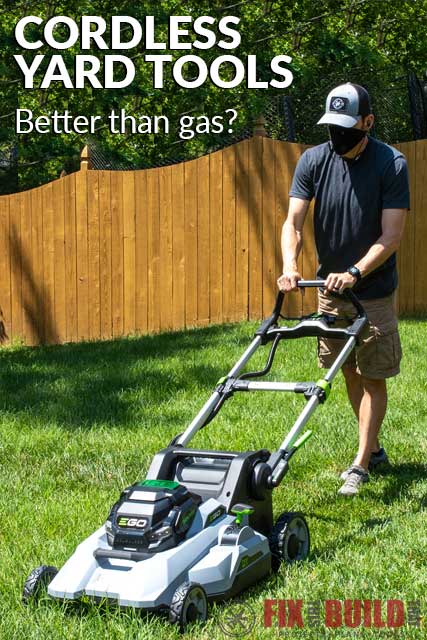 [vc_separator]
Why Cordless Yard Tools?
So you might be in the same boat that I was.  I had a gas mower, gas weed eater, plug-in hedge trimmer and plug-in blower.  That's just the way it was and every time the lawn season came around I hoped and prayed I'd remembered to clear the fuel from the mower and weed eater.
If I hadn't remembered then it meant trying to start up the gas engines by pulling the cord about 1,000 times and pushing that priming bulb until I inevitably flooded it.  If I was lucky they would start up and then run horribly for a few tanks of gas before getting back in their groove.  If I wasn't lucky it meant cleaning the carburetor out or replacing spark plugs.
So my question to you would be "Why NOT cordless yard tools?".  They start in an instant, don't require any trips to the gas station, and they don't care if you throw them in the shed after that last cut and don't show up again until the next season.
Are Cordless Lawn Tools Strong Enough?
My biggest concern was that the cordless versions of these lawn tools, especially the lawn mower, wouldn't be strong enough.  I've been known to let the grass get a little long between mowing sessions and I was afraid the battery powered mowers wouldn't be up to snuff to get the job done.
Picking a Cordless Lawn Mower
I've seen the EGO line of tools a lot at Home Depot.  And I knew they had a 56V battery, which was rated well.  So I decided to bite the bullet and see how it would actually perform in a mower.  The mower I chose was the EGO 56V 21″ Select Cut Walk Behind mower.  And right off the bat I loved how compact it was since it folds up like a little Transformer.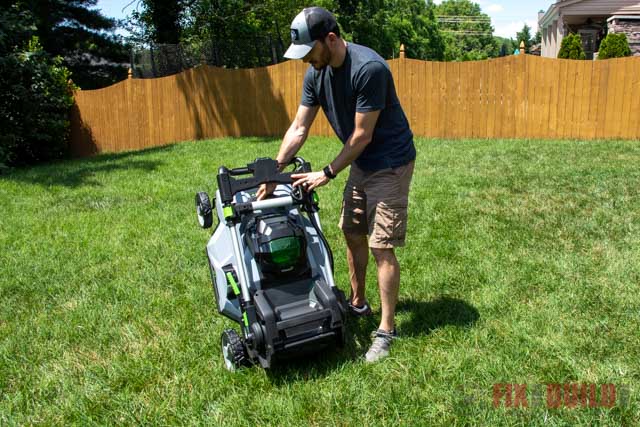 It's very light to move around and since there is no gas to worry about you can store it standing straight up.  But it quickly unfolds with the push of a lever.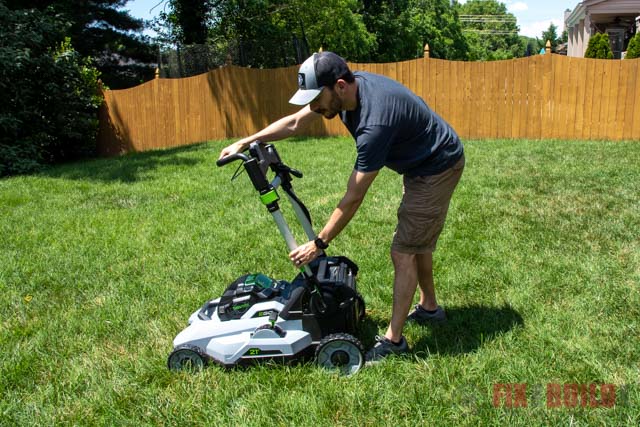 After you get the handle folded down you can release two more latches and extend the handle fully.  Then you drop in the 56V battery into the covered compartment and that's it.  You're ready to mow.  No fuss, no nothing…love it.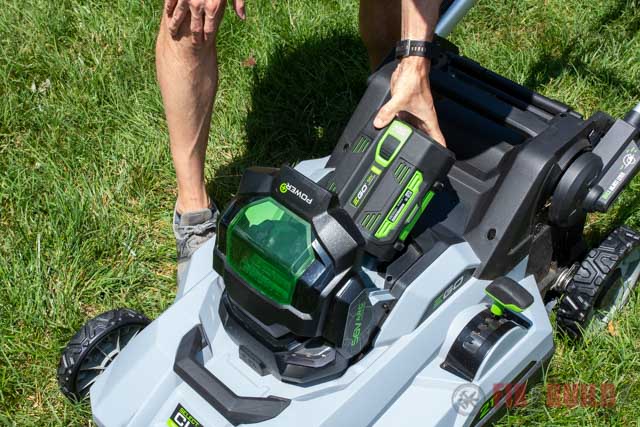 And I was pleasantly surprised with the performance too.  I've used the mower about a half dozen times and it's not once bogged down and stopped.  I'm not easy on it either.  It went into about 10″ tall grass that had overgrown in one of my planting bed and slowed down for a moment then spun right back up, just the same as a gas mower would.  And another benefit is this thing is quiet.  I still wear hearing protection, but don't feel like I'm just trying to out blast the lawn mower when I play my music.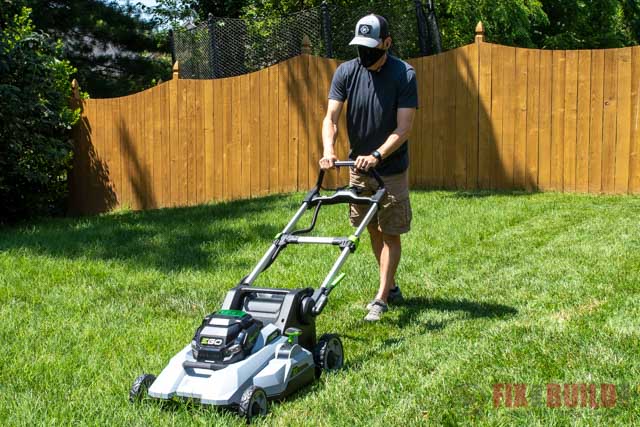 Weed Eater and Hedge Trimmer Options
Buying cordless yard tools is similar to buying any other cordless tools, it makes sense to stay with one battery platform.  Since I'd already joined team EGO I searched HomeDepot.com for the options for a new weed eater and head trimmer.
EGO has a really cool option called the Power+ Multi Head system.  It's basically a plug and play system where you have a base with the trigger and battery and the head where you can switch out multiple tools.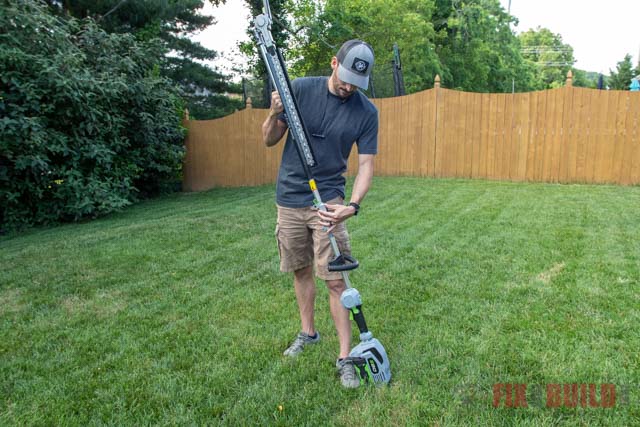 I got the Hedge Trimmer kit since we have some large shrubs in our back yard that are always growing out of control.
After clicking in the head the trimmer rotates out 180 degrees and is ready for action.  That's one thing I really like about the EGO tools is how user-friendly they are to put together and unfold.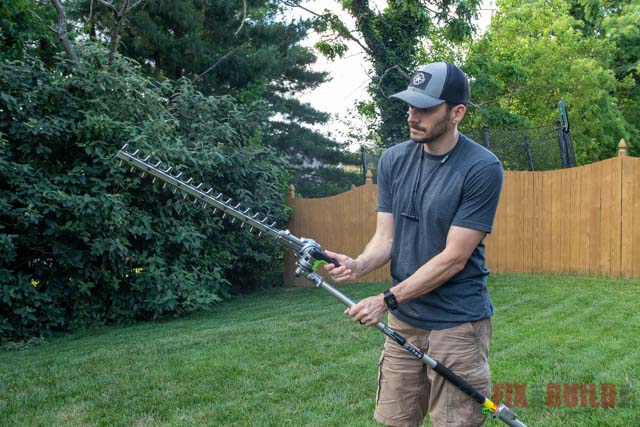 I let loose on the back hedges and once again I was very impressed by the power of the 56V system.  It performed just like my corded version…if not better.
And with the extra length of the pole style hedge trimmer I was able to easily mow down this big line of shrubs.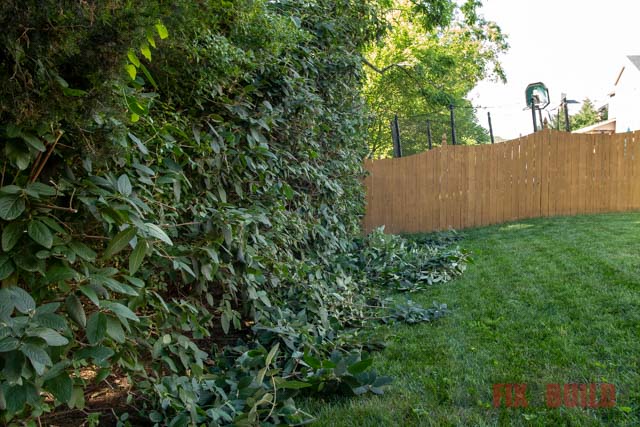 Other Power+ Multi Head Attachments
This EGO system I went with has several different heads like I mentioned.  And you can buy just the heads for much less than it would cost for another stand alone tool.  I got the Pole Saw head which I'll be using on some of the trees on this back line.  And I'm waiting on the String Trimmer Head which will never leave me with a sticky carburetor again.  They also have an Edger head and a couple power brush options that make this a pretty versatile system.
How Strong is a Cordless Leaf Blower?
The last piece of the puzzle for me was a leaf blower.  And by now I think you know the answer to the question of power.  EGO actually has multiple blowers in their line up with 530 CFM, 580 CFM and 650 CFM models.
Of course bigger is better, so I went with the 650 CFM model which also comes with a 5.0 Ah battery vs the 2.5Ah of the smallest unit.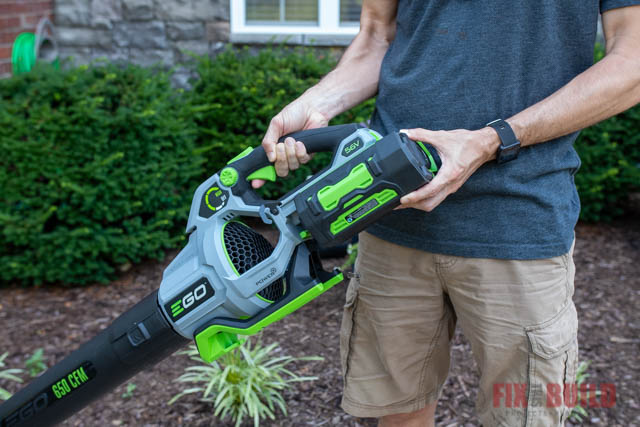 And this thing is ridiculously powerful.  It blows away my old corded unit…literally.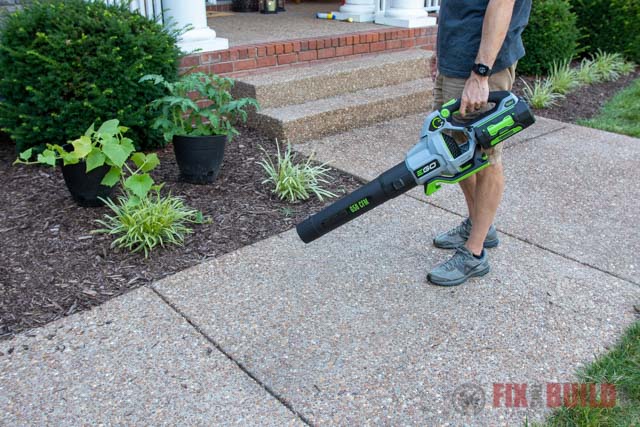 I'm feeling great about going with cordless yard tools and the options that I have now to tame my lawn care.  Head over to HomeDepot.com and see if these are the right ones for you, but if not there are a lot of other quality options there too!
The Home Depot provided me with product and/or monetary compensation as a sponsor of this build.  All opinions are my own and are not filtered by the sponsor.